As the beginning of the 2019-2020 school year nears, and thousands of Boston University students flock back to Boston, shops and restaurants near campus can get an extra boost in customers. These businesses are a big part of BU's campus, and an introduction is in order before the hustle and bustle of that comes with moving in.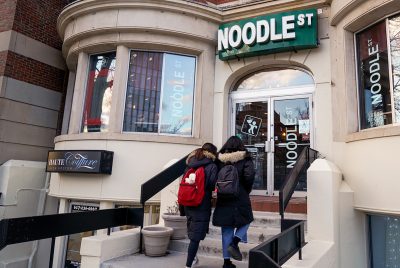 East Campus features many restaurants and quick eats for students to enjoy.
Noodle Street
Located next to the Sargent College of Health and Rehabilitation Sciences, Noodle Street is a delicious staple on BU's East Campus. As a popular cheap eats stop for lunch and dinner, the restaurant serves up asian noodles and stir fry to students six days a week.
627 Commonwealth Ave, Boston, MA 02215.
Scoozi
If you are looking for Italian food on campus, this modern cafe is the perfect spot. Located across from the Questrom School of Business, Scoozi offers up pizzas, paninis and pasta at an affordable price point.

580 Commonwealth Avenue, Boston, MA 02215
Jamba Juice
For a refreshing smoothie in between classes, Jamba Juice's convenient location under Warren Towers makes it the perfect stop on East Campus. Use your convenience points to enjoy a healthy treat like the Açaí Primo Bowl or indulge with the Sourdough Parmesan Pretzel.
700 Commonwealth Avenue, Boston, MA 02215
Insomnia Cookies
Insomnia Cookies is the late night answer to your sugar cravings. Whether you prefer the classic chocolate chunk or the smores cookie, Insomnia is open until 3:00 a.m. everyday, 4:00 a.m. on Fridays, and delivers right to your door.
708 Commonwealth Avenue, Boston, MA 02215
Central campus also offers lots of options with the George Sherman Union serving up students' favorite including Basho Sushi, Pinkberry, Panda Express and Starbucks.
Basho Sushi
Sushi lovers can celebrate the fact that BU's campus offers two Basho locations for students, one on East Campus and one on Central Campus. In the GSU food court, Basho Sushi is available to students using dining points and convenience points, so whether you are craving a spicy salmon roll or planning to make your own bowl, you can use your dining plan.
775 Commonwealth Avenue, Boston, MA 02215
Rhett's
A staple on BU's campus, this fast food joint serves students with popular locations in West and Central campus open every weekday. Offering a wide variety of options from bagel sandwiches to pancakes to burgers and fries, students can pay with dining points or convenience points.
775 Commonwealth Avenue, Boston, MA 02215
Pavement Coffee
BU's central campus would not be the same without a stable source of caffeine for students. Luckily, Pavement Coffee serves up caffeine in many forms along with bagels, muffins and sandwiches to power up students for study sessions or whatever your day has in store.
736 Commonwealth Avenue, Boston, MA 02215
West Campus features a wide variety of options for food, groceries and local businesses.
Life Alive
Looking for a healthy, organic sit down restaurant? Life Alive is a popular chill spot for students craving a nutritious acai bowl, green salad or fresh smoothie with many different seating options to study or relax.
888 Commonwealth Avenue, Brookline, MA 02446
T Anthony's Pizzeria
Commonwealth Avenue would not be the same without T Anthony's Pizza. Open from 7:00 a.m. until 1:00 a.m. everyday, this spot is a classic for pizza and late nights on campus.
1016 Commonwealth Avenue, Boston, MA 02215
Star Market
For groceries on West Campus, Star Market is a staple — especially for students living in apartments with kitchens. The inexpensive options provide students flexibility when shopping for fresh produce, snacks and premade meals.
1065 Commonwealth Avenue, Boston, MA 02215
South Campus features many local businesses including grocery stores, restaurants and bookstores.
Tatte Bakery and Cafe
With 12 locations in the Boston area, Tatte Bakery and Cafe is a popular spot for coffee, brunch and baked goods. The location neat South Campus offers outdoor seating and is usually packed with students looking for a great latte.
1352 Boylston St, Boston, MA 02215
Mei Mei
This Asian fusion restaurant offers cheap eats, comfort food and outdoor seating in the middle of BU's South Campus. Try one of their popular scallion pancake sandwiches, magical kale salad or the lemongrass pork dumplings.
506 Park Dr, Boston, MA 02215
Alltown
For students living in south campus, this convenience store provides a small selection of snacks and drinks to fill you up. Alltown is open 24/7, so whenever your cravings hit this quick stop has you covered.
510 Park Dr, Boston, MA 02215
Whole Foods
If you are in search of a top quality grocery store, Whole Foods in Brookline features a wide selection of fresh produce, a make your own sandwich deli and meals on-the-go. The store is slightly more expensive than other local grocery stores, but its organic, natural selection make up for the higher price point.
1028 Beacon St, Brookline, MA 02446