Calling all artists and art lovers! Boston is filled with opportunities to visit world-class museums with captivating paintings art pieces by innovative artists. Luckily for Boston University students, plenty of these museums are just a few T stops away
Don't forget to bring your BU ID for a free entrance to the following museums and galleries.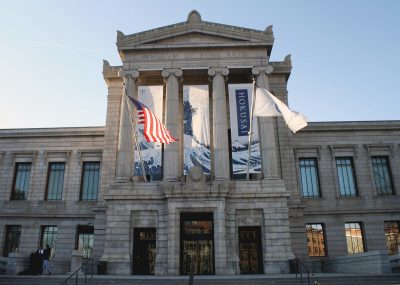 Art galleries on campus
For a quick break between classes, head to the College of Fine Arts in West Campus to visit one of BU's three galleries: the 808 Gallery, the Stone Gallery or the Annex. From sound installations and life-size portraits, there is plenty of art to be seen without needing to leave campus. Make sure to check the gallery's calendar before making the trip as galleries do not have permanent art, but rotating exhibitions.
855 Commonwealth Avenue, Boston. MBTA Green Line B: Stop at Boston University West.
The Institute of Contemporary Art
This intriguing museum site is right by Boston's waterfront, offering a scenic view of the both the harbor and the downtown Boston skyline. If you're spending the summer in the city, check out the Watershed. There you can board a water taxi from the museum to the Boston Harbor Shipyard and view a video installation from John Akomfrah's Purple exhibition on how nature succumbs to climate change.
Many new exhibits will also be available in the fall, such as the Less Is a Bore exhibition of various patterns, as well as Japanese artist Yayoi Kusama's vibrant, multi-colored Infinity Mirror Rooms landing in the museum on September 24. Bring family members or friends from other schools on Thursdays 5:00 to 9:00 p.m. for free entrance.
25 Harbor Shore Drive, Boston. MBTA Silver Line: Stop at Courthouse Station.
SoWa Artists Guild
If you're ever bored once the school year starts spice up your weekdays by visiting the SoWa Art and Design District. Every first Friday of the month from 5:00 to 9:00 p.m., roam around the different galleries, like the Abigail Ogilvy Gallery and theJules Place, and meet the artists behind the masterpieces. Maybe you'll get the chance to meet some BU alumni artists, such as Mia Cross and Tom McCarthy. Paintings aside, you'll be able to view apparel, interior design accents and other goods.
450 Harrison Avenue, Boston. MBTA Red Line: Stop at Broadway Station.
Harvard Art Museums
Nestled on the other side of the Charles River sits the five-story museum where design meets history. Catch the upcoming exhibition, Winslow Homer: Eyewitness, starting August 31. A compilation of paintings and sketches by Homer depicting the Civil War will be on display until January of 2020. Interested in oriental prints or traditional pottery? The museum also houses an extensive collection of cultural ornaments from all around the world.
32 Quincy Street, Cambridge. MBTA Red Line: Stop at Central Station.
Museum of Fine Arts
Walk past the jersey-clad Red Sox fans in Fenway to this world-famous museum minutes away from our campus. From a year-round room dedicated to famed French painter Claude Monet to the show-stopping Gender Bending Fashion exhibition that will wow you until August 25, there's always a reason to come by. On July 1, the MFA will showcase Jackson Pollack's largest piece, Mural, alongside the work of German painter Katharina Grosse.
465 Huntington Avenue, Boston. MBTA Green Line E: Stop at the Museum of Fine Arts
International Poster Gallery
Sitting on the outskirts of the South End neighborhood is a vintage gallery filled with unique prints. Since 1994, owner Jim Lapides collected all kinds of posters, ranging from '80s advertisements promoting Parisian ballets to state-of-the-art iPod posters. There are no specific exhibitions, but get ready to be mesmerized by the range of subjects and styles available.
460C Harrison Avenue, Boston. Suite C20. MBTA Red Line: Stop at Broadway Station.
With an endless list of museums and galleries in the city, every neighborhood you travel to is a chance for artistic immersion.