New and returning Boston University students interacted with hundreds of clubs on campus Saturday at Splash, BU's biannual club fair. For individuals interested in polishing their resume and finding a community with shared interests, business clubs offer many opportunities to get ahead.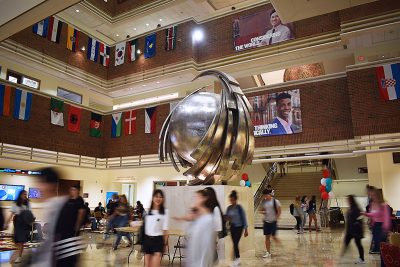 HerNetwork, a club tailored to women interested in business at BU, offers mentorship and networking for students in all fields. 
Danielle Edmonds, a junior in the Questrom School of Business, joined herNetwork the first semester of her freshman year and became a part of the club's community outreach committee. She now works as herNetwork's vice president of marketing. 
"We have a lot of opportunities to network," Edmonds said. "We have a lot of face time with recruiters and alumni. Every week we have a meeting and it is an information session usually."
Most of the events are centered around internships, job opportunities and meeting with BU alumni. Events are hosted every Tuesday from 7 to 8 p.m. in the Sargent College of Health and Rehabilitation. 
Next month herNetwork is hosting a variety of events including volunteering at Rosie's Place, fundraising at Blaze Pizza and hosting a salary negotiation workshop with Questrom's Undergraduate and Career Development Center. 
"Overall, we are always open to meeting with people and if people have any questions, we are always there for people," Edmonds said. "It is really great that we have all the recruiters come because they are always really excited and always willing to answer questions. It is just a really great network."
The club's "Women Mean Business" spring conference hosts people from different industries to answer students' questions about the professional world. 
"It is a whole day of networking and getting facetime with employers and just really talking to them about what they do and trying to explore careers more," Edmonds said.
The club hosts a broad range of events focusing on accounting, advertising, marketing, fashion, technology, consulting and finance. Many students in the club are studying business or communications. 
"Everytime I walk through Questrom, I see people I know," Edmonds said. "It is just really great to have that support. If I ever have questions about internships or resumes, everyone is always open to help you out."
Along with herNetwork, the Business and Technology Club, or BizTech for short, is another on-campus organization focused on engaging students interested in business and forming a community.
Briana Le, a junior in Questrom, is currently the director of marketing at BizTech. For her, the club represents the intersection of business and technology. 
"Although there are niche topics such as fintech and biotech, we cater to a broader range in technology and invite students who have any interest in the field of technology," Le said.
Biztech members have interned at Red Bull, Commvault and Google among others, according to their website.
This semester, the club is focused on their Tech for Society conference on Oct. 26. The conference aims to create a discussion between students about technology and their future careers.
"We hope to provide students with a better understanding of the opportunities and challenges in the technology industry by allowing them to speak with industry leaders and experts who are setting the foundations of our future," Le said. "We are calling all tech enthusiasts, entrepreneurs, problem solvers and creators who want to find their connection to the technology."
The BizTech clubs is open to students across all fields with over 200 registered members this year. The club meets every Tuesday from 6:15 to 7:30 p.m. in Questrom.
"BizTech provides students opportunities to discover their interest in business and technology," Le said. "We have a segment called Tech Talk where on our website members have the opportunity to publish an article. We are recruiting for Tech Talk writers soon."
Katia Acierno, a sophomore in the Sargent College of Health and Rehabilitation Sciences, described her experience with business clubs on BU's campus while perusing club booths at Splash. 
"I definitely like that their is a lot of options and as a physical therapy major," Acierno said, "it is kind of out of my comfort zone to join a business club, but I think it would be beneficial especially if I wanted to open my own practice because I can learn about entrepreneurship and also get a chance to do service."