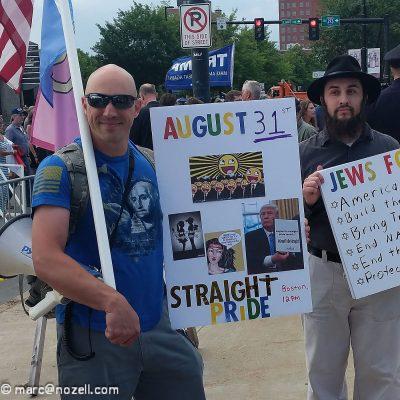 Suffolk County District Attorney Rachel Rollins submitted an emergency petition to the Massachusetts Supreme Judicial Court asking the court to step into her dispute with lower court Judge Richard Sinnott over the prosecution of a Straight Pride Parade counter-protester.
This comes after a group called Super Happy Fun America organized a Straight Pride Parade in Boston on Aug. 31 that saw hundreds of counter-protesters show up in opposition, according to the Boston Globe.
After the parade ended, tensions flared as counter-protesters turned their anger towards the police and Boston Mayor Martin Walsh, whom they blamed for allowing the event, the Boston Globe reported. To disperse the crowd, officers used pepper spray and tackled some counter-protesters to the ground, ultimately arresting a total of 36 counter protesters.
Rollin's petition, which was filed on Tuesday, claims that Sinnot ignored "clear and unambiguous constraints" placed on the judiciary by the Massachusetts Declaration of Rights when he rejected Rollins's attempt to drop a disorderly conduct charge against at least one of the counter-protesters. 
The maximum fine for a first-time disorderly conduct charge is $150, according to the petition.
Sinnott rejected a total of seven motions by prosecutors to drop their cases against the counter-protesters on Tuesday, according to WBUR.
The petition called Sinnott's decision to override the prosecutor's "constitutionally protected" power to choose not to prosecute a case an "unprecedented action," a decision that ultimately forces Rollins's prosecutors to continue pursuing the case.
Sinnott then called defendant Roderick Webber to court against the state's wishes and set bail at $750, according to the petition. 
The situation escalated when Sinnott had defense attorney Susan Church, who was representing another counter-protester, handcuffed for being in contempt of the court after speaking over the judge during proceedings on Wednesday, according to a press release from the Rollins's office, 
"She was handcuffed and sat in a cell for hours," the press release stated. "Simply for doing her job."
Rollins said in the press release that Sinnot had overstepped his authority Tuesday by opposing the prosecutors' motion.
"The actions of Judge Richard Sinnott are unprecedented and outrageous," Rollins said in the press release. "His insistence on arraigning individuals when my office has used its discretion to decline a case is an unconstitutional abuse of his power and serves neither the interests of justice nor public safety."
Rollins said the power to pursue prosecution is reserved exclusively on the executive branch, and that the judge was abusing his power by blocking the state from dropping the case.
Rollins' deputy press secretary Renee Algarin wrote in an email that they did not know when the appeal will be resolved.
"There is not a timeframe for when the single justice of the Supreme Judicial Court will issue a decision," Algarin wrote in the email.
Chris Erchull, staff attorney at GLBTQ Legal Advocates & Defenders, said that he attended the parade at the start at Copley Square but did not witness any of the arrests that transpired.
Erchull said he was surprised by Sinnott's decision to deny the prosecutors' motions.
"This is kind of remarkable that the judge is refusing to comply with or concede to the district attorney's request to drop the charges," Erchull said.
Erchull said that the counter-protesters were simply trying to express their opposition to the Straight Pride demonstrators. 
"We're talking about people who are exercising their first amendment rights to nonviolent peaceful protest to voice of dissent," Erchull said.
While it is still unknown whether the parade organizers intended to incite violence, Erchull said that the parade organizers clearly wanted to antagonize the LGBTQ community.
"There were just people clearly aligning with a message, that was a message to LGBTQ people to further criminalize them," Erchull said.
Delaney Higgins, 24, of South Boston, said he thinks charges should be dropped.
"I don't know all the details of what actually happened but I think you should have a right to counter protest," Higgins said.
Natick resident Reuben Allik, 21, said she thinks the Straight Pride Parade seemed political and unnecessary for heterosexual people who face much less discrimination and persecution than people in the LGBTQ community.
"Oh, it's kind of weird, like, I'm straight personally," Allik said, "and I would rather not align myself with people who felt that they've been kind of marginalized as opposed to kind of what has been socially accepted as the norm."
Evariest Callens, a 25-year-old exchange student from Belgium residing in Cambridge, said he did not have a strong opinion on the parade.
"I'm not pro-straight pride," he said, "but I would say I'm also not against it. It's up to everyone to say whatever they want in public. But I don't really see the point of the straight pride."