Walk into the New England Aquarium and at the base of the Giant Ocean Tank, there are penguins swimming and lying on the rocks. Lucky visitors who arrive during a feeding time can watch dozens of penguins eagerly awaiting their chance to snatch an anchovy or two, or 10 — sometimes even 18.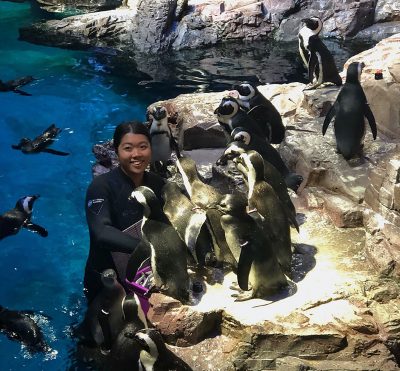 Diane Hwangpo, a sophomore in the College of Arts and Sciences, spent her summer interacting with penguins as an intern at the aquarium this past summer. She spent long days in a wetsuit cleaning the penguin exhibit, feeding the penguins and giving talks about the penguins to intrigued visitors, as joyous penguins flapped around her, happily gobbling up fish she fed them.
Hwangpo came into her freshman year at Boston University on the biology pre-vet track, knowing she wanted to do something with animals. She recalls looking up "animal jobs in Boston for college students," last fall, and a job at the New England Aquarium popped up. 
The chance to get to work with the penguins as a job convinced Hwangpo to apply, but she didn't think she'd actually get the job. Hwangpo remembers thinking, "there's no way they're going to hire me," but she sent in an application anyway. 
But then she was called in for an interview and then another. Eventually, she got an unpaid internship position for the summer.  
Randi Rotjan, a BU professor of biology, used to be an associate research scientist with the New England Aquarium for eight years. 
"[Volunteering is] an opportunity to get some experience but it should be a stepping stone," Rotjan said. "You should definitely use the opportunity to find what you like … Whenever you're giving your time for free it should be on a path for something."
Although Hwangpo initially saw her internship as a fun job where she got to work with animals, it ended up having a genuine impact on her, she said. Following the internship, Hwangpo said she decided to start working towards a minor in Marine Science.
"This job has helped me so much figuring out what I want to do with my life," Hwangpo said. "I'm super grateful." 
Her day would start at 8 a.m., where the staff would spend an hour preparing and cleaning the fish for the penguins' 9 a.m. feeding. While some interns feed, others clean and scrub down the rock. From 11 to 12 a.m., they assess how much has been eaten. At 1 p.m., after lunch for the interns, they pull food for the next day from "the big refrigerator upstairs." From 2 to 4 p.m., they do more cleaning before showering and packing up.
Hwangpo said the best part of her day was getting to talk to the aquarium visitors. She would usually do the 2:30 p.m. feed and talk, she said.
"It was really rewarding having [visitors] ask me questions about penguins," Hwangpo said. 
After completing the internship, Hwangpo was invited by her supervisor to come back and work with the penguins, but has not had the chance yet because she is currently working as a veterinary assistant at Banfield Animal Hospital in Alewife. Hwangpo said she applied for an internship in the aquarium's medical center for next summer. 
Hwangpo encourages any student to apply to be a volunteer or intern at the aquarium, emphasizing that "you don't have to be a bio major at all." There are also internships in marketing, technology and education.
"There's also so much diversity in age and experience," Hwangpo wrote. "And you're constantly learning from the other volunteers."
Ticket revenue from the New England Aquarium goes towards research and marine animal conservation all around the world as they partner with organizations such as the Marine Conservation Action Fund and Gorton's Seafood, which focuses on producing sustainable seafood.  
Lena Bardakjian, a freshman in the CAS, spent time this summer in the Galapagos Islands, where she saw firsthand where marine animal conservation revenue can come into play. 
"They ban all use of plastic and … some people actually carry their own waste around to become more conscientious about it," Bardakjian said, "you can see the environment there is so beautiful like theres no pollution or anything and the animals are able to live and be happy."
Hwangpo said all areas of the aquarium promote conversations about marine animal conservation, as well as effective which the visitors were also very engaged in.
"What really inspired me," Hwangpo said, "was the enthusiasm that people had for learning about conservation."