FreeP vs. Food is a  recurring series where we send four FreeP staffers to four  local food establishments and try a similar item from each place. We give each place a letter rating based on the quality of the food, the service and the ambiance of the restaurant. This time we are covering sushi.
_____________________________________________________________________________________________________
Fish Market Sushi Bar
By: Kaitlyn Riggio
If you're in Allston and are looking for sushi on a night out, look no further than Fish Market Sushi Bar.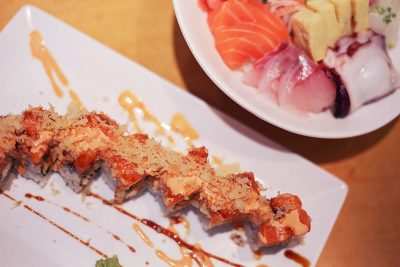 The menu is full of unique rolls and exciting options for people looking for something a little more daring than a California roll. I chose to try the spicy crispy salmon maki, made up of cucumber, cream cheese, spicy mayo, tempura flakes and topped with salmon, tobiko, even more tempura flakes, spicy mayo and eel sauce.
The tempura flakes gave the roll a nice crunch and countered the soft texture of some of the other ingredients, giving the roll some welcome variety. The spicy mayo also provided just the right amount of kick. 
A problem that often comes with rolls with many ingredients is the pieces are too large to comfortably eat in one bite. Thankfully, the spicy crispy salmon maki was not only delicious, but manageable. I could enjoy the wide variety of flavors and still eat a piece in one bite. 
The rolls at Fish Market Sushi Bar are also affordable. On the extensive special maki menu, all except three rolls are under $14.
For its vicinity to campus, extensive menu options, quality and price point, Fish Market Sushi Bar in Allston is definitely worth your time.
GRADE: A
_____________________________________________________________________________________________________
Cafe Sushi
By: Zoe Han
Cafe Sushi, located in Harvard Square, is a gem of a restaurant. The ambiance is both chic, friendly and is a place where both families and college students can sit and enjoy a nice roll of sushi. With eleven signature maki rolls, including a vegetarian option called the summer vegetable roll, there are plenty of elaborate rolls to choose from.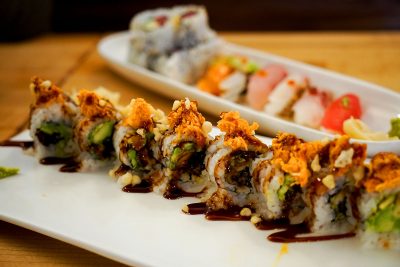 I chose the Crunch Roll, which has red spicy snow crab meat mounted on top alongside sprinkles of crunchy tempura flakes and tobiko with eel and avocado on the inside. The roll was cut into six pieces, served with strikes of eel sauce across the plate and priced at $18.
Personally, I didn't find the crab meat spicy. However, the roll itself was filled savory sweetness. The eel and avocado merge well with each other and leave a final taste of oozing cream. The sushi rice is neither too sticky nor too dry, balancing out the heavy, fatty taste of the roll. Tempura flakes compliment the dish extremely well, as the roll transitions between creamy and crispy in every bit.
Overall, I was pretty satisfied with the Crunch Roll. If an A means pure ecstasy, it's almost there. It's a place I definitely might consider going back for a sushi night with friends.
GRADE: A-
_____________________________________________________________________________________________________
Hojoko 
By: Jennifer Suryadjaja
Hojoko, a snazzy tavern that serves Japanese fusion fare in the heart of Fenway, is just a ballpark away off Commonwealth Avenue. Open only for dinner, the restaurant is dark and intimate, with red lanterns hanging off the ceiling adding to the "izakaya" feel.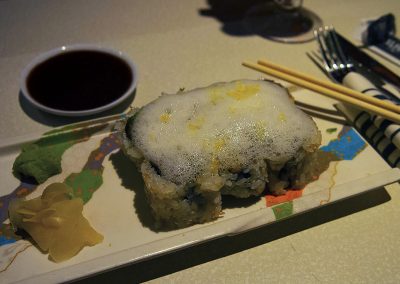 Hojoko is part of the chic Verb Hotel, a music-inspired boutique clearly built for millennials with its tinted windows and retro red bus parked right outside. Adding to the vibe, Frank Ocean's "Pink + White" serenaded guests as they enjoyed their meals.
The menu had a wide array of choices, plenty of which almost tempted me to choose something other than sushi. Items like the "Doggzilla," a bacon wrapped hot dog with kabayaki sauce, or the kimchi fried rice let Hojoko's quirky personality shine. 
Although it took me a while to decide, after deliberating with my server I knew exactly what to order. I was sold by a single word— truffle. Barely 15 minutes after I ordered the shiitake mushroom tempura roll, topped with truffle salsa, truffle froth and fried garlic, was served. Their fast service impressed me, considering it was game night for the Red Sox. 
That one word, which had intrigued my palette only 15 minutes prior, overpowered the roll. The accents of truffle were so strong that when married with the fried garlic, the roll became far too salty. However, its texture was incredibly rich, with the crunchy tempura flakes serving as a particular stand out.  If you like flavors that really explode in your mouth, this roll will fit the bill.
Keep in mind, this place is on the fancier side — my six-piece roll cost $18. For $12, you could settle for the other sushi rolls options that seemed a little less appetizing.  
If you find yourself walking around Fenway in a celebratory mood after a Red Sox win, head over to Hojoko to dine in a place with a fun vibe and eat intriguing, but overpriced, sushi.
GRADE: B+
_____________________________________________________________________________________________________
The Mad Monkfish
By: Eduard Miska
Situated in the vibrant and upbeat Central Square in Cambridge, The Mad Monkfish is both a jazz lounge and sushi safe-haven. John Coltrane's sax swoons as highly efficient servers bring forth plate after plate of specialty rolls, makimono, sashimi and nigiri.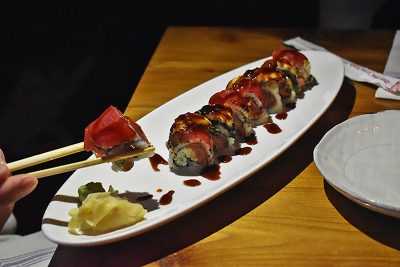 Decorated with brandy colored wood paneling and tables, the restaurant creates a modern chashitsu atmosphere. Merged with these Japanese accents, posters cover the walls with the likes of jazz legends. Fitted with a small stage, one part of the restaurant hosts live jazz from both local and renowned musicians. 
For myself, jazz wasn't on the menu. A sampling of Mad Monkfish's sushi is in order. But like a good piece of Davis or Brubeck, their menu isn't one note. Entrees available include classic Asian noodle dishes and curry. To wash down all the wasabi you might (accidentally) have put on your sushi, the cocktail menu offers a variety of tiki cocktails, sake and liqueurs.
When I asked my waiter to guide me through the lengthy menu, the waiter advised I sample the "Lover Man Maki" off the makimono specialty rolls section. Filled with spicy tuna and cucumber, the roll is topped with eel and fresh tuna with dashes of eel sauce. The waiter's suggestion certainly was towards the higher end of the menu's cost spectrum — priced at $16.95. 
The spicy tuna blended fantastically with the eel, giving the roll a smooth beginning that ended with a pop. The eel sauce, while used sparingly, rounded out each distinct flavor and prepared my palate for another helping. The ingredients were fresh and the flavors were dynamic. No player in this sushi quartet was lacking. 
The Mad Monkfish makes sushi like the jazz music it plays: smooth yet complex. With only a few ingredients, the chefs make rolls that truly dance on your taste buds. Prices might be a little high, but it is worth every penny.
GRADE: B+