Ambition is the name of the game in Ryan Murphy, Ian Brennan and Brad Falchuk's latest brainchild, "The Politician," which made its highly anticipated Netflix debut on Sept. 27. The eight episode season is Murphy's first project since signing onto a $300 million deal with the streaming service.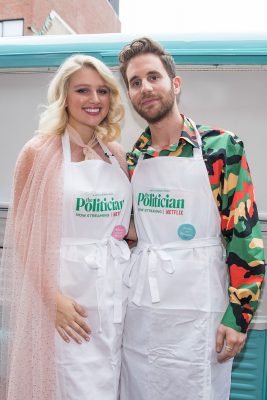 "The Politician" follows the exaggerated, perfectly planned, political lives of the students at  fictional private school Saint Sebastian and stars an ensemble cast of Ben Platt, Gwyneth Paltrow, Jessica Lange, Lucy Boynton, Zoey Deutch and Julia Schlaepfer, among others.
Less than a week after the release of the show's first season, Platt and Schlaepfer sat down for a roundtable interview at the Boston Athenæum with reporters from several college outlets. 
"The Politician" focuses on the nucleus of Payton Hobart (Platt), a wealthy senior who has his sights set on the only office that matters: the presidency. Born a politician, Payton has spent the entirety of high school cultivating an image — a campaign — to further his own ambition. At 18, he comes fully equipped with two full time strategists (his best friends) and his girlfriend, Alice (Schlaepfer), who believes that she will one day be Payton's first lady. 
Schlaepfer said she drew inspiration for her character by studying Hillary Clinton's "drive" to stand by her husband in the face of political scandal. Platt, on the other hand, said he found inspiration for Payton in a mix of former president Ronald Reagan, 19-year-old gun violence activist Cameron Kasky and from his own ambition to become a performer. 
"If I pushed all of my other emotions and facets of my personality out of the way and was driven purely by that, what kind of person would I be?" Platt said. 
Despite his undeniable privilege, Payton's victories are not handed to him. He has an insatiable desire to gain admission into Harvard University on his own merits and not via a paycheck, which proves to be harder than Payton thought. 
Astrid (Boynton) mounts a campaign against Payton for the presidency at Saint Sebastian after the tragic suicide of her boyfriend River, who also served as an emotional guide, romantic interest and confidante in Payton's life. This matchup becomes one of the bloodiest, maniacal student body elections in television history — complete with kidnappings, offensive slurs, breaches of trust and two very real assassination attempts. 
Platt graduated from Harvard-Westlake School in Los Angeles, which is one of the country's most elite private schools. Platt said that although the ambition and drive of high schoolers in "The Politician"  is "obviously wildly exaggerated," he saw similarities between his character and the Saint Sebastian environment and his own high school experience. 
"[The Politician] is very intensified and the aesthetic is far more pleasing and ostentatious, but certainly the level of ambition and drive were present [at Harvard-Westlake]," Platt said. "I think all of the characters in the show have much greater designs and take themselves far more seriously than just those parameters [of high school]."
Schlaepfer and Platt said while the show and its characters are clearly exaggerated, one of the main reasons they were attracted to the show was because it addresses some of today's most relevant and important topics. 
"I knew it was going to be something special, and then to read something that was so timely, so topical, pushed so many boundaries," Schlaepfer said. "And then the characters are also smart, you have all these young people who want to be politically active and politically invested and ambitious without apology. It was unlike anything I had ever read." 
Schlaepfer also touched on the personal meaning of working with Murphy, Falchuk and Brennan having grown up "obsessed" with "Glee." Both her and Platt said the trio showed an extraordinary amount of care towards their cast and their script. 
"The thing about Brad, Ian and Ryan is that they just are our biggest fans, they believe in us in such a way that is mind blowing," Schlaepfer said. "I remember Ryan was just so worried that we wouldn't like the show… mostly I just couldn't believe that I was able to be a part of something so special."
Platt, who additionally serves as an executive producer of the show, seconded Schlaepfer's nod to the importance of political involvement. He also said that he thought "The Politician" was special because although it addresses many important issues, "it can be a bit free from the actual headlines." 
"It's more about authenticity and fake authenticity and curating your image and how we all have to be 'politicians' in our lives and our relationships," Platt said. "I think it just uses the hot button issues as a way to make it feel current and make it feel youthful but also those [issues] aren't the meat of the narrative."
Correction: A previous version of this story listed a character's name as "Iver" instead of "River."