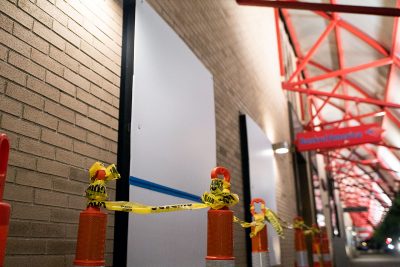 New digital screens are replacing the poster cases that hang on the outside walls of 700 Commonwealth Ave. in an ongoing project by Boston University to update existing advertisements and include more modern technology.
The project is spearheaded by BU's Office of Marketing and Creative Services in an effort to update their methods of advertising campus events and other announcements that pertain to the student community.
There are currently poster cases along the outside of the building in which student groups and offices on campus could apply to hang a poster for a duration of one or two weeks. Now four of them are being replaced with digital screens, with the rest eventually getting replaced if everything goes smoothly, said Amy Hook, the vice president for Marketing and Creative Services.
The digital screens will now make it much easier to change the advertisements, Hook said. The screens will be changed once a day, and will provide more flexibility as to what can be displayed.
The existing poster cases were last updated in 2009, when they were converted from having a small light on the top for illumination at night to being constantly backlit, Hook said. Marketing and Creative Services had hoped to update the posters to digital screens during that campaign, but were prohibited by cost at the time.
Hook said that the installation of the new screens is being rolled out slowly as a part of a refresh campaign that was recently approved by the BU administration.
"We're just starting with these first four, to test and see how it goes," Hook said. "And then hopefully rolling it out to the entire [wall]. There are twelve total."
Construction of the first four screens began in mid-August and is currently paused to wait for a piece needed for the installation, Hook said. The first phase of installation is scheduled to be completed in the next few weeks. If the rollout goes according to plan, the marketing team hopes to replace the remaining eight poster cases by the end of the semester, Hook said.
BU Spokesperson Colin Riley said students will be more likely to pay attention to what is advertised on the posters since it will be brighter and more eye-catching.
"[The posters] were professionally done, it's just that we didn't have any technology to attract people, they actually had to look to check," Riley said. "There's a lot of student events there and it's nice that now it's more attractive and more eye-catching."
Graham Rodes, a sophomore in the College of General Studies, said the new signs will be much better than the current ones.
"Especially at night, having that illumination coming from the screen will just generally catch your eye," Rodes said. "So as an advertising strategy, I think it is effective."
Shoshana Rath, a junior in the College of Communication, said she noticed the installation happening but didn't know what was actually going on.
"I did see black weird things outside of Warren maybe like a week ago." Rath said. "I wasn't aware that they were putting in digital signs though, I didn't know at all that that was happening."
Dania Baseel, a junior in Sargent College of Health and Rehabilitation Sciences, said she passes by the construction every day but thought it was something more routine.
"I thought they were just taking down the posters and putting them back in," Baseel said. "But I think that the whole digital aspect is really cool."
In honor of National Newspaper Week, we're asking you to make a donation to The Daily Free Press. The financial support of our community is important now more than ever to help us continue writing stories like this for readers like you. Please chip in whatever you can. Read more and make a donation here. Thank you.