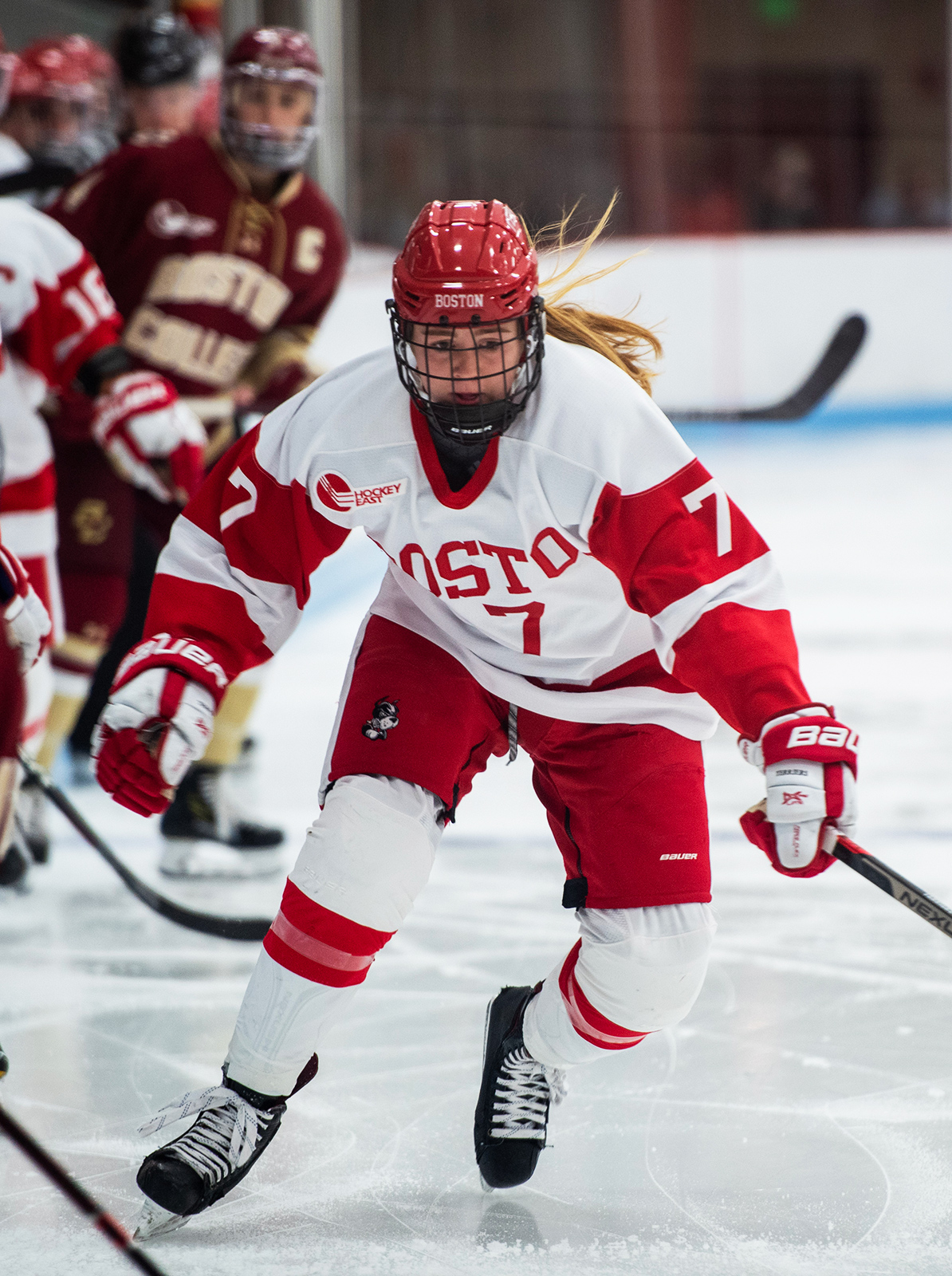 Boston University women's hockey will look to build off their first win going into this weekend when it faces Merrimack College Friday and the University of New Hampshire Saturday.
The Terriers (1-0-0, 0-0-0 Hockey East) picked up their first victory in their season opener against Union College with a 2-1 win Sunday afternoon thanks to redshirt senior captain Sammy Davis's two-goal game.
Second Team All-American junior forward Jesse Compher did not suit up for Sunday's game against the Dutchwomen due to a lingering lower-body injury. Her status is day-to-day.
BU head coach Brian Durocher said there are no updates as to whether Compher will play in this weekend's games.
"We're optimistic that things will go in a positive direction," Durocher said.
Compher appeared in all 37 games last season leading the Terriers in points, tallying 17 goals and 44 assists for 61 points, coming in as the third best in the nation. The first-line center was also a finalist for the Patty Kazmaier Memorial Award which is given annually to the best Division 1 women's player.
Merrimack (2-2-0, 0-2-0 Hockey East) is coming off a 2-1 win against Rensselaer Polytechnic Institute where freshman goaltender Emma Gorski earned her first career win for the Warriors.
While Merrimack's forwards Mikyla Grant-Mentis and Courtney Maud both scored to help lift the Warriors over the Engineers, the Warrior' offense recorded a season-high 46 shots on goal and outshot RPI 14-1in the first period.
The team is led offensively by Grant-Mentis and Sam Lessick who have three points apiece. Grant-Mentis leads the Warriors with two goals on the season thus far.
Duroche is putting an emphasis on smart plays defensively for this weekend's games against both Merrimack and New Hampshire.
"We want to create layers out there," Durocher said. "We don't want to be reaching for pucks. You gotta be smart, stick extended, and compete that way."
Durocher also commented on Merrimack's star-player Grant-Mentis, stating it is imperative that whoever is on the ice for the Terriers, it is important for them to know when such a talented individual is out there.
So far this season, New Hampshire (1-1-1, 0-0-0 Hockey East) has had no difficulty getting on the scoreboard. In their recent tie against St. Lawrence University this past weekend, four different skaters scored for the Wildcats. New Hampshire is currently averaging 4.0 goals per game.
UNH will face The University of Connecticut on Friday before their game against the Terriers Saturday afternoon.
"We're always going to keep stressing the technical parts of the game to make sure that you're playing smart and playing on the D-side of the opponent," Durocher said. "They [Merrimack and New Hampshire] are tough teams to play against defensively."
One player who Durocher believes can make an impact is senior defenseman Abby Cook. Cook was awarded Hockey East Second Team All-Star last season.
"Abby plays all three parts of the game," Durocher said. "She's on the power play, she kills penalties for us and she's a kid who plays regular shifts including key shifts late in the period and late in the game."
Durocher is also looking towards his upper-classman to step up; putting the emphasis on Kristina Schuler, Nara Elia, Deziray De Sousa and Natasha Tarnowski to set an example for the younger players.
"We got a whole bunch of sophomores that played a lot last year that are going to be expected to contribute," Durocher said. "But, if you're going to put a little more pressure on anybody, it's the upper-classmen who have been in big games a lot and they know what's expected."
In honor of National Newspaper Week, we're asking you to make a donation to The Daily Free Press. The financial support of our community is important now more than ever to help us continue writing stories like this for readers like you. Please chip in whatever you can. Read more and make a donation here. Thank you.