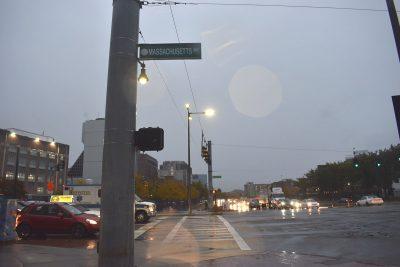 Boston Mayor Martin Walsh has released his plan to address Boston's "Methadone Mile" — the epicenter of the city's growing opioid crisis — which seeks to increase the health and welfare services available to drug users in the area while also bolstering law enforcement in the area.
Director of the Mayor's Office of Recovery Services Jennifer Tracy said that the plan, officially called Melnea Cass/Mass Ave 2 but is more popularly known as Mass and Cass 2.0, takes a three-pronged approach to the crisis, focusing on public health, public safety and quality of life.
"We will do that by connecting those struggling with substance use disorder with resources and a pathway to recovery," Tracy said, "by ensuring public safety for all residents, by reducing criminal activity, focusing on quality of life issues for our residents and businesses."
The "Methadone Mile" is the colloquial name for the area surrounding Massachusetts Avenue and Melnea Cass Boulevard, which is home to a high concentration of drug users due to the relatively large number of drug recovery and social welfare services in the area, which include Boston Medical Center, the Boston Public Health Commission and various homeless shelters.
However, the area has also seen a rise in violent crime in recent years, including a fatal stabbing in September, causing residents and business owners to raise concerns about a decrease in the relative safety of the neighborhood.
Tracy said the biggest change residents and workers will notice would be the increase in healthcare, social welfare, and public safety workers in the area.
"The public should expect to see more boots on the ground in all in all three areas," Tracy said. "… More public safety officers that are trained in engagement and recovery coaching, more recovery specialists that I just mentioned, doubling the outreach team out in the neighborhood to engage people and more public workers cleaning the street."
Specific improvements the city plans to make include placing more homeless residents in shelters, spreading out welfare services over a wider area to "deconcentrate persons in need," funding beautification efforts in the area and buying more opioid overdose reversal kits for the neighborhood, according to the Mass and Cass 2.0 plan.
As for law enforcement, the Boston Police Department will identify crime hotspots and station police officers in these areas, while also increasing the number of officers patrolling on foot and bicycle.
Additionally, Boston will deploy more public works crew members to clean up syringes and other drug paraphernalia that often litter the Newmarket Square region, creating safety hazards while also creating new syringe drop-off locations and incentive programs to encourage proper disposal, according to the plan.
Robert Goldstein, director of communications for the Boston Public Health Commission, said Boston residents should call 311 immediately if they encounter any hazardous or drug related waste. The waste will be identified and the appropriate city service will be deployed to clean up.
In addition to an increase in personnel, the Mass and Cass 2.0 will also take steps to enhance the appearance of the area, according to a city press release about the initiative. A welcome kiosk at the Massachusetts Avenue and Melnea Cass Boulevard will be installed along with welcome banners and added street lighting to make the area more welcoming and cohesive. 
The Office of Recovery Services will meet weekly with the city departments to maintain communication and the project itself will be evaluated every six months to measure its progress, according to the plan. The city will also post data on efforts to target both crimes as well as treatment opportunities, which will be accessible to the public on an online dashboard.
Tracey noted that the mayoral office hopes to have greater transparency and open communication between the public and administrative and tactical teams involved in the bolstered efforts.  
"One of the goals of the plan is to be more transparent and to post on a regular basis some of the outcomes that we've identified," Tracey said. 
Michelle Sorenson, 48, of Brookline said the initiative is positive for the city. 
"I've lost a lot of friends from opioid overdoses and stuff," Sorenson said. "I think it's a great thing because they're at least trying to open a system where people can go in and get help and it's monitored."
Nicholas Lecompte, 32, of Dorchester, said he doubts how effective this plan will be at actually solving the opioid crisis in the Newmarket Square area. 
"I'm sure it will make a small dent but if there aren't adequate resources for social work to really target homelessness and drug abuse, it's just displacing the problem," Lecompte said.
Mercedes Meach, 25, of Back Bay, said while no plan will fully address the problems facing "Methadone Mile," Mass and Cass 2.0 is a good start.
"That sounds like a pretty good plan," Meach said. "I mean, they have to start somewhere. I don't think there could really be a perfect way to start to approach this problem. But this seems like at least someone is trying to help"
In honor of National Newspaper Week, we're asking you to make a donation to The Daily Free Press. The financial support of our community is important now more than ever to help us continue writing stories like this for readers like you. Please chip in whatever you can. Read more and make a donation here. Thank you.