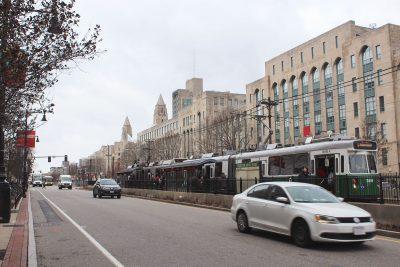 Boston University will have an independent commission visit campus at the end of October to evaluate whether the university can renew its accreditation status. BU submitted its own self-study to the commission in September.
The New England Commission of Higher Education committee will visit BU from Oct. 27 through Oct. 30 to determine whether the university continues to fulfill commission standards, a process that happens once every 10 years, according to university officials.
NECHE's standards relate to the effectiveness of the university's purpose, self-evaluation and organizational ability as stated on the company's website. It also evaluates academic and student diversity, resources and transparency.
Accreditation allows a university to receive federal funding, including grants and loans given to students, according to the Council for Higher Education Accreditation. Universities are accredited by one of 19 regional commissions across the U.S.
BU Spokesperson Colin Riley wrote in an email that accreditation shows that an institution is academically, financially and organizationally viable.
"The most important ramification is that [the evaluation] could affect student eligibility for federal financial aid, as well as their ability to transfer credits to other accredited institutions," Riley wrote.
Prior to the commission visit, BU was required to submit an extensively researched self-study addressing the NECHE standards. BU's website states that administrators used "existing administrative and faculty governance infrastructure" to conduct the study, completed over the past year and a half.
Riley wrote the study is designed to be informative not only to the commission, but also to staff, students, and other members of the BU community.
"[The study demonstrates] a very forward looking view, and we think that that's something students and members of the faculty and BU community should be very pleased with," Riley wrote.
In addition to funding concerns for students and administration, accreditation ensures credibility, and many employers do not accept degrees from nonaccredited universities, according to CHEA.
BU was first accredited in 1929 and was last comprehensively evaluated in 2009, when it was awarded "substantial compliance" with the commission standards, according to NECHE's website.
Riley wrote that compared to the 2009 standards, the current evaluation will focus more on academic programs.
Beth Loizeaux, associate provost for Undergraduate Affairs, wrote in an email that unlike many other institutions, Boston University also undergoes a five-year interim evaluation and submits an annual report to NECHE.
"We are well-reviewed by our accreditors," Loizeaux wrote. "[It is] an opportunity for BU as an institution to assess and reflect."
The NECHE visit is the final part of the re-accreditation process. The process is assisted by the steering committee, a group of 16 faculty members whose role is to compile the self-study and report to NECHE.
Robb Dixon, a professor of operations and technology management, is a member of the steering committee. Dixon said the members who are a part of the steering committee are an essential part of the accreditation process.
"The steering committee is responsible for responding to all of the questions that NECHE provides to us," Dixon said.
Dixon said he doesn't doubt that BU will be reaccredited.
"Reaccreditation is important, but it's not something where we're really wondering whether it's going to happen or not," Dixon said. "We fully expect to be reaccredited."
Genesis Camilo, a junior in the College of Communication, said she was not aware of the complex process related to accreditation.
"I've heard the phrase, but I didn't know there was a whole process behind it," Camilo said. "I just thought universities said it to make themselves sound better."
Nataly Aguirre, a senior in the Sargent College of Health and Rehabilitation Sciences, said she was unsurprised to learn about accreditation.
"I feel like I'm always learning something new about BU," Aguirre said.
Abigail Ripin, a senior in the College of Arts and Sciences, said she had heard about accreditation because of scholarship applications.
"I have seen on so many scholarship and fellowship applications, 'must have a degree from an accredited university, must be nominated by an accredited university,'" Ripin said. "I think [accreditation] is necessary for a lot of things."
Shaina Horstmann, a junior in COM, said she did not think accreditation was an important factor to a university.
"I wouldn't be able to name a list of accredited universities versus nonaccredited universities off the top of my head," Horstmann said. "I don't really think [accreditation] is a huge deal."
Nico Estrada, a sophomore in CAS, said he thinks accreditation is a good method of accountability for an institution like BU.
"It makes sense that that's something [the university] should have to go through," Estrada said. "It seems [like] something to keep everything on track."
There will be a forum on accreditation on Oct. 28, from 3 to 4 p.m. in the Rajen Kilachand Center for Life Sciences, room 101. Students are invited to attend and share thoughts or questions.
In honor of National Newspaper Week, we're asking you to make a donation to The Daily Free Press. The financial support of our community is important now more than ever to help us continue writing stories like this for readers like you. Please chip in whatever you can. Read more and make a donation here. Thank you.