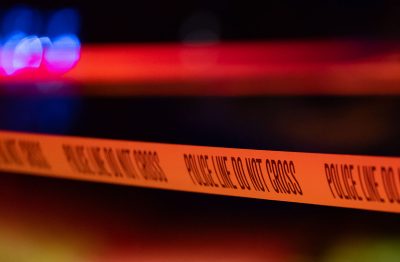 Last year, Massachusetts saw a decrease in nearly all violent crime across the state, with one exception — reports of rape rose by nearly 10 percent, according to recent FBI statistics. 
While it is possible that this change reflects an increase in rape incidents, several women's rights advocates say that this rise is likely due to the fact that more survivors are willing to speak to law enforcement about their experiences in the wake of the #MeToo movement.
Gina Scaramella, executive director of the Boston Area Rape Crisis Center, wrote in an email  that she thinks this increase in reports is linked to the rise of the #MeToo movement because BARCC began receiving increased demand for its services after the hashtag began trending online.
"For some survivors, the #MeToo movement has empowered them to speak out about what they've experienced. For others, they've felt pressured to speak out," Scaramella wrote. "In addition, while the #MeToo movement has greatly influenced our culture so that more people are driven to believe survivors, survivors who speak out still face a great deal of disbelief, blame, shame."
As a whole, violent crime was down four percent, while murder and non-negligent manslaughter decreased by nearly 21 percent since 2017, according to the FBI statistics. Reports of robbery dropped by 15 percent, while aggravated assault and property crime decreased by 2.5 and 11 percent, respectively. 
Rape remains the only outlier, with reports rising by 9.6 percent.
As the Federal Bureau of Investigation's numbers are drawn exclusively from crimes that had been reported to police, these statistics do not accurately reflect the total number of rape crimes that occured last year because authorities and researchers only know about the cases in which the victims were willing to speak
Sexual violence remains one of the most underreported crimes, according to Marta Bobinski, communications and volunteer coordinator at the Center for Hope and Healing, a local nonprofit sexual assault counseling program in Lowell.
Bobinski said since #MeToo gained traction over the last two years, more survivors have been willing to talk. For instance, the CHH received a 200 percent spike in calls to its support hotline during Supreme Court Justice Brett Kavanaugh's confirmation hearings last year.
Many of those conversations detailed experiences from decades ago that the callers had never spoken about, Bobinski said.
"We don't think that there are actually more rapes happening," Bobinski said. "People are just feeling more comfortable and open to report now. And I think over the last year, we have seen a really big increase in our referrals for counseling here."
BARCC and the CHH are not alone in seeing this sudden influx of reports. Toni Troop, director of communications and development at Jane Doe Inc. — a non-profit that advocates against sexual and domestic violence — said counseling programs across Massachusetts reported "a significant increase" in calls since the #MeToo movement began.
Troop said Jane Doe Inc. views issues surrounding sexual violence as not just a legal or criminal justice concern, but a major public health problem as well, rooted in the fact that many perpetrators neglect to receive proper consent.
"Just because you're in a dating relationship and because you've had sex before, doesn't mean that you don't have the right to consent each and every time," Troop said. "And secondly, it was only in the '70s that marital rape was even recognized as a crime in some states. That seems like ancient history, but it's really not that long ago."
Scaramella wrote that lawmakers often attempts to limit victims' freedom when trying to prevent rape and sexual assault. Instead, they should focus on educating and stopping would-be perpetrators.
"On an individual level, we should focus on how potential offenders can decrease their chances of committing an act of sexual violence rather than focusing on restricting the behavior of potential victims," Scaramella wrote. "We shouldn't have to sacrifice freedom and sexual empowerment to be safe."
Tactics for preventing sexually assault include educating youth about proper consent and healthy relationships, as well as encouraging bystanders to do something if they see a red flag, Scaramella said. 
Based on his experience in the workplace, David Johnson, 60, of Jamaica Plain said he believes sexual aggression is on the decline. However, he said he understands the struggle women face when deciding whether to report such actions when they happen.
"Most men don't really view women in their workplaces as sexual objects. They see them more as a working companion and it's good to see that," Johnson said. "I know [coming forward about rape has] always been an issue for women. You know, I mean, it's embarrassing. I think for a long time it wasn't really taken seriously."
MassArt student Sadie Weedall, 19, of Fenway, said that while she agrees that this increase in reports likely stems from the #MeToo movement, the public may interpret the statistic differently.
"I feel like it makes more sense that people have been speaking out about [their assaults] more," Weedall said about the FBI data showing increased rape reports. "I definitely think people will think that it's the other way—they'll just think that there's just [more rapists]."
Hang Truong, 23, of Back Bay, who came to the U.S. from Vietnam, said she appreciates the U.S.'s willingness to openly discuss matters surrounding sexual assault.
"In my home country, people still have a really stiff upper lip so they don't really share that much. They still think that it is too embarrassing to share," Truong said. "I think it's good that here people are more and more open. I think they empower other women."
Correction: A previous version of this article misspelled Toni Troop of Jane Doe Inc. as "Tori Troop." The article has been updated to reflect these changes.
In honor of National Newspaper Week, we're asking you to make a donation to The Daily Free Press. The financial support of our community is important now more than ever to help us continue writing stories like this for readers like you. Please chip in whatever you can. Read more and make a donation here. Thank you.