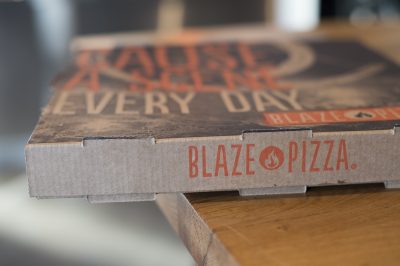 Blaze Pizza is set to open at 961 Commonwealth Ave. in late June or July, according to Lauren Gonzalez, director of human resources and training for BGR Hospitality.
Blaze currently has three Boston-area locations — downtown Boston, Fenway and Cambridge, said Gonzalez, who oversees these locations. The build-your-own pizza franchise bought its spot on Commonwealth Avenue at the beginning of 2017 following BurgerFi's closure, and the space has been under construction for about six weeks.
Gonzalez added that the pizza franchise is popular among college students nationwide, so the company is excited to open at BU.
"We love the buzz that comes along with opening another location, specifically this one that is so immersed in Boston University," she said. "It tends to be a fun opening when you're surrounded by a bunch of college kids."
In addition to its popularity among students, Gonzalez said Blaze plans to employ BU students and already has some working at its Fenway location.
"College-aged kids seem to be a great workforce for us as well, so we have quite a few employees across the three locations that go to local colleges, so it's kind of a win-win," she said. "All three [Boston] locations have a pretty significant employee base that are from the local colleges."
But not all students are as excited about the change in businesses.
Kobi Kassal, a junior in the School of Hospitality Administration, said he is sad about BurgerFi's departure.
"I am so upset that BurgerFi closed," Kassal wrote to The Daily Free Press. "It was one of my favorites!! They said they were just shutting down for a few months for renovations and that it would be opening up again in early 2016 and it never did."
Regarding Blaze, Kassal said he would have liked to see something different go in BurgerFi's old location.
"It's fine, it's good food but we have one in Fenway already, I won't go out of my way for a Blaze Pizza," Kassal wrote.
Regardless, Blaze staff is looking forward to the new opening, said Matthew Lease, a manager at Blaze's location in downtown Boston. The new BU location will be well-suited for the chain's intended niche, Lease continued.
"[Blaze's] philosophy is individuality and customization," Lease said. "College kids have the most unique attitudes and the most unique style and way behind them."
Lease said locals — regardless of their dietary preferences — can look forward to stopping by Blaze.
"We're trying to cater to everyone," he said. "We have gluten-free and vegan options. A lot of people are forgotten about. That's one thing Blaze is about. No matter who you are, no matter how you carry yourself, what you like doing, what you like to eat, we try to encompass it all in our restaurant."