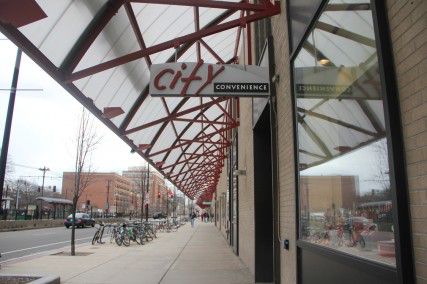 Originally rumored during the fall 2012 semester, Boston University Dining Services confirmed work on a Taco Bell in Warren Towers will begin during summer 2013.
Dining Services Marketing Director Scott Rosario said the Taco Bell will be installed as part of the City Convenience at 700 Commonwealth Ave.
"There are a lot of Taco Bells, Subways and Dunkin' Donuts that partner with convenience stores," Rosario said. "The design will accommodate a Taco Bell inside of the City Convenience."
Rosario said BU is still working on a final plan to integrate Taco Bell and City Convenience. Construction will begin when official plans on a timeline are completed and permits are acquired, likely in summer 2013.
"We want to fit the Taco Bell in the footprint of City Convenience to get the design done," he said. "We are trying to make sure we still offer plenty of products and everything else we already offer."
Rosario later clarified in an email that Dining Services made the decision to install a Taco Bell after receiving strong student support for the restaurant.
"Taco Bell has consistently ranked high on the Dining Services student survey as a brand that students would like to see on campus," he said. "We have also received feedback about adding a Taco Bell during Student Advisory Group meetings as well as on Facebook and Twitter."
Rosario said the Taco Bell will be managed by the Warren Towers City Convenience and owned by BU. BU owns each of the City Convenience stores on campus.
In 2008, BU closed the first Warren Towers Taco Bell and subsequently replaced it with what is now Starbucks.
Despite the announcement, a number of students said they are wary of health concerns raised by the presence of another fast food establishment.
Anika Adeni, a Sargent College of Health and Rehabilitation Sciences sophomore, said while adding variety to dining options is important, building a Taco Bell may undermine healthier choices on campus.
"I'm really conscious about the way I eat so I am not going to eat there often, but it's important to have something a little different every so often," Adeni said. "I'm not sure about the health part, but I don't know if college students really care about eating healthy right now anyway."
Miranda Swinnen, a College of Arts and Sciences freshman, said she is indifferent to Taco Bell coming to campus because she tends to eat healthier foods.
"I know a lot of people are really excited about it," Swinnen said. "It would do a great business but, in terms of the food it serves, it is not one of the better options, especially on this campus."
SAR freshman Spencer Hardy said Taco Bell extends the options for cheap, late-night dining.
"Personally, I pay with cash so anything cheap is good for me," said Spencer Hardy, a SAR freshman. "It would offer a lot of students somewhere to go because it's a cheaper alternative, but certainly not a healthier alternative."
John Bian, a College of Fine Arts junior, said the Taco Bell will be counterproductive to health events like Sargent Choice night in the dining halls.
"I like it because it's a Taco Bell, but I also kind of hate it because it's a Taco Bell," Bian said. "It's cheap food, and because it's there and so easily accessible to everyone in Warren Towers, it puts healthy options aside."