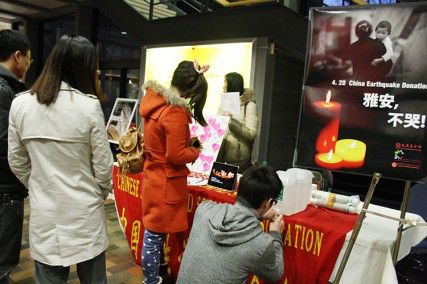 Family, friends and Boston University officials gathered Monday night to honor the late Lingzi Lu in what BU Reverend Robert Allen Hill described as a "convergence of all the concentric circles" that made up Lu's life.
"Today this university's arms are long enough to embrace the whole globe, and its heart is close enough to feel the heartfelt pain associated with losing one of us," Hill said, addressing the crowd. "Your presence matters. May this service bring some quiet assurance to each one of us."
Lu, passed away at just 23 years old Monday during the explosions that shook the crowd of spectators near the finish line of the 117th Boston Marathon.
BU President Robert Brown and Zhong Ruiming, deputy consul general of the People's Republic of China for New York were among the speakers at Monday night's memorial. About 300 spectators, including Lu's extended family, Lu's professors and Mass. Gov. Deval Patrick, filled Metcalf Hall.
Brown said the Lu Lingzi Scholarship Fund, established in Lu's honor, will ensure her bright future is not lost.
"Our astronomers tell us that when a star dies, its light continues to travel across time and continues to reach out," he said. "This scholarship, because it is endowed, will provide opportunities for future students like Lingzi."
Zheng Minhui, a first-year Graduate School of Arts and Sciences student and one of Lu's classmates, said she remembered Lu as a role model and sweet person. She said Lu went to bed early, woke up early and would always be the first to arrive for class.
"Thank you so much for bringing us sweetness, happiness, your lovely stories and your beautiful smiles," she said. "… We will love and miss you forever. We are still together, with you, and we will never be apart. We hope you rest in peace."
Minhui said Lu had one simple dream, which was to live a peaceful life.
Jing Li, Lu's roommate and friend, said she and Lu had grown very close since meeting on the Internet and deciding to be roommates while at BU.
"We believed that we were long-lost sisters and could not wait to begin our adventure in Boston," Li, a first-year School of Education graduate student, said. "I was so grateful that I found such a lovely sister in my life. I had no idea that this friendship could only last one year."
Li, who once asked Lu what the name "Lingzi" meant, said the ancient Chinese translation — "wonderfulness and beautiful" — perfectly matched Lu's personality.
"You were a wonderful and beautiful girl, as your name indicated," Li said. "You were really smart and hard working … You indeed brought sunshine and sweetness to me and everyone who knew you."
Lu's father, Lu Jun, who delivered a eulogy in Chinese that was translated, said there is an ancient Chinese saying that describes children as small Buddhas who help their parents grow up, something he said suited his daughter well.
"We as parents admire and appreciate her kindness, courage and her yearning for a beautiful life," he said. "Lingzi, you are simply the best."
He said he remembers the day she received her acceptance to BU as a happy and joyful one both for his daughter and for their family.
"I can keep talking about my daughter's stories for days and nights, but, alas, she is gone," he said. "How can our living move on? She is gone but our memories of her are very much alive."
While Lu's passing was sudden and impossible to comprehend, Li said she is grateful for the time she spent with Lu and the lessons Lu taught her.
"There are a lot of things in our life that we don't understand," Li said. "But we do understand that Lingzi, you need us to be strong and brave and move forward. We will keep running to finish the race for you and we will try to finish your unfinished dream. We have learned to cherish every moment and every person in our life."