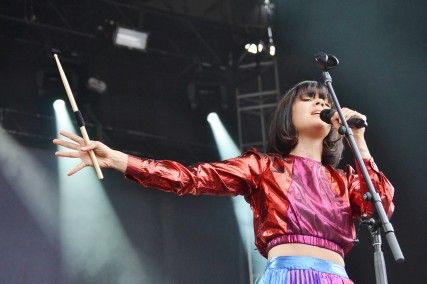 "Hello, beautiful people!" Bat for Lashes' Natasha Khan called into Boston Calling's Saturday audience. Boston Calling's Red Stage sported a collection of punk/grunge and ethereal alternative rockers, including Bat for Lashes, with a bevy of surprises along the way.
The Red Stage lineup blasted off with Boston's very own Viva Viva, a punky and high-energy collection of indie rockers that won Boston Calling's Sonicbids contest this year. The band regards itself as '60s-'70s retro rock, yet its performance at Boston Calling was more reminiscent of late '70s or '80s punk rock, with an uncut and energetic vibe.
Next came Mod princesses of Brooklyn-based Lucius. Elusive of genres, one song channeled '80s ballad rock, the next late '90s alternative, the next an ethereal soul song with bluesy riffs straight out of late '60s soul and then another with a reggae rhythm straight out of the nineties. The only thing that felt timeless was the vocals.
Deer Tick was similarly indefinable in genre, between angsty punk, burdened grunge and offbeat, pseudo-modern country. Even upbeat songs still felt honest — a crucial component for a band like Deer Tick. Deer Tick even invited Vanessa Carlton  onto the stage for one performance, which almost detracted from the rest of the band's set.
Bat for Lashes stole the show when lead vocalist Natasha Khan took the stage, swinging her drumstick like the maestro in her electro-dream orchestra. From the first song, she had the crowd entranced and goosebump-ridden, her wispy voice calling out to every person in City Hall Plaza. Over primal drums and surreal synths, Khan mystically swayed around the stage. Although Bat for Lashes is far from a high-energy band, Khan put every ounce of energy into her performances, passion sparking from her fingertips. A highlight of the day was Khan's haunting song, "Laura," where every crack in her voice was an internal rip to the audience member. At the end of the performance, both she and members of the audience dabbed their crying eyes.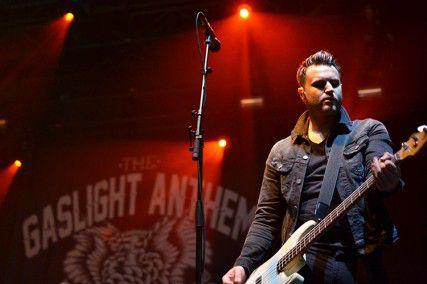 The Gaslight Anthem closed the Red Stage lineup — the iconic rock band played an hour and a half worth of songs to which the audience was meant to sing along.
"This is a blues song," lead vocalist Brian Fallon said, though I begged to differ. The emotional honesty of the blues defines the genre, and so many of the guitar riffs, howls and "rocker" sentimental lyrics read as tired clichés before they read as the blues.
The Gaslight Anthem does not seem to write songs with the goal of creating something unique, but rather something inspirational and sentimental. Whether or not this aspiration is flawed — to simply attempt to evoke an emotion without purpose could be construed as contrived — is hard to say. However, the energy and excitement of The Gaslight Anthem is apparent, with clean execution from start to finish. I would guess U2 fans would find the band a cost-effective alternative to the classic rockers: the 'fake Louis Vuitton purse you bought in Chinatown' of a concert.