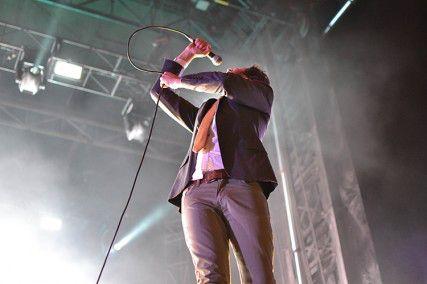 Sunday concert-goers were greeted by electronic beats, rap, dubstep for Day Two of Boston Calling.
Royal Teeth, a six-person band from New Orleans, kicked its performance off with "Hold Me" and continued with songs from its debut album Glow. The highlight of the whole set, however, was its cover of The Knife's "Heartbeats." Although they performed an enjoyable set filled with tales of youth, this band's young age contributes to both its appeal and to its demise. While Royal Teeth's artists lack experience, the band could certainly ripen with age.
The small crowd made big noise for the following Boston-based, four-person Bearstronaut. Its synth-pop sound felt basic, and the band's only attempts to stand out involved the impromptu appearances of some maracas and a wooden block. Like Royal Teeth, Bearstronaut was pleasant, but not much more.
Across the plaza, the Red Stage welcomed Big Black Delta, a small band comprised of not one, but two drummers. The third member, Jonathan Bates, rocked out by his computer, belting the lyrics to the  band's songs, including "Side of the Road" and "Capsize." The band's drum-heavy and energetic songs were a good counter to some of the one-dimensional acts preceding it.
Then came the life of the party. Australian DJ Harley Streten, a.k.a. Flume, is an experimental dubstep producer who knows how to drop the bass. His dynamic tunes feature vocal layering and human voice as his beat, giving his music an eerie edge. Flume kicked off the electronic portion of Boston Calling, making way for groups such as Flosstradamus, Wolfgang Gartner and Major Lazer.
All of these groups were crowd-pleasers, making their mark as the more mainstream acts of the festival. In particular, Flosstradamus performed their most reputable songs, including "Rollup." Hailing from Chicago, this DJ duo incorporates heavy rap culture into their music, and interrupted their own act numerous times to profanely stimulate the crowd.
Major Lazer was the hype of the day for most attendees at Boston Calling. People crowded around the Blue Stage, some not even leaving it in the first place, to get a good spot to see this mystery group. Major Lazer's main member, Diplo, played a variety of tracks, including "Get Free" and his single "Express Yourself." Band members crowd surfed while inside of giant plastic beach balls and cannoned streamers into the audience. As Boston Calling's Twitter account posted: "we shoulda handed out hard hats for what @MAJOR LAZER is about to do to City Hall Plaza."
The last two acts, Kendrick Lamar and Passion Pit, had two contrasting feels. On the Red Stage, Lamar, a rapper from Compton, Calif., performed major hits, such as "B*tch Don't Kill My Vibe", and the ever-so-popular "F**kin' Problems." The crowd was unbelievably packed in, flooding City Hall Plaza with fist pumps and West Coast hand signs.
On the other side, Boston Calling came to a close with headliner Passion Pit on the Blue Stage, who, like Bearstronaut, is native to the Boston area. The band reversed time by opening with the first song from their first album, "Make Light." The setlist progressed somewhat chronologically after, beginning with "The Reeling"/ "Sleepyhead" and ending with the band's newest hit "Take A Walk." As they left the stage, so did the weekend of celebration, leaving all members of the audience with some memories to cherish.