On a cool autumn night in Cambridge, the audience at The Sinclair was transported to a never-ending California summer when Wavves performed their set. As the clock struck 11 p.m. Tuesday, the large crowd huddled even tighter as it waited for a glimpse of the headliner.
At first glance, it was a surprisingly diverse audience for an indie rock show. The cheers that followed, after singer Nathan Williams walked on stage, however, solidified the San Diego quartet's brand of surf rock as a musical unifier, bringing fans of various genres together.
Right off the bat, Wavves exhibited just how much it knew its fans, starting off the set of high-energy noise rock with a 2010 fan favorite. Bright colored lights, glow-in-the-dark guitars and an affinity for cat-themed merchandise formed an aptly kaleidoscopic backdrop to "Post Acid."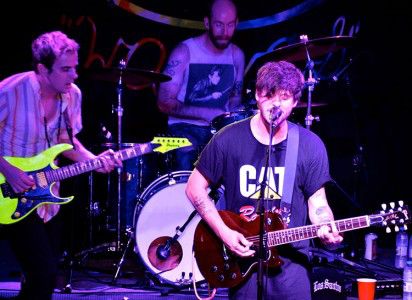 Truly mind-altering, however, was the ease with which the lyrics of the song shift from anxiety ("Misery, will you comfort me?/ In my time of need/Would you understand?") to happy-go-lucky elation ("Would you understand?/That I'm just having fun/With you?").
But before anyone can accuse him of being too serious, Williams paints a masterpiece of absurdity in "Super Soaker," claiming: "My alien, he's still missing/My brain's numb/And I can't hear you."
The crowd reveled in the lyrics and the equally convincing slamdance-worthy electric guitar. Soon enough, the members of the on-stage security staff found themselves busy just trying to prevent overenthusiastic fans from climbing onstage. Add to that the dozens of people crowd surfing each minute, and someone might be convinced that he or she was stuck in a tempest.
The stream of airy "beach house"-like tunes flooded throughout the venue, and a sense of escapism was only heightened as Williams daydreamed aloud: "Green eyes, I'd run away with you/Green eyes, 'cause I'm a fool."
Equally prevalent was the band's self-depreciation and apathy, which has stayed constant throughout Wavves's career, from the iconic Wavves lines in "To The Dregs": ("You see me/I don't care"), to the more recent lyrics of "Green Eyes" ("My own friends hate my guts/ So what?"). Williams even prefaced a performance by saying: "This song is about, uh — it doesn't matter."
This ever-relatable slacker teenager persona is somewhat misleading when one realizes just how prolific the band has become. Their trajectory, from buzzy lo-fi cassettes to a spot on Grand Theft Auto V's soundtrack, does not seem to be slowing down anytime soon.
Fresh from releasing a new album, Afraid of Heights, the newer Wavves music features a cleaner, more consistent production and a focused, self-aware approach to lyrics.
In the intricately layered, but no less catchy "Demon to Lean On," Williams contemplates this very evolution: "You and I pace along the grass/And think of what we had/Ambivalent and young/We're probably just dumb."
The artistic changes were seemingly well-received by the crowd, which, fueled by an unlimited supply of pure joy and all the things your D.A.R.E instructors warned you about, danced during the entire set.
Despite this chaos, however, Williams maintained a calm demeanor. Leaving behind the tumultuous days of tour cancelations and Twitter drama, he uttered his much-loved and profanity-laden banter with incredible collectedness. With this, the crowd transformed from a stormy tide to a harmonic wave.
Standing like an island in the middle of the ocean, the band saved its best song for last, finishing its set with "King of the Beach." Under the warmth of glaring lights, the band evoked a sort of midsummer heat: "Let the sun burn my eyes/Let it burn my back."
So when Williams yelled a chorus of "You're never gonna stop me," no one dared to question him. And, with the conclusion of a lively performance, Wavves was crowned surf rock royalty once again.