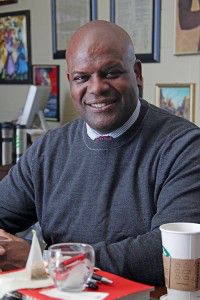 Setting up microphones and fixing lights as an intern in the George Sherman Union, Kenneth Elmore never expected to be sitting in his own office at Boston University 28 years later celebrating 10 years as the Dean of Students.
"It's like so many things in life," Elmore said. "You start out thinking one thing, and as you meet people, you start going down a different path. And then before you know it, you're doing something different."
Looking back on not only the past 10 years, but his whole career, Elmore realized these surprises became a common theme on his path.
Before Elmore became a staple on Commonwealth Avenue as the man with the winning smile, fresh suit and fancy bow tie, he had ambitions of becoming a high school teacher.
While studying psychology at Brown University, Elmore said he often visited his friends in Boston, a city he liked for its youthful charm and metropolitan feel. He knew early on in his undergraduate career that one day he wanted to earn his Master's in Education at the school where Martin Luther King Jr. once studied.
"I just loved everything about being at the place [BU]," Elmore said. "Particularly the community, and also the very nature of the people that you meet here at the university."
In 1985, Elmore interned at the GSU to pay for his graduate school tuition. He also worked at the Student Activities Office for four years as the coordinator of programs, and then as assistant director of the department.
Not finished at BU yet, Elmore moved down the road to work in the Residence Life Office for 12 years, while simultaneously pursuing a different career path.
"I had a friend of mine who said, 'Hey, look — have you ever thought about practicing law?'" Elmore said.
While working in BU's Residence Life Office, Elmore took evening classes at the New England School of Law. Though he did not originally intend to practice law, he realized how much he enjoyed the subject matter, and began to delve deeper into the prospect of making a career out of practicing law. Soon after realizing his particular interest in business law, he took a leave of absence from BU to practice law at two different Boston-based law firms for the next few years.
"I had some really good experiences with the law firms that I was at, particularly at the law firm that I was with at the time," he said. "Really good people, very interesting work that I enjoyed."
But about four years later, Elmore again diverged from this path to try something different.
"I only practiced law for about three to four years," he said. "To me, that's short."
Without anything specific in mind, Elmore hoped to return to BU and teach after practicing law for several years. Then in 2003, the opportunity arose to interview for the Dean of Students position after Wendell Norman Johnson resigned.
Elmore walked away from the law firm and stepped right back into BU. This time, however, he was not fixing microphones and adjusting lights — this time he was overseeing thousands as the Dean of Students.
"It was a bit of a tough decision for me to leave and walk away from that [practicing law]," Elmore said. "But I look back, and I have absolutely no regrets at all. It was like coming back home."
Since becoming Dean of Students, Elmore said he has made a conscious effort of talk to students and get to know them on a personal level.
"I just move around, and I try to talk to people," Elmore said. "I'm sure you'll find students who say that you can stop me on the street, and I got this really bad habit of being late to things because I am talking to people."
Katherine Cornetta, Elmore's first-hand assistant for the last seven years, said he has always been great at listening to his students. He made the Dean of Students Office a friendly and approachable environment, where students can come in and out freely with their concerns, suggestions or ideas, she said.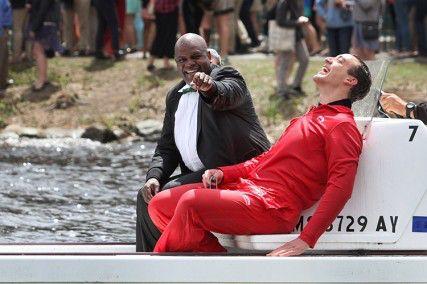 "He's shown how we can be responsive as an office, and that has definitely improved over the years in just setting the tone for a student-friendly office," Cornetta said. "And all his ideas really put the students first in trying to create a great sense of university spirit."
Cornetta said she constantly sees Elmore doing whatever he can to help his students channel their creativity and foster their passions in a positive and productive manner.
"It is very inspiring to work for him because you know that he's never thinking of himself — he's always thinking about other people, and about students, parents and alum, and how he can make their experience better," Cornetta said.
Elmore said he is especially interested in how students learn and, as a result, he keeps a constant eye on what the Educational Resource Center and the Center for Career Development does on campus. He advocates for programs and initiatives that will resonate with his students' values and interests, and will improve how they live their lives.
"We're pro-youth here," he said. "Not just pro-BU."
Over the past 10 years, Elmore has watched BU evolve into the cosmopolitan and stimulating community that it is today. He said the biggest changes during his time here have occurred with technology and social networking. He uses social media to minimize the gap between students and administrators in order to create a more communicative environment.
"Students are definitely different [compared to 10 years ago]," Elmore said. "Students are a lot smarter, a lot more cosmopolitan and a lot more focused at the same time too. So I love and appreciate that nowadays I can have more of a focus on the intellectual nature of the place — that's what I like."
Aside from being Dean of Students, Elmore defines himself as an academic, a politic and most importantly, a conversationalist. Cornetta said a lot of people don't notice that Elmore is the same person both inside and outside of the office.
"He's just a boisterous, really thoughtful, kind-hearted person, and it translates really well into his work because that is exactly how he is outside of work too," Cornetta said. "He's a really great mentor and friend to everybody."
Elmore said the most vital part of his job is talking to and engaging with his students. His students are his main focus not only at BU, but also in the world. Because of this, Elmore makes sure that their thoughts and opinions are both heard and respected by others.
"I think talking to people is really important," Elmore said. "There's a conversation out there somewhere and I want to make sure that, if I can get involved in it, I would like to. I also stop in at club and organization activities that are happening and have a conversation with people. I've been known to drop by the BU Pub or T's Pub … and chat with people too."
As a father of two and Dean of about 16,000 students, Elmore said he tries to help motivate people into upholding personal integrity, and encourages them to foster their passions and reach for their dreams.
Student Government President and College of Communication senior Dexter McCoy said Elmore has been motivating and mentoring him since he visited the university as a prospective student.
"We have had many opportunities to just sit down and talk," McCoy said. "He has inspired me to want more from myself, and to expect more from the people around me. And that's been incredible."
Since becoming student body president, McCoy said his relationship has evolved with Elmore. However, they make certain their personal and professional relationships do not collide in the workplace.
"In a professional sense … we talk business," McCoy said. "It's about what we have to do for the community, what we have to do for the student body. But when we meet on a personal note, he really cares to know what's going on with family and with me personally, and I don't think that's unique to me. I think he does that to whoever takes that opportunity or shows that they want that, because that's just the type of person he is — he cares."
Elmore said much of his position at BU is similar to being a father. His goal is to get people to understand where their passions lie and how best to channel their energies in a productive way.
"I think passion is this incredibly wonderful — and at the same time — really tough thing to deal with because it needs perspective," Elmore said. "Love needs perspective."
Elmore said he is grateful to be a part of the great momentum BU is experiencing at this time.
"I hope that … young people around the world continue to say, and even more so say, 'this [BU] is the place that I want to be,'" Elmore said. "'This is the place where I can come and learn and think deeper, and find that platform for how, in my own way, I can change the world.' To me, that's what I hope for the next 10 years — that we all are able to contribute to that ideal."
After almost 30 years at BU and 10 years as the Dean of Students, Elmore has maintained the same sense of energy and zest for life, which has not faltered with the demands of his job.
"These past 10 years have not felt like such a long time," he said. "I guess time flies when you're having fun, right?"