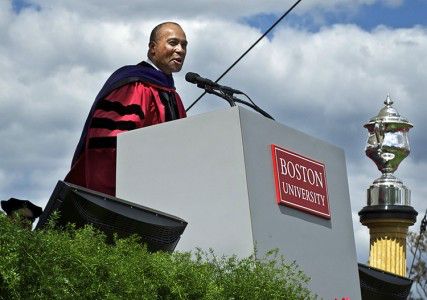 In front of a crowd of 7,000 graduates and about 25,000 family members on Nickerson Field, Massachusetts Gov. Deval Patrick encouraged Boston University's graduating Class of 2014 to remember the importance of face-to-face interactions in an era of social media.
"Given the level of personal engagement that good citizenship requires, I've been wondering and worrying whether this kind of citizenship is in jeopardy," he said. "Real human connection, the nuance of empathy and understanding is often more gradual and elongated than Twitter."
Patrick, in his address at BU's 141st commencement, said the disconnect between technology and "truly being present" is linked to how problems could be created or complicated by people unaware of their own lack of empathy, from an interpersonal to a global scale.
"Human intimacy still matters," he said. "That's how we build trust, how we convey kindness and grace, how we love, how we heal the world. Human intimacy still depends on looking someone in the eye…whether healing a person or healing the world, healing itself requires being present."
The commencement ceremony was headed by BU President Robert Brown and included the distribution of three teaching awards and six honorary degrees.
"The commencement ceremony celebrates the achievement of each of our students, but it means much more," he said. "On your shoulders rests enormous responsibility for guiding America and the world and addressing the substantial challenges that we face. You are the future for this university, for this country and for humanity…now go into the world and make it a better place."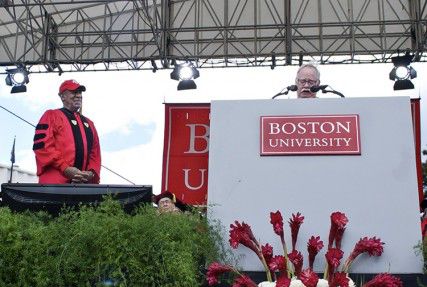 The six honorary degree recipients included actress Mayim Bialik, author and entertainer Bill Cosby, philanthropist Rajen Kilachand and City Year chief executive officer Michael Brown, who all received honorary doctorates of Humane Letters. Massachusetts Institute of Technology professor and women's rights activist Nancy Hopkins received a Doctor of Science and Patrick received a Doctor of Laws.
Tori Gilbeau, a graduating student of the College of Communication, was the student speaker on behalf of the class. She reminded her peers to appreciate how lucky they were to be at BU.
"Everybody at BU has a unique story," she said. "But here we are today, college graduates from this illustrious university, and we have lots of people to thank, especially our support system…[Their] support got us here, together. We've been through so much as a university, as individuals. I hope you are all proud."
Several BU professors were also recognized for outstanding educational achievements. College of Engineering Assistant Professor Stormy Attaway received the Metcalf Cup and Prize, the highest teaching honor the university offers. Terry Everson, an associate professor of Music and trumpeter in the College of Fine Arts, and Alan Marscher, an astronomy professor in the College of Arts and Sciences, also received Metcalf Awards for Excellence in Teaching.
The Class of 2014 also presented a record-breaking $53,971 monetary gift for the Class Gift to which approximately 2,169 students donated.
Though the act did not interrupt the ceremony, a man carrying two handguns was arrested at about 1 p.m. outside Nickerson Field for creating a disturbance and carrying firearms on school grounds, said BU spokesman Colin Riley. The suspect, Andrea Massa, 28, of Marshfield, is expected to be arraigned in court Monday.
Members of the Class of 2014 said they were delighted with the commencement ceremony.
"This is my first graduation in the country," said Nam Chu Hoai, a CAS graduate in political Science from Germany. "The whole process is so much more of a celebration, so much more of an honor than I am used to…and it's shown in the huge amount of things the school organized for us and just the whole formality of it all."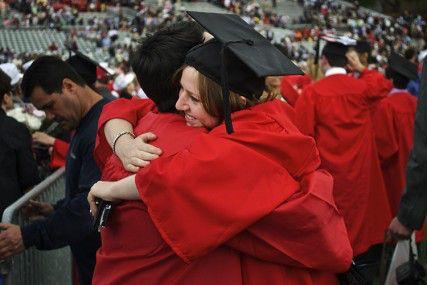 Ron DiTullio, a CAS graduate in neuroscience, said he was also impressed by how his experiences at BU school impacted him as a senior.
"The jobs I have lined up for now and in the future, almost all of it has been because of people here at BU," he said. "This whole graduation is a lot to take in, but it really feels like a symbol of how I've been taken care of ever since I showed up all those years ago."