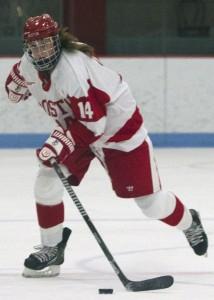 The Boston University women's ice hockey team is on the cusp of starting another exciting season.
On Monday, BU was picked to finish first in the Hockey East preseason coaches' poll and was ranked sixth in the nation in USCHO.com's preseason Division I poll. After graduating six seniors at the end of last year, the Terriers will feature six new players and welcome back the majority of their conference tournament champion team.
The biggest question to start the 2014-15 season is who will take goaltender Kerrin Sperry's place between the pipes. For the first time in a couple of years, the Terriers will not have just one established starting goalie. With three netminders on the roster and just a day of formal practice total, sophomores Victoria Hanson and Mia Becker, along with freshman Erin O'Neil, will each try and make their case to claim the top spot on the depth chart.
Hanson saw playing time in 2013-14 in six games, a couple of which included big matchups like the University of Wisconsin and the University of Minnesota-Duluth — allowing 15 goals on 166 shots in the process.
However, the full time starting position is up for grabs and will continue to be for at the very least the first handful of games of the season. How the three of them respond to the challenges they are faced with will factor in greatly to who gets the nod.
"Most importantly for all three of the goalies is how are they going to react to the new situation," said BU coach Brian Durocher. "Playing at this level, possibly being a 1 or a 1A goalie, how are you going to do in the road games that have significance? How are you going to do in the biggest games, if it's Boston College, or Harvard [University], or Minnesota [University] or whoever some of the top teams are?
"And then ultimately, as you get to the playoffs, how is somebody going to play in a Beanpot? How's somebody going to play in the Hockey East tournament? How are they going to play in the NCAAs if we can get there? I think that's going to be the trickiest part for the new goalies is how they handle each step, being that it's really their first time through all those stages."
On the offensive end, things are a little more stable. Senior forward Marie-Philip Poulin is returning from her year off after participating in the 2014 Winter Olympics and will serve as captain with senior defenseman Shannon Stoneburgh and junior forward Kayla Tutino as alternates. Tutino is also playing for the first time after going down with an injury 14 games into the 2013-14 campaign.
Adding Poulin and Tutino back to the roster will certainly help make the Terriers' forward contingent even more formidable going into the year.
Durocher said he knows that Poulin's return does not give his team an automatic edge over everyone else, though, as two other Hockey East teams are getting Olympians back this year.
"It's great to have her, because as good a player as she is, she's a better teammate and a better person after that," he said. "Yes, it is awful nice to have her ability, but I think the other two things are what make her a better person."
Three freshmen forwards in Victoria Bach, Rebecca Leslie and Anna Streifel will also help make waves for the Terriers this season.
Bach and Leslie were both members of the Canadian National Under-18 team and were in the top 10 for leading scorers in the Provincial Women's Hockey League.
Bach led the league with 68 points in 35 games, and Leslie came in at sixth with 52 points in 38 games. Streifel is effective because of her size as strength, as Durocher notes that she's a power wing and may take a couple steps before she's completely adjusted to college level play.
"We look for all of them to contribute, and it'll be interesting to see how they get acclimated, how quickly they get used to what's going on at this level and contribute to the team," Durocher said.
Established forwards like junior Sarah Lefort, who led the conference in scoring during the 2013-14 season with 55 points in 38 games, along with sophomore Maddie Elia, who was named to the Hockey East All-Rookie team, will also be exciting to watch as the season progresses.
In terms of defense, the core of the team is largely the same and should be as strong as in previous years. Even though the Terriers lost defenseman Kaleigh Fratkin to graduation, senior Shannon Doyle is back from injury and will likely take on Fratkin's minutes. Freshman Savannah Newton will also be a solid addition to the BU blueline this season as a "good skating, puck-moving defenseman," Durocher said.
Six Terriers in Poulin, Doyle, Lefort, Bach, Leslie and sophomore forward Samantha Sutherland are at Canada's National Women's Team Fall Festival Sept. 22 to 28 in Calgary, Alberta and will not be back for the team's exhibition game against Queens University Saturday, but Durocher said he is confident that his team will be ready when the season kicks off in October.
"Despite their knowledge and experience of our system, it still makes it a little bit of a challenge, but we're going to be ready," he said. "I always try to turn a negative into a positive and know that it will give me more time to prepare other people for some of [their] roles, just getting more reps here at home during practice, so we'll be ready to go, and there will be no excuses made."