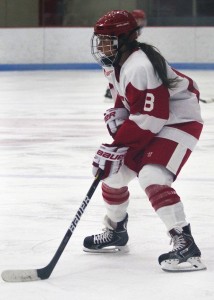 The No. 5/6 Boston University women's ice hockey team will take the ice for the first time this season Saturday at Walter Brown Arena for an exhibition game against Queen's University.
The Terriers are looking to build upon a 2013-14 campaign that saw them win their third-straight Hockey East title and their fourth in five years. As the favorite in the preseason conference coaches' poll to hoist the trophy once again, BU will look to start off strong against its Canadian foe.
Unfortunately for the Terriers, they will face the Golden Gaels without six key players. Senior defenseman Shannon Doyle, senior forward Marie-Philip Poulin, junior forward Sarah Lefort, sophomore forward Samantha Sutherland and freshman forwards Rebecca Leslie and Victoria Bach will all be absent, as they train with the Canadian National women's hockey in Calgary, Alberta.
Without Lefort – the NCAA leader in goals during the 2013-14 season – and two-time Olympic gold medalist Poulin, BU coach Brian Durocher will get the chance to see some other players step up on the front line, including junior forward Kayla Tutino.
Tutino played in 14 games during the 2013 season before suffering a season-ending injury, but she proved herself a capable scorer, notching four goals and six assists. The Lorraine, Quebec, native looks primed for an All-Hockey East selection after developing her skills further and getting back into shape this offseason following a tough injury.
"The big thing is just to get her game pace and confidence back," Durocher said. "She spent the last eight months rehabbing and conditioning, but obviously knee injuries can be difficult to recover from. So getting back into form and back into shape is huge for her.
"She's a fantastic athlete, though, and she seems to be in good physical condition, and she seems to have a great mindset."
One player missing Saturday's game that the Terriers would have loved to see on the ice is Doyle, who sat out all of the 2013-14 season due to a torn labrum. The 2012-13 Hockey East First Team All-Star blocked a league-high 89 shots in her first year at BU, while contributing career-highs in goals (six) and assists (18).
"Shannon [Doyle] is ahead timing-wise of Kayla [Tutino] because of the nature of her injury," Durocher said. "She had extra time after the surgery to repair her labrum and was skating back in February and March. She did play in the Hockey Canada camp this summer, which was competitive, and she seems to be in pretty good game-shape."
With the return of Doyle and Poulin for their senior seasons, the Terriers will have one of the deepest and most experienced squads in the country, returning six former 20-point scorers. Notable among these is sophomore forward Maddie Elia, who earned Hockey East All-Rookie Team honors last year after placing second among Hockey East freshmen with 28 points on 13 goals and 15 assists.
One major question mark for BU lies between the pipes, following the graduation of goaltender Kerrin Sperry. Currently, the Terriers have three players vying for the position, all of whom are underclassmen.
With a lack of experience in net this season, BU will rely more than ever on a stout defense. On the backline, Doyle will be joined by fellow seniors Caroline Campbell and Shannon Stoneburgh. Meanwhile, junior defensemen include Lillian Ribeirinha-Braga, Diana Bennett and Alexis Woloschuk.
"[The defensemen] have really worked hard," Durocher said. "We've really tried to emphasize taking care of your individual assignments these last three days. If everyone individually takes care of their assignments, it's amazing how much that helps the team defense.
"We also just need to get better in our goals against. We gave up too many goals last year in front of an All-Star goalkeeper, and this season, that needs to improve."
Combined, this unit has a plethora of experience, with Ribeirinha-Braga, Stoneburgh and Campbell all having played in at least 37 of the team's 38 games in the 2013-14 season.
Going into this exhibition game against the Golden Gaels, Durocher will not place too much pressure on his team, deeming this contest a run-through before the Terriers' season opener Oct. 3 against St. Cloud State University.
"This is a game where you don't worry about your opponent too much," Durocher said. "You just watch your kids getting their reps. It'll give everyone a chance to play hard and get regular ice time every third shift. It should be a great test, and we'll be looking to see some roles filled based on the team's play in this game."