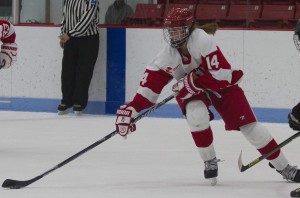 Back on the ice for first time in the 2014-15 campaign, No. 5/6 Boston University women's ice hockey team earned a 3-0 victory Saturday versus Queen's University at Walter Brown Arena.
Playing without six key players, including senior forward and captain Marie-Philip Poulin, as well as last year's NCAA scoring leader junior forward Sarah Lefort, the Terriers competed with just 18 skaters. This reduced roster gave BU coach Brian Durocher the opportunity to observe some of his third and fourth line options in preparation for the season-opener against St. Cloud State University.
"It was an exercise in hockey where we get to find out a little more about ourselves," Durocher said. "To have that behind us, at least we have something to look at and something to work with, that will help us evaluate where we've got to go from here."
In their most recent matchup during their exhibition tour throughout the east coast, the Golden Gaels were dismantled by No. 3 Boston College in a 10-1 drubbing.
To begin the first period, BU looked like a team playing without six of its top talents. The Terriers lost nearly every 50/50 puck in the neutral zone, while Queen's took advantage of its increased puck possession, launching 13 shots on goal. Luckily for BU, sophomore goaltender Victoria Hanson stood tall in front of the net, keeping the Golden Gaels off the scoreboard.
Hanson, along with fellow goaltenders sophomore Mia Becker and freshman Erin O'Neil, performed well in the face of a netminder competition. Each of them made some difficult saves in traffic, as well as some diving stabs on breakaway chances. Hanson ended up tallying the most saves with 13. Meanwhile, Becker and O'Neil notched 10 and nine, respectively.
"The first thing that jumps out at me was that all three goalies played well today," Durocher said. "Victoria [Hanson] and Erin [O'Neil] were both composed and controlled the puck pretty well. Mia [Becker] made a nice diving save on a breakaway for us.
"We're there for 30-some saves today all told between the three, and Victoria was under a little bit of a barrage early."
With the first period winding down, the Terriers earned their second power play of the game on a hooking penalty by forward Taryn Pilon. As the clock ticked away, junior forward Kayla Tutino, playing in her first game action since tearing her ACL early last season, created enough space within the left circle to rip a wrist shot past the glove of goaltender Caitlyn Lahonen at the 19:37 mark, giving the Terriers the 1-0 advantage going into the second frame.
BU's offensive outburst continued into the second period, as it unleashed 22 shot attempts in the frame. Eventually, the onslaught proved too much for the Golden Gaels, as sophomore forward Maddy Elia scored two goals within 2:30 of each other.
"We had to try and play at a different tempo," Durocher said. "We got a couple loose pucks, which Maddy Elia spun around and turned the third one in the net. And the second one she hit the brakes, came back up and used her reach to fit the puck in on the second goal. Particularly the second one was a nice individual effort on her part."
The first score came on a fantastic individual effort after Elia navigated her way through Queen's defensemen all the way to the crease, where she got a clean look on her own rebound and put it past Lahonen. The second was another impressive individual effort, this time by junior defenseman Lillian Ribeirinha-Braga, who caused a turnover that eventually led to a point-blank shot from the slot for Elia, who buried it in the back of the net.
While Elia's play on the offensive end reminded the entire arena of her recognition in the 2013-14 season being named a member of the Hockey East All-Rookie Team, her discipline on defense left much to be desired. The Lewiston, New York, native took three penalties, one for hooking and two for checking, and she served four, after BU was cited for having too many players on the ice during a third period line change.
"It was nice to get two goals, but I'm more concerned with people taking control," Durocher said. "She's got to control the penalties. You can't get bad penalties, you can't get stick penalties and you can't get selfish penalties where you're bumping somebody late in the game. You just have to defend."
Ultimately, Elia's penalties would not hurt the Terriers, as their three goals proved to be plenty, cruising to the 3-0 victory. With the return of their two leading scorers, as well as first-line senior defenseman Shannon Doyle, BU will be formidable when they meet the Huskies on Oct. 3rd.
"We got a little better," Durocher said. "We were maybe not all there in the beginning. We weren't ready for a game. That team's had some games under their belt, and they were a little bit more together as a team and individually."