The sun streamed down on a restless crowd Sunday afternoon at Faneuil Hall Marketplace. Local Berklee College of Music band Amy and the Engine had just wrapped up, and everyone was ready for a good laugh as Boston University improv comedy group Liquid Fun took the stage and kept the audience in fits throughout their show.
Although Liquid Fun consists of 10 performing members, this particular show only featured Brandon Finn, Will Dowsett, Stephanie Moses, Ross Huston and Jasper Craven.
Dowsett, a junior in the College of Communication pursuing a double major in film and advertising, said the Faneuil Hall performance was a "great accomplishment" for the group, as it meant they were "gaining a reputation around the city as a versatile, entertaining group of improvisers who can make 200 college kids laugh at sex jokes or six kids laugh at mom jokes.
"Though we didn't attract crowds quite as big as we might in BU Central, being invited to perform by Faneuil Hall Marketplace is definitely a step in the right direction," he said.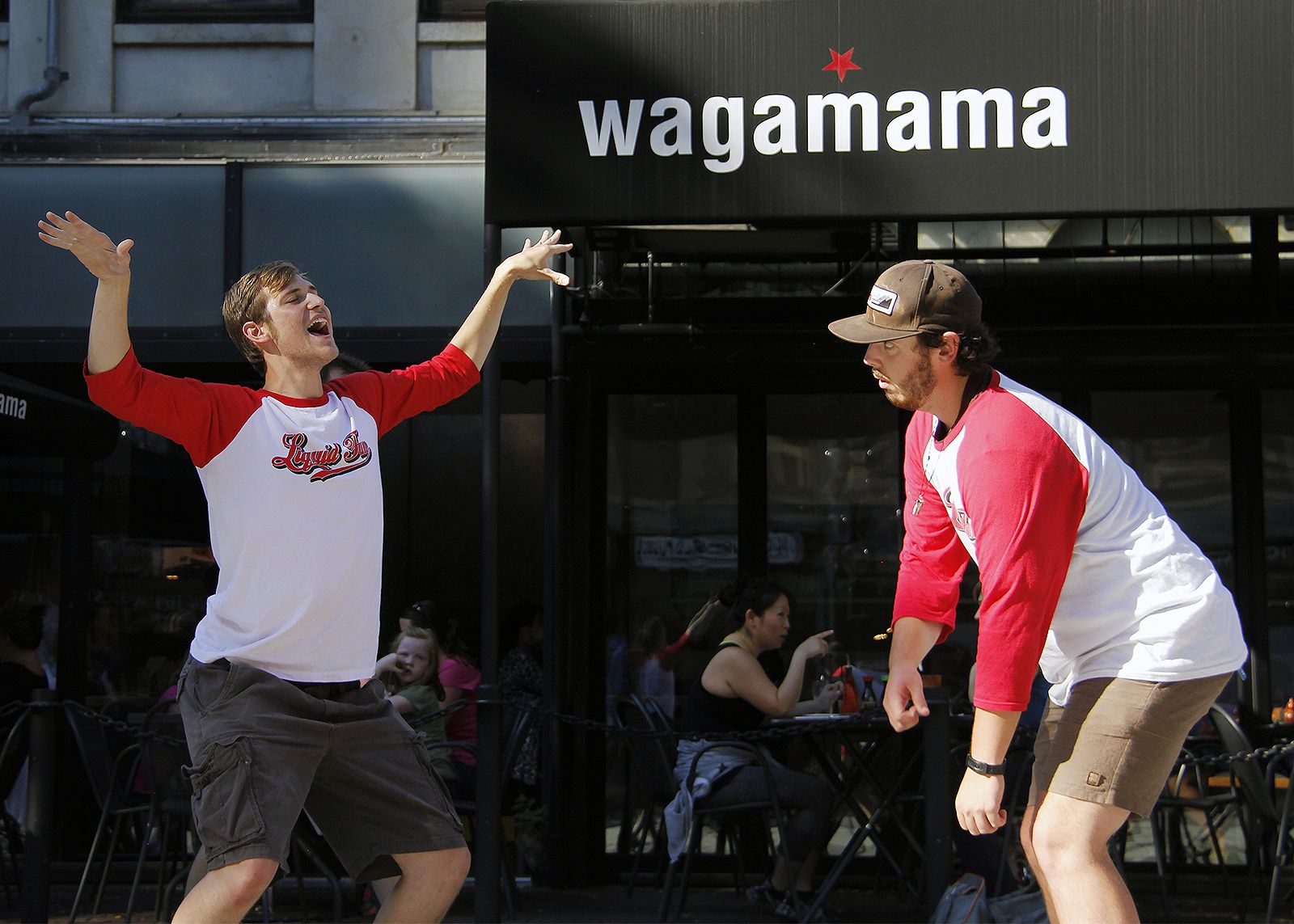 Huston, a COM senior majoring in film and television, echoed Dowsett's sentiments.
"More than anything, it was just awesome to be asked to be there," he said. "It signifies that our shows and events out in the community have garnered some notice, which is super cool."
Liquid Fun performed at Faneuil Hall as part of the "Sunday Funday" series that occurred each Sunday in September, which features music, theater, dance, art and other entertainment provided by local schools and universities. The performances are open to anyone, but college students were encouraged to come.
Edward Hurley, the marketing director of Faneuil Hall Marketplace, said he is always looking for outstanding music and arts groups. Any interested bands, singers, comedy groups, dancers and artists looking for a good gig might try Faneuil Hall, a nationally recognized center of entertainment, history and delicious food, Hurley said.
Aside from his "deep-rooted lack of self-esteem and disgusting addiction to attention," Dowsett said the ability to make others happy using humor as well as "making people laugh and giving them brief moments of bliss" is what inspires him to do comedy.
"In all honesty, I love being able to transport people into the Liquid Fun universe," he said. "I love being able to create hilarious memories for them [the audience]."
"I especially love improv comedy because you're just having a great time with your team, creating this fun world," Huston said. "I [also] like to laugh, and it's great when others do it too."
Although they are known for their free shows around campus, Liquid Fun performs all over the Northeast. The group has been part of shows such as the annual 24-Hour Comedy Marathon, in which Liquid Fun brings together many comedy groups in the area to benefit the Greater Boston Area Food Bank.
BU has a hand in helping Liquid Fun achieve their goals as comedians, Huston said.
"BU has a great comedy community," he said. "There are so many awesome groups, and it's great to be able to watch them and hang with them. Likewise, the audiences here [at BU] are so generous and really enjoy comedy, which makes performing for them a blast."
Dowsett acknowledged that even though the Student Activities Office sometimes "makes it very hard to be any type of group on campus," they do invite Liquid Fun to perform at "very cool events, which is very flattering and much appreciated.
"We were able to perform for a rowdy group of octogenarians during Alumni Weekend and got hooked up with great seats at Nasim Pedrad and Aidy Bryant," he said.
Liquid Fun invites anyone to come to their Sunday night open practices from 7 to 9 p.m. in the College of Arts and Sciences in Room B25b — no audition required.
As for upcoming performances, Huston said the group will be participating in Combat on Saturday, an event organized by BU Stage Troupe in which a few short plays are written, rehearsed and performed in the span of only 24 hours. Liquid Fun also has a show on Oct. 11 at 7:30 p.m. in BU Central. Visit Liquid Fun's website and Facebook page for more information.