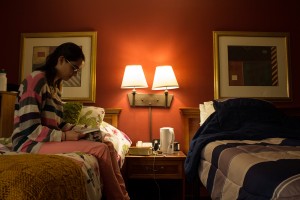 While Boston University guarantees four-year housing for all students, some international and exchange students are receiving a different type of housing option for the 2014 fall semester. Instead of the traditional dormitory setting, their residence is instead the Holiday Inn in Brookline.
For this semester, 44 students — approximately 13 percent of the roughly 339 students in BU's international exchange programs and Center for English Language & Orientation Program, a program for international students to hone their English skills — are living in the hotel because of a housing overflow, said BU spokesman Colin Riley.
"When I first found out I was staying at the Holiday Inn, I was a little disappointed because I wanted to experience the American dormitory life," said Daphne Kook, an exchange student from Singapore and a junior in the College of Communication.
Students will remain at the hotel, located between South Campus and Coolidge Corner, only for the fall semester, Riley said. CELOP and exchange students receive housing assignments after the students on campus register for their housing, and in some cases, there is not enough room for all students.
There was a housing overflow this year because BU admitted approximately 3,900 students, which is 200 more than its target class of 3,700, Riley said.
"It's a typical situation that is usually only done for a semester. It's been happening most of the years for the past two decades," he said. "It's not a bad thing staying in a hotel. Years before, the hotel was desirable and people didn't want to leave because they had their own bathrooms, cable television and air conditioning."
From 2002 to 2008, some upperclassmen were allowed to live in local hotels during the fall semester due to a limited amount of dormitory space at BU, in an effort to allow all incoming freshmen to live on campus, The Daily Free Press reported on April 10, 2007.
In 2008, approximately 400 students spent their fall semester at the Hyatt Regency Cambridge before the opening of Student Village II, The Daily Free Press reported on March 4, 2009.
The number of students staying in overflow housing represents approximately .003 percent of all students living on campus, Riley said.
Ana Lopez, an exchange student from Ecuador and a senior in COM, said she was surprised when she first learned she would be living in a hotel.
"I don't know. I thought it would be okay, but at the same time I saw that the room didn't have windows when I came here," she said. "I thought that was kind of weird 'cause you want windows when you live in a place. It is kind of difficult to get used to living here."
In addition to not living in her ideal environment, Lopez said her situation is neither the college experience she anticipated nor the one she wanted.
"They [BU] should be organized and able to give the international students the experience we are looking for," she said. "I love being able to go to the university to take my classes and interact with my classmates, but it is not the same as if I would be living in another place on campus…where there are a lot of students willing to get out and socialize."
Kook said living at the hotel makes her feel less immersed in student culture.
"I have been here at the Holiday Inn for half a semester already, and I feel really detached from the local BU students," she said. "Other than the classes that I attend, I don't really feel like I am part of BU at all. I am just an international student taking classes and then going back to the Holiday Inn."
Margot Valdivia, director of CELOP, said the current overflow situation is more positive compared to other overflow situations in the past.
"In the past, there have been many, many more students staying in hotels, and this year, we are seeing much better numbers, and Housing is doing what they can to make these students still feel at home at BU," she said.
Valdivia said in order to make the rooms feel more like dormitories, BU Housing rearranges furniture and sets up rooms so they feel more like the conventional dormitories on campus. Students also have meal plans and eat in the university's dining halls.
"We do our best [to] integrate students as much as we possibly can," she said. "[The program] is academically oriented for the international student perspective, and we want them to be integrated so that they can succeed at universities in the United States."
The Holiday Inn is located approximately 0.5 miles away from the CELOP building at 890 Commonwealth Ave., where students take their English program courses.
BU Housing sent out emails last week offering students a place to live on campus for the spring semester, Riley said.
Despite their reservations about living in the Holiday Inn, both Kook and Lopez said they are hesitant about moving on campus halfway through the year.
Kook said she worries that her displacement from campus life limits her experiences at BU.
"I wanted to get a taste of what it is like being in school here as well and be more involved with the American people and really immerse in the culture," she said. "The experience definitely is only available in the dorms."
Lopez said while she is not entirely displeased with her time spent at the Holiday Inn, she hopes to live somewhere that will allow her to take full advantage of the limited time she has left at BU.
"They [BU Housing] told me they had spaces available and were really nice to me," she said. "I am supposed to live on campus [next semester], but I am thinking about going off campus and just living on my own because I don't want another room like this. Even though at first they [BU] were not very good, I think now they are trying to make it up, so I am not angry with them."