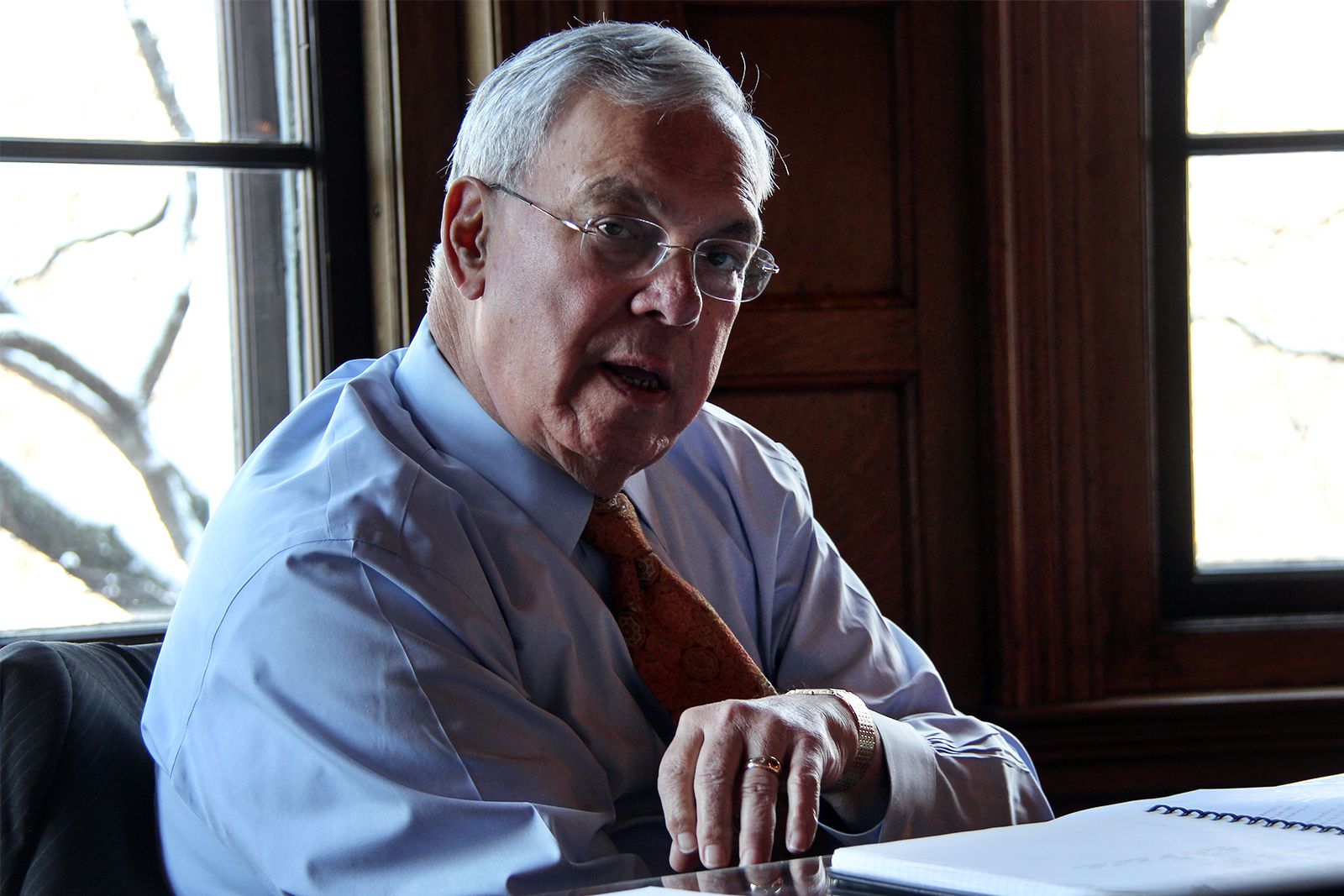 Former Boston Mayor Thomas M. Menino and co-director of the Initiative on Cities at Boston University died Thursday. He was 71 and diagnosed with an advanced cancer shortly after leaving office in January.
Menino's death was announced this morning in a statement from his family. The family said arrangements for a service would be announced at a later date.
"At just after 9 a.m. this morning the Honorable Thomas M. Menino passed into eternal rest after a courageous battle with cancer. He was surrounded by his devoted wife Angela, loving family and friends," said Dot Joyce, spokeswoman for Menino, in a statement.
However, the former mayor, who is the city's longest-serving mayor, sitting in City Hall for an unprecedented 20 years, insisted that he did not want to be remembered for any one policy or plan. His "legacy" would be more than press releases announcing new city initiatives.
"I've been mayor for 20 years and I've enjoyed every minute of it," he said in an interview with The Daily Free Press in December 2013. "However, I don't like the term 'legacy.' I accomplished many things during my terms, but there are things I could have improved. I just want to be remembered for helping to make a change in the city."
Menino announced he had been diagnosed with advanced cancer in February following his final term in office. After being hospitalized for dehydration at Brigham and Women's Hospital starting on Oct. 16, he announced that he would be ending treatments for his cancer and canceled the remainder of his book tour, "Mayor for a New America," to spend more time with his family.
Menino also faced a number of health issues throughout his time as mayor, including two other bouts of cancer, Crohn's disease, type 2 diabetes and chronic back pain and leg weakness that often required him to use a wheelchair.
---
Menino was born in Hyde Park in 1942. He graduated from St. Thomas Aquinas School in Jamaica Plain in 1960 and received an associate's degree in marketing from Chamberlayne Junior College (now Mount Ida College) in 1963. He later graduated from the University of Massachusetts Boston in 1988 with a bachelor's degree in Community Planning.
Menino launched his political career in 1983 when he was elected to the Boston City Council, serving Hyde Park as city councilor of District 5. He was named chairman of the City Council's Planning and Development Committee in 1984, and was appointed Chairman of the City Council's Finance Committee in 1988.
In July of 1993, Menino became acting mayor after former U.S. President Bill Clinton appointed incumbent Boston Mayor Ray Flynn to serve as the U.S. Ambassador to the Holy See. He was the first Italian-American to become mayor in Boston.
After serving the role for a few months, Menino defeated well-known Boston politician Jim Brett to serve his own terms as mayor. He served a historical five terms in office and the city saw an era of change and growth.
Some of the changes he noted were making Boston Public Schools one of the best urban school districts in the nation, building new housing, leaving the city with an estimated $200 million dollars in reserve, cutting crime in half, becoming a proud, majority-minority city and leading the way on same-sex marriage.
After announcing in March 2013 that he would not seek a sixth term, he joined BU's faculty to launch and co-direct BU's IoC with Graham Wilson, chairman of the political science department. The initiative serves as a forum for students, faculty, experts and city leaders to talk about urban leadership and engagement and to provide real-life urban governance in the academic setting.
"My experience is 20 years being mayor. I was running a $2 billion corporation and making sure that corporation runs smoothly," he told The Daily Free Press in February. "My expertise is good management skills and the ability to be creative. That's what's important today, finding new ways of doing things. Think outside of the box. Think differently. When you stick to the status quo, it means you're going backwards. We don't want to go backwards, we want to move forward."
Menino leaves his wife, Angela of Hyde Park; a daughter, Susan Fenton; a son, Thomas Jr.; and six grandchildren.
Cards addressed to the Menino family should be sent to Menino's office at BU, 75 Bay State Road. "In lieu of flowers," the family has asked that donations be made to the Thomas M. Menino Fund for Boston. Donations will help fund programs the former mayor "embraced, and that helped so many."