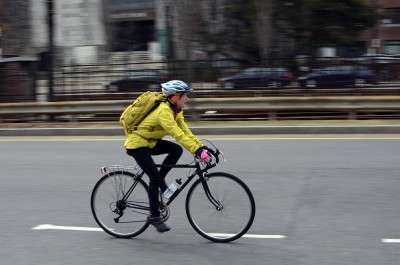 The Boston City Council passed an ordinance in a unanimous vote Wednesday, which requires truck-side guards to be attached to city-contracted vehicles weighing over 10,000 pounds in order to reduce fatalities of pedestrians and cyclists.
The ordinance aims to reduce the risks of collision with pedestrians and cyclists by equipping large city-contracted vehicles with safety measures such as additional convex mirrors, crossover mirrors and blind-spot awareness decals. It will take effect 180 days after passage.
"We're seeing more Bostonians choosing bikes as their primary mode of transportation, but with this increase in use, we've also seen an increase in crashes between cyclists and vehicles," said Boston Mayor Martin Walsh in a Wednesday press release. "Truck side guards are a low-cost feature that can be installed on trucks and that have the potential to save a life."
This ordinance comes almost two years after Boston University College of Communication graduate student, Chris Weigl, was killed by a tractor-trailer while riding his bike near West Campus in December 2012.
"Convex blind-spot mirrors and cross-over mirrors, similar to those found on a school bus, will allow drivers of large trucks to see the areas in front of and to the sides better, preventing 'right hook' incidents with cyclists," said Jessica Taubner, chief of staff of City Councilor Ayanna Pressley, in an email.
Despite Smart Growth America's ranking of Boston as being the safest place for pedestrians in the nation, more than 750 pedestrian-related traffic incidents occurred in 2013, according to the release.
Pressley has been pushing for increased safety mechanisms for Boston's growing cyclist population since 2012, when there was a series of cyclists' deaths after collisions with vehicles, Taubner said. A pilot program enacted in 2013 by the City of Boston and Office of New Urban Mechanics estimated the outfit for each vehicle to cost about $1,800, she said.
Pressley, Walsh and the Boston Cyclists Union began working on the ordinance in Spring 2014, following the ONUM's development of the truck-side guard, which is the first of its kind in the country, Taubner said.
"It's time for our city to lead by example," she said. "We cannot promote walking and cycling as healthy and environmentally-friendly transit methods until everyone feels safe using our city's streets."
There are 40 city contracts and 250 vehicles per year subject to the ordinance, Taubner said.
The regulation will be enforced by the Boston Police Department, and "for those vehicles not in compliance, businesses will face a fine, escalating from $100 for the first offense, to potential termination of the contract."
"She [Pressley] is thrilled to have partnered with Mayor Walsh and the Boston Cyclists Union to make Boston the first city in the nation to require side guards and other safety features on city contracted vehicles. These measures will make our roadways safer for pedestrians and cyclists," Taubner said.
Olivia Melanson, a freshman in the College of Arts and Sciences, said she does not support the ordinance because the money could be spent on other programs to prevent collisions.
"Trucks jump the curb, if anything. I think that instead of spending money on implementing extra precautions, we should spend it on training our drivers better," she said.
Thomas Keyes, 65, of Beacon Hill, said he is impressed by the proactive initiative that the city's representatives are taking.
"Although it's not the biggest problem our city has, it will definitely have a positive impact on the many college kids here," he said.
Kendra Frederick, 38, of the South End, said she is also pleased by the passage of the ordinance.
"I've noticed the bike lanes become wider in the recent years," she said. "It's great to see even more precautions being made. I bike around myself, and no kidding, large trucks are very intimidating."