Sporting a light grey pullover and a sensible pair of square-framed glasses, Maziar Bahari looks a lot like a dad. And while Bahari is a father, he is perhaps better known as the Iranian-born journalist imprisoned by the Iranian government due to his coverage of the uprisings following the country's 2009 presidential elections. His time in prison is chronicled in the movie "Rosewater," which was released Friday.
"The film is telling a universal truth about myself, about many journalists around the world who are going through the same thing every day," Bahari said in a roundtable interview on Nov. 5. "The film is based on my story. It's inspired by the story, but it's really not about me as a person. It's about many people."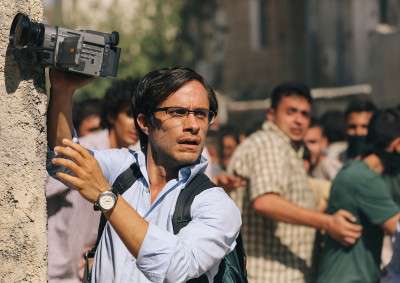 The film follows Bahari, played by Gael García Bernal, as he documents the events leading up to the election as well as the ensuing riots. After selling his footage to the BBC, Bahari is arrested in his home and confined in Evin Prison in Iran for about four months, suffering physical and mental torture at the hands of a man who he could not see due to the fact that he was almost constantly blindfolded, but who smelled of the titular rosewater. His Iranian interrogators detain him on the grounds that he is a spy not only because of the election riot footage, but also because of a satirical interview Bahari did with Jason Jones of "The Daily Show."
How fitting, then, that the film also serves as Jon Stewart's directorial debut. Bahari said the host of "The Daily Show" approached him in 2010, wanting to be a producer. But when it became difficult to secure a writer and director, Stewart and Bahari teamed up to do the job themselves.
"People were busy. People wanted a lot of money. People were doing 'James Bond' or 'Mission: Impossible' or whatever. They were just not interested in a story like that," Bahari said. "Jon just said, 'Fuck it. We cannot wait for this story to be told, because it's a timely story'…It's not like 'Friends with Benefits,' that you can always have friends with benefits. It's a story that had to be told immediately."
Bahari said it was a very collaborative experience working with Stewart who, as a first-time director, was very open to suggestions not only from Bahari, but from other members of the cast and crew as well.
"He basically told people, 'this is my first film, so I do not know many things. I have a vision and please help me in realizing this vision,'" he said. "It was refreshing to work with Jon for that, because many directors are very controlling. They're very methodical in their approach."
And, in dealing with the heat of shooting in Jordan, with the lack of funding and with issues with the production company, Stewart's skills as a comedian also came in handy, Bahari added.
"There were lots of dissatisfied crew members and Jon had to just humor them," he said. "He just had to entertain them by being Jon Stewart. He learned a few words of Arabic and he had to do basically stand-up in Arabic."
Stewart was also supportive of keeping the film's message on track, Bahari said, which could easily get lost in the kind of "torture porn" that many moviegoers are used to seeing in a film like "Rosewater." The torture scenes may seem tame compared to the usual fare of blood 'n' guts — there's little blood and minimal use of weapons. Instead, the film portrays the kind of "institutionalized" torture and interrogation methods that are employed under an authoritarian regime, Bahari said, the kind he endured in his time in Evin Prison.
"You cannot see anything except the walls around you. You cannot touch anything except the walls around you. You cannot taste anything because the food tastes like cardboard. You cannot hear anything because the walls are so thick. And you cannot smell anything because it's so clean and so hospital-like," he said. "You're deprived of all your senses. You become isolated. You become delusional. You become suicidal."
But these torture scenes, which Bahari said were toned down for the film, are just a very small piece of the larger message of "Rosewater."
"It's really a film about hope. It's a film about resilience. It's a film about the power of journalism. It's about family and culture," he said. "That was the most important thing from the beginning for both Jon and for myself."
Far from being painful to relive his harrowing experience through the silver screen, Bahari said it's all part of the healing process.
"Some people ask me whether it [the film] opens old wounds and I say, no, it heals them more than opens them, because I think by being silent about a traumatic experience like this, you allow it to become deeper, to hurt you much more," he said. "If you talk about it, you can heal yourself. You can think about it. And…if there is any anger, if there is any negative thought that you have about that experience, you can sublimate it into something more positive."
This positivity is manifested in the occasional moment of absurdist humor throughout the film, a jolting surprise from a movie largely centered on government oppression. In one scene, for example, Bahari's torturer grills him on his frequent trips to New Jersey, fixated on the idea that this must surely be a haven for illicit, conspiratorial activities. These moments are lifted right from the memoir, Bahari said, and reflect the "Kafkaesque" experience of his time in prison.
"When you are in prison, in a dark interrogation room, it may not be funny because you're blindfolded, you're beaten, insulted and all that," he said. "But with hindsight, when you see someone who thinks that he has a monopoly on truth, someone who thinks that — by carrying out the wishes of the supreme leader — he can go to heaven and have sex with 72 virgins, that's just ridiculous."
Bahari said he sees "Rosewater" as a piece of journalism, even though it's populated with actors and dictated by a script. More importantly, he sees the film as an example of what journalism is capable of in the current technological age.
"I think it's a very inspirational film, especially for young people, because they can realize the power of media, the power of what they can do. I think social media and digital media in general have democratized information," he said. To demonstrate this in the film, animated hashtags pop up on people and buildings during the post-election protest scenes, blanketing the whole city, then the whole country in words like "#change" and "#hope."
"You can use this information in order to follow Shaggy or One Direction [on social media], or you can use this social media and information in order to create some change in your society, in your school, in your municipality, in your city, in your country, in the world," he continued. "I think one of the things that the film shows is how powerful journalism can be, how powerful information can be."