HARTFORD, Connecticut — After the No. 2/3 Boston University men's hockey team staved off a third-period comeback attempt from the University of Connecticut for BU's second win in less than 24 hours, coach David Quinn kept repeating one word: Proud.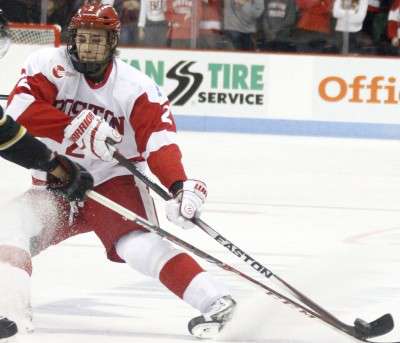 "I'm certainly really proud of our guys," Quinn said. "We get four points on the weekend, isn't easy to do in our league."
With the help of a staunch power-play unit and "opportunistic" scoring, the Terriers (8-1-1, 6-1-1 Hockey East) earned a 5-2 road victory over the Huskies (3-6-4, 2-3-1 Hockey East) at the XL Center, on Saturday afternoon. Saturday's game, which had a 3:30 p.m. starting time, was a quick turnaround after the team's 3-2 win over the University of Maine on Friday night.
BU got off to a slow start on Saturday, taking nearly five minutes to record a shot on net. Nearly all play was concentrated in the BU defensive zone, giving the Terriers hardly any opportunities.
"I thought after a very first shaky first 10 minutes, I thought we really started to get our legs under us and doing the things we're going to need to do have success," Quinn said.
That success, in large, came with BU on the man advantage. Entering Saturday's game, the Terriers had just a .154 power-play percentage. In the first two BU chances on the power play against the Huskies, however, the team was able to secure goals.
UConn defenseman Johnny Austin was called for holding at the 7:04 mark of the opening frame. Just 24 seconds later, junior forward Ahti Oksanen sent the puck into a wide open net on goaltender Rob Nichols' glove side off a pass from freshman forward Jack Eichel.
"That's what we've been practicing on the power play," Oksanen said. "Eichel takes the shot and I just tired to be at the corner trying to get the rebound and it just happened to bounce to me and it was just an easy empty-net goal."
The helper gave Eichel his 10th consecutive game with at least one point, and Eichel became the first player to accomplish such a feat since Mark Fidler scored points in 16 straight games during the 1977-78 season.
Near the beginning of the second period, UConn forward Kasperi Ojantakanen was called for holding. BU was again able to capitalize, when freshman defenseman Brandon Hickey fired a shot from the point, which was tipped in by a waiting senior assistant captain Cason Hohmann for his second goal of the season.
"Just got a good pass up top and got in front of the net," Hohmann said. "He [Hickey] fired a rocket in there and I barely got the slightest piece of it in front. It was pretty much all the other guys, I just got in front. It took the goalie's eyes away so I could get the stick on it."
The Terriers added the ultimate difference-making tally 2:47 into the third period, when sophomore forward Nick Roberto notched his first goal of the season. He received the pass from freshman forward Chase Phelps, who fired from the slot for his first collegiate point.
In the third period, though, things became more difficult for BU, a team that has allowed just three third-period goals this entire season.
The first strike from the Huskies came at the 7:49 mark of the final frame, off a goal from senior Cody Sharib. Freshman Corey Ronan added a tally on a wrister less than a minute later to bring UConn within one goal.
"I wasn't surprised, I didn't think the game was over by any stretch of the imagination," Quinn said. "And I don't think anyone on our bench did. They know how hard that team plays, they know they've got some guys who can put it in the back of the net. And they've been relentless all year."
UConn had a chance to tie the game with about four minutes remaining, when forward Joona Kunnas shot one from the right circle. Junior goaltender Matt O'Connor swallowed it right up, though, and BU added a pair of late goals to secure the win.
Junior forward Danny O'Regan scored with about three minutes left off a rebound from an Eichel shot. Oksanen added another tally, an empty-netter with just more than a minute left, assisted by freshman defenseman Brien Diffley, to give the Terriers a 5-2 victory.
O'Connor had 20 saves for BU, including a number of mid-air and diving stops, to secure the victory for BU. Nichols added 24 stops for the Huskies.
Quinn — who used the word "proud" three times in his postgame press conference opening statement — had an abundance of praise for his team's overall performance.
"We simplified things and obviously got great goaltending," Quinn said. "Just really, really proud of our guys."
Other notes
Redshirt junior defenseman J.D. Carrabino played in his first game in a Terrier uniform Saturday. The transfer from Clarkson University, who sat out all of last season due to NCAA transfer rules, took over the fourth-line right-wing position … The matchup against the Huskies was the Terriers' second game of a five-game, 10-day stretch. Following Saturday's game, Oksanen said the team took a pledge not to drink any alcohol over the 10-day stretch … Saturday's game was BU's first game in the state of Connecticut since 2001.