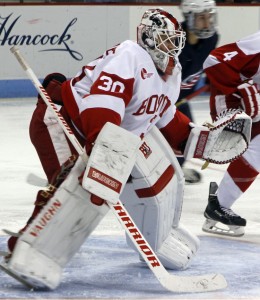 HANOVER, New Hampshire — Entering the third period of play against Dartmouth College Sunday afternoon at Thompson Arena, the No. 1 Boston University men's hockey team seemed to have its opponent right where it wanted.
After all, this was the same Terrier (9-3-1, 6-1-1 Hockey East) team that scored four unanswered goals in the final period Saturday afternoon to defeat No. 9 Colgate University, 5-2.
This was a squad that — coming into its game against the Big Green (4-3-1) — compiled a plus-23 goal differential on the year against its opponents in the third period.
However, none of that mattered for the Terriers Sunday, as the Big Green held BU off the scoreboard again over the final 20 minutes of the contest en route to a 2-0 win and the first shutout defeat this season for coach David Quinn's team.
It was the first time that the Terriers failed to light the lamp in a game since dropping a 2-0 contest against the University of Notre Dame last season on Feb 22.
"We battled all the way to the end," Quinn said. "We're a young team. When we're playing six 18-year-olds and a 17-year-old against a team with that type of skill and maturity, it's gonna be a battle. … That's the second time we've done it in a row, back-to-back, when we played Colgate last night. It's a long season, and I didn't expect anything less than that we were going to have our hands full."
The first period of play was a back-and-forth affair for both teams, as neither the Terriers nor the Big Green were able to generate significant chances. While Dartmouth attempted 24 shots over opening frame, only eight made it through to BU freshman goaltender Connor LaCouvee, all of which were turned aside.
Both teams entered first intermission stuck in a 0-0 draw, with the Big Green holding an 8-5 advantage in shots.
While the first period was mainly an even contest between both squads, Dartmouth battered BU in the middle frame, scoring two goals off 45 shot attempts. At 10:17 in the period, one of the Big Green's flurry of shots eked through the Terrier net.
Dartmouth defenseman Rick Pinkston fired a shot from the point that rocketed toward LaCouvee and the Terrier goal. Forward Tyler Sikura deflected the puck, creating a rebound opportunity for linemate Brad Schierhorn, who potted in the easy goal to put Dartmouth up, 1-0.
Just over five minutes later in the stanza, Schierhorn stung the Terriers again.
After another shot from Sikura ricocheted off LaCouvee's pads, the loose puck crept listlessly along the crease. Schierhorn easily flipped the puck into the Terrier net via a backhand offering to give the Big Green a 2-0 advantage at the end of two periods.
Just like in the first period, BU was only able to muster five shots against Dartmouth netminder James Kruger. On the other side of the ice, the Big Green peppered LaCouvee with 21 marks en route to a 29-10 shot differential in favor of the host team.
"You look at that second period, and that's really the first time all year anything like that has happened to us where we get completely manhandled and dominated like that," Quinn said. "Second period was just a complete mismatch. Give them a lot of credit. They've got some good players, big, strong kids, older kids that we just weren't able to match."
While the Terriers have made their bones this season in the third period of play, BU still could do little in terms of building chances against an aggressive Big Green defense.
The Terriers outshot Dartmouth, 13-7, in the frame, but despite playing with an extra skater for over two minutes after pulling LaCouvee out of the net, BU was unable to mount yet another comeback.
LaCouvee, starting in his third career game, recorded 34 saves in the loss, while Kruger earned his second career shutout with 19 saves.
While the loss ends a span of five games in 10 days for the Terriers, Quinn said he wasn't relieved that his team's laborious stretch has come to a conclusion.
He's already focusing on BU's next opponent — Merrimack College next weekend.
"I'm looking forward to playing Merrimack," Quinn said. "It's a fun group to coach. We've made a lot of progress. They're very disappointed about tonight, could've been a great opportunity to finish a five-game stretch at 4-1, but we played great competition during this stretch and our best hockey is ahead of us.
"We're the youngest team in college hockey. We just played five games in [10] nights. And we looked like a team that played five games in [10] nights."