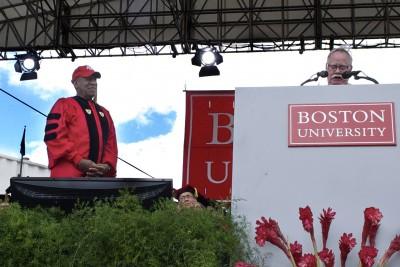 In light of recent sexual assault allegations against actor, comedian and author Bill Cosby, Boston University is still deciding what to do as other schools and organizations across the nation cut ties with Cosby.
Colin Riley, BU spokesman, said the University has not yet decided if Cosby will be able to keep his honorary degree that he received from BU in May.
"At this point, we are monitoring the legal developments surrounding Mr. Cosby very closely," he said in an email.
Cosby attended BU's 2014 Commencement in May and was awarded a Doctor of Humane Letters degree along with actress and neuroscientist Mayim Bialik, Boston City Year Co-Founder Michael Brown and philanthropist Rajen Kilachand, The Daily Free Press reported.
In the past several weeks, Cosby has been accused of sexually assaulting more than a dozen women from 30 to 50 years ago, said Martin Singer, Cosby's lawyer, in a Nov. 21 statement.
"These brand new claims about alleged decades-old events are becoming increasingly ridiculous, and it is completely illogical that so many people would have said nothing, done nothing, and made no reports to law enforcement or asserted civil claims if they thought they had been assaulted over a span of so many years," he said in the statement.
Singer said while evidence to prove these allegations false has been provided to the media, "new uncorroborated [stories] crop out of the woodwork."
The University of Massachusetts Amherst severed its ties Wednesday with Cosby, who received a master's and doctorate in education from the college and was an honorary co-chairman of the school's ongoing $300 million fundraising campaign. Berklee College of Music said in a Nov. 24 statement that the college will no longer award an online scholarship in Cosby's name.
Temple University was Cosby's undergraduate alma mater, and he remains a member on the Board of Trustees and the Temple Athletics Hall of Fame, a Temple spokesperson said in a Nov. 19 statement.
High Point University announced in a Nov. 20 statement that the school removed Cosby's name from the board of advisors until more information on the matter is available.
Several students said BU should show that the university does not associate with people who are connected to or commit sexual assault.
"He should pay for the consequences of his actions because his behavior is not acceptable in any situation," said Jeremy Oshins, a freshman in the College of General Studies.
Elizabeth Kardas, a sophomore in Sargent College of Health and Rehabilitation Sciences, said taking away Cosby's honorary degree would show that the school takes rape allegations seriously.
"It reflects badly on BU if we didn't do anything," she said. "We need to make a strong statement against rape."
Other students said taking action now is not the best decision.
Hollis Bellerose, a sophomore in the College of Arts and Sciences, said it's not fair for BU to take a side at this time.
"We don't know what happened yet," she said. "Just because there are allegations doesn't mean we should act upon them. It's not fair to consider him guilty."
Vivien Kong, a freshman in CAS, said taking away Cosby's honorary degree will not affect him.
"Who cares? I don't think Cosby would be impacted at all by losing these honors," she said. "Stripping honors from him is not the same as putting him in jail."