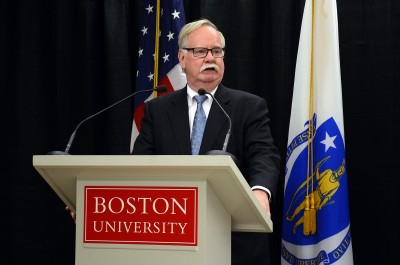 Boston University has gone to court as a result of a subpoena from the Boston City Council issued on Nov. 24 asking BU President Robert Brown to testify at a hearing on student and employee diversity or face arrest under state law.
The university argues, in court papers filed Wednesday in the Suffolk County Superior Court, that the subpoena is "an undue burden, is oppressive and was intended to harass" Brown, who is willing to testify, but is seeking a two-week postponement because he will be out of town for the Committee on Education hearing chaired by City Councilor Tito Jackson scheduled for Tuesday.
BU's inability to meet with the Council and share how the university looks to improve diversity in higher education led Jackson to file the subpoena, Jackson said.
"It makes me wonder what is there to hide," he said. "We gave Boston University all reasonable opportunities to attend. Boston University has over 8,000 people on their payroll, and it chose not to send one person to send to represent the university at 10 in the morning on Oct. 24. It shows a level of disrespect and lack of cooperation."
The Council met on Oct. 24 to talk about plans to increase diversity among the faculty and staff at local area colleges and universities. BU was the first school the Council invited, but BU representatives did not show up for the hearing, The Daily Free Press reported. While Jackson received notification of the absence by letter, he said the lack of attendance was "absolutely unacceptable" and planned to subpoena university leadership.
Several hours before Jackson and a member from BU Public Relations arranged to talk on Nov. 24 about Brown's attendance, his Council summons arrived, said Stephen Burgay, senior vice president for external affairs of BU.
"We were a little surprised to see that show up, given that we had reached out to him [Jackson] specifically to set up a meeting to talk about his request," he said. "Certainly, we had hoped that the meeting we had scheduled with him to talk about how we can move forward and provide him with the testimony… [in] a more constructive way to try and deal with the issue, and the councilor clearly felt otherwise."
On Tuesday, Brown sent a letter to Jackson explaining that he is unable to appear in person at the upcoming hearing due to "a longstanding out-of-state commitment," and requested the hearing be postponed to Dec. 15.
"If it is important for the hearing to occur on that date [Dec. 2], the University is prepared to send a panel of senior officials from Boston University who are subject matter experts on the issue before the committee, and I am confident that they will be able to provide additional testimony on any questions you many have," Brown wrote in the letter.
Jackson said he received the letter, but had not yet reviewed it as of Tuesday. He said he hopes Brown will follow through and "do as the subpoena says."
"Historically, it's always been customary with the Council that if you can't send somebody to a hearing that you could send detailed testimony instead, and that's of course what we followed at the end of October," Burgay said.
The testimony, organized by the BU Government and Community Affairs on Oct. 24, cited how "inclusiveness of individuals form all background, creeds, cultures and beliefs" contributes to the university's strength and its status as a global community. There are programs and initiatives to promote diversity and ensure that a BU education is accessible and affordable, the testimony stated.
"To bring a document is the equivalent of if you had a presentation to make in class, for you to come to the teacher and say that you want to change the day for the presentation for tomorrow morning," Jackson said. "We have to hold our leaders to high standards. Why wouldn't you send at least a person to even read into the record the document you're talking about?"
City and university lawyers are scheduled to appear before a judge for a hearing on BU's motions on Monday morning.
Some students said Brown's subpoena could have been a dramatic reaction by the Council, but they recognized the importance of the discussion of diversity on campus.
"BU is diverse with its students, and it's important that the school attends meetings like these," said Mojan Moghaddam, a junior in the College of Arts and Sciences. "As a BU student, I'd expect my president to take care of this, [but] it's not as big of a deal as it's turning out to be. If he didn't show up [to the first hearing], it's his lost."
Beatriz Noriega, a freshman in CAS, said Brown should make the meeting more of a priority because it is in the best interest of BU and his reputation.
"His other longstanding meetings could be pushed back because the issue is more important and timelier," she said. "It [diversity] should be talked about now. Being forced to attend is better than not attending at all."
BU could benefit by having more resources for minority students and having a more diverse faculty, Noriega said.
"The student body seems diverse, but not as much as I'd like it to be," she said. "There should be some sort of plan at the end of each meeting [between BU and the Council]. Whether it is small or big, something should be proposed about having enough diversity in school."
Greg Yang and Samantha Gross contributed to the reporting of this article.