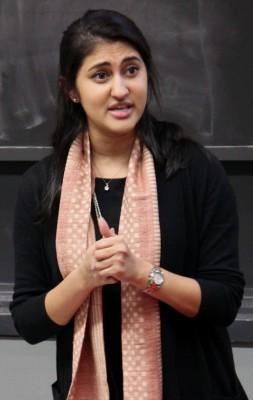 With the fall semester at Boston University coming to a close, Student Government leaders said they are looking forward to working with new Executive Board members in the spring semester and seeing how the group works together to better serve the BU community.
Executive President Richa Kaul , Chief of Staff Pablo Das  and Senate Chair Tyler Fields , announced this week that they would be resigning at the end of the semester to study abroad in the spring.
Kaul, a dual-degree junior in the College of Arts and Sciences  and the School of Management, said she is resigning because she will graduate one year early and would otherwise not have the opportunity to study abroad. She said she is studying abroad in London.
"When I decided to run for office and when I took office, I had absolutely no idea this was coming up. I fully understand and respect any resentment or pushback against my decision to resign as student body president," she said. "Boston University Student Government has [been] my family and my life at BU. It's quite literally defined my BU experience."
Joe Ferme , a senior in CAS and current Executive Vice President, will become Executive President next semester granted that the Senate confirms his position, Kaul said.
"Joe is incredibly prepared to be student body president for next semester," Kaul said. "We've been doing the transition phase for the last two weeks now. He's been coming to a lot more admin meetings than previously. I'm starting to sort of relay my information … to him, so he has a more holistic understandings of the benefits I brought to the role."
Ferme said he aims to build on SG's current efforts throughout the next semester.
"More or less, I'm not going to look to make any big changes obviously," he said. "[I want to] continue to have administration back us with a lot of what we do, continue to reach out to as many students as possible and continue to make the name of Student Government something that students recognize and respect."
Current Vice President of Finance Josh Mosby  will succeed him as Executive Vice President, Ferme said.
"I'm really excited," said Mosby, a sophomore in CAS. "I definitely didn't expect it. It's very unexpected, but I'm excited and I think I'm ready for the opportunity. It's a lot of responsibility and think I'm ready to take it on."
Will Horne, an associate director of the Department of Advocacy and a sophomore in SMG, will be the new VP of Finance, Mosby said.
Fields, a junior in CAS and SMG, said he learned a lot in his role as Senate Chair. He plans to study abroad in Geneva, Switzerland in the spring.
Former judicial commissioner Stephen Chang  was elected Senate Chair on Monday. The election was held a week after Fields announced his plans to step down, giving potential candidates time to prepare.
"It [the position] was one of those things that last semester, I really thought I could improve on, and I did definitely to an extent," he said. "I know Stephen [Chang] is going to continue that great work we put in both as an E-board and what I like to think I've done as a Senate Chair."
Chang defeated three other candidates, winning 25 of 31 votes. The other three candidates were Avi Levy , a former Senate Chair senior in CAS, Rachel Feigelson , a freshman in the College of General Studies, and Kym Irizarry , a sophomore in CGS.
Chang said he is ready to accept the responsibilities and face the challenges of the position.
"[The] biggest challenge would be reaching out to students, having students know what we're doing," Chang, a sophomore in CAS, said. "So it's hard to reach 16,000 people, but if we do our PR right, they should know what we're doing."
Das, a junior in CAS, said he plans to resign and "[take] a break from Student Government" to study abroad in Geneva.
"[The expectations] were very well met," he said. "If you look at the agenda that E-Board outlined when they were campaigning back in April, you'll see that basically, all the initiatives that they outlined have either been completed or in the process of being completed."
He said he intends to return to SG in September to resume his position as chair of the "16,000 Strong " campaign, which works to end sexual assault on campus.
The chief of staff, who oversees and manages the E-Board, is the only position not elected. Ferme will choose a successor, Das said.
Fields said staff resignations are more common in the winter because people choose to study abroad in the subsequent semester.
"You're supposed to put your school before your extracurriculars, and if you're prioritizing that over academics then I think you've got a real problem," he said.
Several students said the resignations are not the issue, but they are concerned about how the dynamic of the SG Executive Board will change with the new leaders.
Melissa Malinaski , a freshman in Sargent College of Health and Rehabilitation Sciences, said she found it strange that multiple people are resigning to study abroad at the same time.
"That seems like a pretty big deal of a position to have, so I think that it should be a group of extremely committed people," she said. "I know I wouldn't run for something [like a leadership position] that I knew was a year-long term."
Jelisa Adair , a second–year graduate student in the School of Social Work, said she is not upset with the SG members studying abroad, but the possibility of them leaving should have been told to the student body earlier.
"It [study abroad] is a very worthwhile thing to pursue," she said. "My thought is that if it had been clearly communicated to them [students] when they [SG members] accepted the job, that the assumption was that they would not be leaving halfway through their term, then that would be something to be of concern."