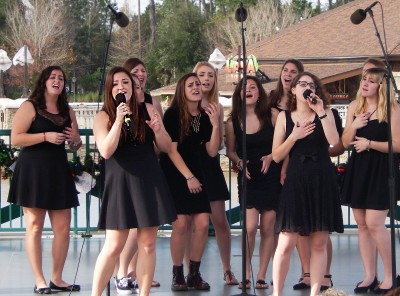 Dreams really do come true at Disney.
During winter break, members of Boston University a cappella group Chordially Yours flew down to the Walt Disney World Resort in Orlando, Florida to participate in a concert hosted by the Disney Performing Arts Program. Jan. 13, the group performed a variety of songs and mash-ups to a large, outdoor audience at Downtown Disney.
Each year, thousands of vocal, instrumental and other performance groups participate in the program, in Florida and at Disneyland in California. Not only do the ensembles have the opportunity to perform at the parks, they are also given access to educational workshops led by entertainment professionals.
"I kind of got the idea at Disneyland last April with my family," said Jen Gregorio, a senior in the College of Communication and the group's business manager. Gregorio is responsible for booking concerts and, having had some experience with the program, figured Chords, as they're known, would be a good fit.
"When I was in high school, my marching band actually performed at Disney World through the Performing Arts Program, so I thought that would be a really great thing to do with Chordially Yours," she said. "I looked into it, and the application wasn't that extensive. It was just basic information about the group and a video, like an audition tape."
Following the group's acceptance to the program in August, Gregorio helped put together a set-list, working with music director Liana Gerstein, a junior in the School of Education, to choose songs that would suit their patron's family-friendly vibe.
"We wanted them [the songs] to be fun and upbeat for everyone because Disney is such a fun place," Gregorio said. "They also could not be inappropriate in any way because of the young audience. They were all G-rated."
Among the picks: "Say My Name" by Destiny's Child, "Sweet Child O' Mine" by Guns N' Roses and "Brave" by Sara Bareilles.
"It was so much fun," said Meaghan Collins, a COM sophomore in the group. "The crowd was bigger than any of us had expected, and since the show was outdoors, we could see all of them. It was a little nerve-wracking at first, because it's different going out in front of people we don't know. We know our friends are going to applaud no matter what, but it's hard to tell what strangers are going to think … Thankfully, they really enjoyed it, and even gave us a standing ovation."
Another challenge for Chords, Collins said, was adjusting their sound for the outdoor marketplace, as they are used to performing for indoor audiences. Even with the change, however, the singers were able to adapt to the new surroundings and perform for their large, wandering audience.
"We had to make up for the lost sound by being a lot louder and more energetic in order to keep the audience's attention," she said. "Disney had a lot of great sound equipment that we weren't used to, but we were able to adapt, and I think we sounded great."
The Disney World gig, though, is not the first big break for Chordially Yours. Last October, the group won a spot opening for Lena Dunham's book tour at the Wilbur Theatre. Later this year, audiences will be able to watch the girls on television, as they compete against other singing groups from greater Boston and beyond.
"We actually just got accepted to sing on WGBH's new show "Sing That Thing!" which is a local program that's supposed to showcase singing groups in the greater Boston area," Collins said. "We're all really excited about that, and we start filming in February."
Despite their bright future and packed agenda, Gregorio said there was something particularly magical about singing in Disney.
"We definitely got to know each other more, spending a week together," she said. "It was amazing performing in such a cool place. And it was really a bonding experience for us, which I think is going to carry over in our performances for the next semester."