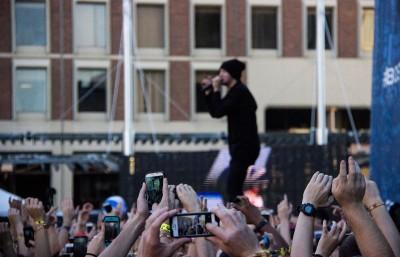 Instead of peeling through candy wrappers looking for a golden ticket on Jan. 13, Boston
music lovers scoured the city looking for hidden vinyl records.
The citywide scavenger hunt for the coveted records was Boston Calling's way of
revealing its lineup for the May edition of the twice-annual music festival. Hiding places
included Barry's Bootcamp in Downtown Crossing and Symphony Hall.
Festival organizers used the same Find the Vinyl campaign to reveal the lineup for the
September 2014 edition of Boston Calling, part of a growing trend in music festival
marketing to better appeal to something essential to the business: the fans.
"It's simple, old school and a fun way to reveal the lineup," said Alexandra Hynes, co-
founder of 44 Communications, a public relations firm whose clients include Boston
Calling, Tennessee's Bonnaroo Music and Arts Festival and San Francisco's Outside
Lands Music and Arts Festival. "It creates a mystery, a game."
Once a fan found one of the 11 records with a band name on it, they were instructed to
post their discovery online via social media with the hashtag "#BostonCalling." The prize
was not only being the first one to know an artist on the lineup. Winning scavengers also
received free tickets to the spring festival, which will take place from May 22 to 24 and
whose lineup includes Beck, St. Vincent and local Boston band Krill.
The trend toward more interactive marketing campaigns didn't start with the music
festival industry, said Barbara Bickart, an associate professor of marketing in the Boston
University School of Management. The tactic works because Boston Calling is a kind of
locally specific event. Marketers and advertisers are able to use a geographically
constrained strategy like the vinyl scavenger hunt.
"It's a one-time event, so that makes it easier to do these kinds of flashy, fun things,"
Bickart said.
While the Find the Vinyl event is a way to rally enthusiasm for Boston Calling, these
types of marketing strategies do have their limitations, Bickart said. While more
interactive and creative than simply releasing a lineup online, there is a trade-off with the
reach, the amount of people you're able to have hear your message.
"The people that are likely to get engaged are the people who would have gone to the
concert anyway," Bickart said. "So it's not like you're expanding your reach so much."
Still, Boston Calling's creative lineup reveal joins similar stunts from music festivals
across the country. Bonnaroo also opted for a more creative and interactive way to reveal
its 2015 lineup, which was also revealed on Jan. 13. Fans were told to call a hotline to
find out the name of a single artist that will be playing at the festival this June. These
fans, too, were given the job of breaking the lineup to their friends and followers through
social media and hashtags.
Although these tactics could be considered old school, Bickart said, they reflect a new
trend in marketing campaigns in other industries.
"With social media and digital marketing, we're seeing a push to have more consumer
engagement on involvement with creating the message," Bickart said. "This is part of a
bigger trend to give the consumers license to create part of the message themselves."
While there is no way to know for sure if interactive marketing strategies boost ticket
sales, Hynes said, music festivals can be expected to come up with even more creative
ways to reveal their lineups. After working hard to book artists and keeping it a secret for
months, announcing them in an exciting and creative way seems only right.
"It comes from a genuine place," Hynes said. "It mirrors how the producers themselves
feel that it all comes together and can be celebrated."