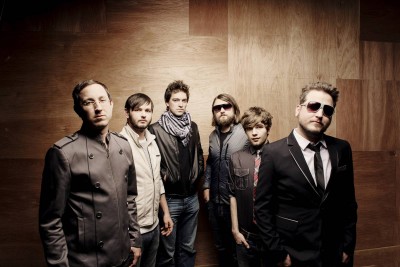 It's well-associated with barbershops. It's a little risky when performed live. It's a cappella, and it's back in the modern world of music.
With no instruments — not even a backing track — a cappella remains one of the most unpredictably invigorating performance genres. Some audiences may have felt this way about the classic barbershop quartet, many feel this way about the blockbuster hit "Pitch Perfect" and audiences certainly felt invigorated during Monday's performance of "The Sing-Off Live! Tour" at the Wilbur Theatre.
Behind the music is, arguably, one man, responsible for a cappella's profound transformation over the past 2o years. Deke Sharon is not only the arranger and music director of "Pitch Perfect" and its upcoming sequel, but he is also the heart of NBC's "The Sing-Off," a reality competition show he produces. It's similar to "American Idol," yet reserved for a cappella groups.
Sharon simultaneously attended college at Tufts University and the New England Conservatory of Music, where he began reworking what he saw as a misunderstanding of a cappella's real potential.
"Twenty years ago, if you asked someone, 'What is a cappella?' they wouldn't know. They'd be like, 'Oh, it's that barber shop thing right?'" Sharon said.
At Tufts, Sharon performed in and directed the Beelzebubs, a male a cappella group, pioneering the intricate vocal instrumentation and beat boxing that constitutes its contemporary style.
"I very much wanted to popularize this new style … I loved it, and everyone I talked to told me I was crazy, but I didn't care! And lo and behold, 20 years later, everyone knows it," he said.
Reflecting that spread is this year's tour of "The Sing-Off Live!" featuring groups from former seasons of the show, including The Exchange, VoicePlay, Street Corner Symphony and the latest champions of the show's fifth season, The Melodores.
Each group brought a distinct and signature energy that had the audience on their feet by the end of every song. The Exchange brought unbeatable bass, while Street Corner Symphony delivered an insurmountable talent for beat boxing, in the form of a Ping-Pong match no less. The Melodores, based at Vanderbilt University, had the heart and soul of collegiate a cappella, which was very appropriate for their Wilbur Theatre performance since Boston is, as Sharon put it, "the heart of the college a cappella world."
But the group that best captured the transformative qualities of contemporary a cappella was VoicePlay. Their well-polished, theatrically comedic style created laughs throughout the entire set. Highlights included a 10-song medley of Broadway's best-known hits, including an appearance by Elsa in drag, as well as a mash-up featuring Justin Bieber's "Beauty and a Beat" and Dierks Bentley's "Drunk on a Plane."
"The best part about being in VoicePlay is the freedom to do the kind of music that we want to do in the way that we want to do it," said Geoff Castellucci, the bass of the group.
Starting off in the mid to late '90s as a barbershop quartet, VoicePlay got one of their first introductions to contemporary a cappella through The House Jacks, a group founded by Sharon and often described as "a rock band without instruments."
"They were one of the only contemporary a cappella groups making waves in the scene at the time," Castellucci said. "We had a barbershop quartet, and that's about as bad as it gets, so we loved their sound."
The group has completely renovated their sound from their beginnings. A particularly great aspect of their set was the television screens placed at either side of the stage, meant to involve the audience.
For instance, as the screen read "auditions today," a senior audience member was guided to the stage. The group then rated him in six categories: sex appeal, rhythm, sound effects, lyrics, percussion and "shaking it." His farm animal noises were untouchable, and his dance moves were superbly unique.
By the end of the show, the audience was completely enthralled by the excitement and incredible explosion of harmonious sound coming from every group. It's seldom that a night of music is full of such an organic sound. It seems that Sharon's (excuse the pun) instrumental role in fathering contemporary a cappella has succeeded.
"It's really exciting because so many more people are singing in music programs," he said. "Getting involved in music and getting off the couch is what I try to make happen."