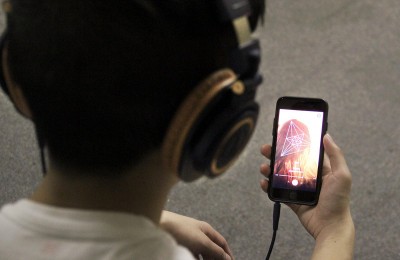 Music is widely regarded as a form of art and entertainment. What may be less apparent, however, is music's value in treating medical conditions such as cerebral palsy, autism and Parkinson's disease.
Though music therapy is not an entirely new concept, it has made great strides in recent years, aided by research and technological advancements. Boston-based companies, such as the newly launched The Sync Project, have, through their work, acknowledged music's utility in improving health outcomes.
The Sync Project, a company that launched at the South by Southwest festival in Austin, Texas on Tuesday, aims to personalize music therapeutics by mapping music to biometric data.
"The Sync Project is based on an idea: that music can be harnessed to improve health," Alexis Kopikis, co-founder and CEO of The Sync Project, wrote in an email. "Music has always been used anecdotally to alter health state. It's as quintessential to human evolution as language."
Kopikis said his son, who has neurological disorders, inspired the mission of The Sync Project.
"My son Adar has [Fragile X syndrome] and autism. On a daily basis, music empowers him to communicate better, connect and improve his social interaction," Kopikis said. "Understanding why music helps Adar and so many others across so many conditions is the passion of every member of The Sync Project."
By linking health data collected by wearable devices such as smartwatches and music-listening behavior, The Sync Project hopes to provide data that will be helpful for researchers.
Rebecca Zarate, assistant professor of expressive therapies at Lesley University, said harnessing data from companies such as The Sync Project can generate valuable insights.
"It helps us take a look at a generalizable population. This is the kind of work we need to inform evidence-based practices," she said. "It will give us another angle. It would give us a piece of evidence that would help us inform clinical practice."
In the past decade, music therapy has adopted more evidence-based methods, lending to its newfound rigor as a scientific discipline. Scientific methods are what appealed to Brian Harris, CEO of MedRhythms, LLC, a local company that offers neurologic music therapy services.
Harris said traditional music therapy looks at music through the lens of social context, focusing on music as a form of self-expression and a relationship facilitator. In contrast, neurologic music therapy is interested in the biological impact music has on the brain.
"Neurologic music therapy looks at it from a neuroscience lens," Harris said. "All of it is backed up with neuroscience research. We are not focused primarily on emotions or quality of life, or the social structure, but we are looking at purely neuroscience and anatomic structures of the brain and how those are affected by music."
Harris said MedRhythms, LLC has partnered with the Boston University Aphasia Resource Center to launch an aphasia course for residents of the greater Boston area who suffer from the condition that inhibits individuals' ability to communicate.
"It is a therapeutic group, and we work on functional language goals through singing with the goal of having a performance at the end of the semester," Harris said. "So they are therapeutically, functionally, getting better because they know how singing affects the brain."
Neurological disorders are not the only diseases music therapy can help with. Kathleen Howland, professor of music therapy at the Berklee College of Music, said music therapy can help with chemotherapy by decreasing stress levels.
"No matter what stage you are in cancer, the biggest issue is anxiety. Everybody suffers from anxiety," Howland said. "It [music] minimizes the use of anxiety medications, which are addictive … This is a wonderful use of music to decrease anxiety and limit having more medicine."
Music therapy as an academic discipline has grown exponentially, Howland said, and projects such as The Sync Project will help propel further growth of music therapy by enabling researchers to access noninvasive analog data.
Kopikis said the quantification of health data, paired with large-scale studies, has a promising future in music therapy.
"We believe strongly that mobile interventions will be a key component in the future of health," he said. "Connecting the scientists, technologists, device companies and in our case, musicians to be able to take advantage of data to deliver personalized care is where the next five to 10 years need to focus."