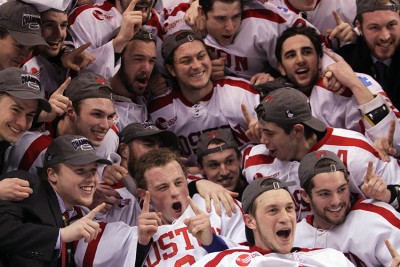 Expectations were decidedly muted for the Boston University men's hockey team going into the 2014-15 season.
Entering a new campaign with 17 underclassmen on the roster and fresh off the heels of a 10-21-4 showing in 2013-14, the Terriers were tabbed to finish sixth in the Hockey East preseason coaches poll — announced in late September at TD Garden.
At the time, senior assistant captain Evan Rodrigues acknowledged the pedigree of the conference, but failed to put much stock into BU's early ranking.
"Hockey East is one of the best leagues in the country, and I think it's always competitive," Rodrigues said. "Polls are polls, people have their opinions, and it's just our job to go out there and play our best every time we hit the ice, and the standings and everything will take care of itself."
Six months later, the No. 3 Terriers gathered together on the Garden ice, celebrating as the conference banner etched in scarlet and white slowly ascended up into the rafters.
For the first time in six years, BU (25-7-5) stood alone at the top of the league — defeating No. 12 University of Massachusetts Lowell, 5-3, in the Hockey East championship game at TD Garden Saturday night.
The conference title stands as the Terriers' first league championship in six years, as well as their eighth Hockey East crown in program history.
I couldn't be prouder of them," said BU head coach David Quinn. "From September on, it's been about as much fun as possible coaching this team. We are a true team. We have stars, as you can see, but you don't win with just stars.
"You win with everybody on the roster, you win with everybody within your program. I just couldn't be happier for everybody associated with our team because after what we all went through last year … they would not be denied. …  As great of players as these guys are, they're unbelievable kids, they're unbelievable people. And I can't tell you how happy I am for them."
BU wins the Hockey East championship after defeating Lowell, 5-3. pic.twitter.com/F2o0n76pWe

— Conor Ryan (@ConorRyan_93) March 22, 2015
Facing off against a River Hawks (21-12-6) squad that had claimed the last two conference championships, the Terriers relied on freshman center Jack Eichel and junior captain Matt Grzelcyk — both of whom notched three points in the contest.
In net, junior goaltender Matt O'Connor remained sturdy against a Lowell offense ranked second in the league in scoring, stopping 22 shots on the night.
Eichel — who set a BU record for most points scored in a Hockey East tournament with 11 over a four-game span — was named Tournament MVP after the game.
The North Chelmsford native played a hand in the Terriers' first tally on the night, maneuvering his way into Lowell's zone before dishing the puck to Grzelcyk in the left circle.
Grzelcyk quickly fired the puck by way of a one-timer shot past Lowell goaltender Kevin Boyle at 13:08, gifting the Terriers with an early lead. The power-play goal extended Grzelcyk's point streak to 11 games, with the Bruins prospect compiling 16 points during that stretch.
Just 41 seconds after Grzelcyk's tally, freshman forward Nikolas Olsson appeared to give BU a two-goal cushion after sneaking a rebound past Boyle, but the tally was later waved off after junior forward Matt Lane was ruled offside.
The officials' ruling would do little to hamper the Terriers' offensive attack, however, with Eichel orchestrating yet another scarlet strike.
After collecting the puck from Rodrigues, Eichel danced his way through the right circle and pulled off two toe drags before forcing the puck through Boyle's five-hole, making it a 2-0 game at 15:02.
"I remember [Rodrigues] made a great play across the ice, I kind of saw, I think it was [junior forward] Danny [O'Regan] driving the back door, and I tried to put the puck around the defenseman to make a pass to him, I think it hit off a defenseman so I threw it between his legs."
A flawless first stanza for the Terriers was later negated, after forward Joe Gambardella tucked a rebound offering past O'Connor on the power play — halving the River Hawks' deficit entering the first intermission.
BU struggled to get pucks on net in the second frame, accumulating just six shots over 20 minutes. Although, when the Terriers did get their looks on Boyle, they certainly made them count, with senior assistant captain Cason Hohmann and Olsson lighting the lamp to extend the Terriers' lead to three goals.
A wrister goal from blueliner Michael Kapla brought Lowell within two at 6:47 in the third period, but Eichel would answer back for the Terriers, blowing past two Lowell skaters before depositing the puck into River Hawk netting at 14:43.
Freshman Michael Louria deked a puck past O'Connor with just over three minutes left on the clock to make it 5-3, but that would be all that Lowell would muster on the night, as the Terriers swarmed the BU net once the final horn sounded.
Four Terriers were named to the Hockey East All-Tournament Team following the match, with O'Connor, Grzelcyk, Eichel, Rodrigues getting the nod, along with University of Notre Dame defenseman Robbie Russo and University of New Hampshire forward Grayson Downing.
The Terriers won't have much time to rest on their conference championship laurels, with NCAA tournament quarterfinals awaiting BU next weekend.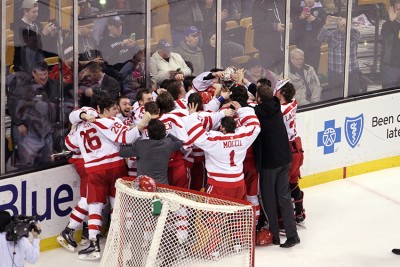 On the eve of another potential championship run, Quinn was asked if he sees any similarities between this current Terrier team and the 2009 squad that captured a national title. For BU's bench boss, it the correlation revolves around one key factor: leadership.
"We are literally the youngest team in college hockey, and I think that sometimes gets lost in the success we've had up to this point," Quinn said. "But I think that speaks volumes to our leadership, and I'm not just talking about our seniors, I'm talking about our juniors, obviously our junior captain, and even the sophomores.
"Am I surprised? No, I'm not."