David Quinn, head coach of the No. 3 Boston University men's hockey team, has had plenty to say about star freshman center Jack Eichel since Eichel arrived at BU. The most talked-about player in college hockey this season has been lauded by his coach as giving the team a "swagger," as humble, and as a "hell of a hockey player."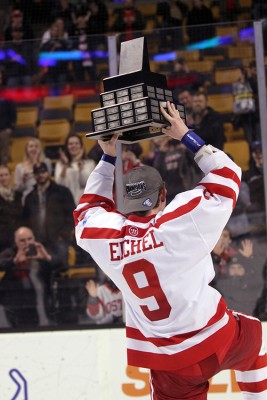 Following the Terriers' (25-7-5) 5-3 win over the No. 12 University of Massachusetts-Lowell on Saturday at TD Garden to secure their first Hockey East conference championship since 2009 — for which Eichel was named Tournament MVP — Quinn brought a new description to the table.
"I jokingly say he's kind of like the Secretariat of a hockey player," Quinn said. "If you ever watch Secretariat run, he just looks so different than all the other horses.
"Jack is very much in that mold."
When it comes to Eichel's place in BU history, he's certainly different than most. Prior to taking home MVP honors on Saturday, he was named Player of the Year and Rookie of the Year in Hockey East on Thursday. He's the only player in Hockey East history besides Boston College defenseman Brian Leetch to earn all three honors in the same year, when Leetch did so in 1987.
Eichel doesn't want to talk too much about that, though.
"I'm just trying to do the little things, get rid of pucks, win face-offs, win my battles," Eichel said. "And you've got to have some puck luck, we had that obviously tonight. A couple of lucky bounces, but you need those. Our team was playing great, so it's been pretty easy on me."
"He handles it with humility," Quinn added. "He knows he's good, he's not dumb. But doesn't rub it in anybody's face and he doesn't offend anybody with it.
"He just wants to be a BU hockey player."
Eichel won MVP for his 11-point performance across BU's four tournament games, including three points in Saturday's win. He scored a pair of goals through Lowell goaltender Kevin Boyle's five-hole, and assisted on BU's first goal of the game.
His second goal of the game — where he danced around two Lowell defensemen to create the scoring opportunity — set the BU record for most points in a season by a freshman after his second goal and third point brought his season total to 66. He ranks second among all freshmen in NCAA history behind Paul Kariya's 100 points in 1992-93.
"He has such an ability to separate from people and makes it look so easy," Quinn said. "It's very difficult to get the puck off of him. I don't know if people really appreciate it because he does make it look so easy — he's so fluid."
Quinn has witnessed Eichel's growth throughout the season, and while he appreciates Eichel's humility, he doesn't necessarily believe it has much to do with luck.
"He says things may happen because of a lucky bounce here or there," Quinn said, "but I'm starting not to believe it.
"I believe it happens because he wants it to happen."