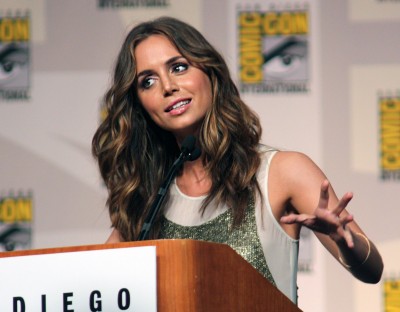 Friday evenings are usually a time to unwind from the stresses of the weeks — a time to get dinner, go out with friends or perhaps just stay in with some Netflix. It can also be a time to explore aspects of the film and television world. On Friday,  students and fans spent their evening with actress Eliza Dushku as part of the "Cinematheque" series hosted by Boston University's College of Communication.
Dushku is well known for her roles as Missy in "Bring It On" and as Faith in "Buffy the Vampire Slayer." Most recently, she played Echo in the suspenseful "Dollhouse" series. Her popularity left every seat in the room filled, with people standing or sitting on the floor. Cinematheque curator Gerald Peary announced he was "shocked and thrilled to see so many people there."
Melissa Hoskins, a junior in COM and a self-described fan of "Buffy" as well as "Dollhouse," said she heard about "An Evening with Eliza Dushku" through announcements from the COM department.
"They [COM] send out emails about the Cinematheque events, and this one sounded really cool," she said. "[As film students], we're required to go to two every semester."
Before showing a clip from her work, Dushku spent time getting to know her audience. She encouraged people to raise their hands and tell her their names and what they hope to accomplish, specifically in Hollywood. Officially returning to live in Boston from her life in Los Angeles, Dushku said she is simply "psyched to be home."
Due to technical difficulties, Cinematheque was not able to play the episode "Bad Girls" from "Buffy the Vampire Slayer." Dushku was able to save the night when she mentioned that she carries a copy of "Dollhouse" with her.
After screening the episode, she opened up the floor for questions from the audience. Many audience members said Friday was the first time they had seen an episode of "Dollhouse."
"Welcome!" joked Dushku, as she proceeded to speak about her role and the show itself. In "Dollhouse," Dushku plays a "doll" in an underground agency, whose memories are continually erased and re-programmed, turning her into a new character each episode.
"First and foremost, ["Dollhouse"] was everything I asked for … When I told ["Dollhouse" writer and director] Joss [Whedon] I didn't want to play the same person every week, he really hooked it up," Dushku said. "It was sometimes completely maddening … the whole thing with Echo is that she starts to remember, which is the number one rule against the Dollhouse. She starts to remember who she was and she ultimately tries to break out and break down the Dollhouse. By the second season, there would be some episodes where I was flipping through 8 different imprints in one scene."
Dushku has worked with Whedon on multiple projects, including "Dollhouse" and "Buffy the Vampire Slayer." She said she's come to like working with him, partly because of his famous outspokenness on feminism.
"What I think he has been examining for many years are women's roles in society, what people think women's roles are and kind of trying to blow those up and make us think differently … push the envelope in ways that haven't been done before," she said.
Along the same vein — as noted by an audience member — Dushku has played some very strong female characters. She attributed that ability to her strong mother, who was sitting in the front row.
"She's an incredible lady, and I was raised the youngest girl with three older brothers, so I was always kind of a tomboy. I had a mother that never told me I couldn't do things boys could do. She really threw me in the mix and let me get crew cuts and dress like a boy 'til I was 10 years old and do all the things boys could do," Dushku said. "It taught me deeply that I could stand up for myself and speak my mind."
Nicole McCormick, a first-year graduate student in COM studying screenwriting, said Dushku is an especially engaging speaker.
"It was captivating to listen to her, and it was different than most other Cinematheque events," she said. "It was really nice to hear about the industry and the studio side of things, because a lot of us want to be in that world."
Dushku's advice, in that regard, was not to worry so much about the industry. Lately, she said, underdogs are having their day.
"There are so many elements that people don't necessarily think of … but we're at a time when there are really great independent projects," she said. "If you don't need the big guy, the big 800-pound gorilla, the studio or the network and you can shoot your movie for a million dollars … that's how we see a lot of great projects come out."
At the same time, the motivation to create potent art is just as important as ever. Staying true to one's passion, she said, isn't something to be discounted.
"I like to challenge myself, and I think there are a lot of great stories to be told with a strong female perspective," she said. "I think that's something I've tried to do over the last 25 years."