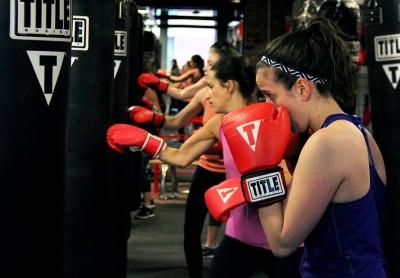 Most people associate the idea of fitness with a traditional gym, including exercise machines and personal trainers. But for Jessica Musto, this sort of conventionality simply was not enough.
On Tuesday, Musto, a 2014 graduate of Boston University's College of Arts and Sciences, opened up Boston's first TITLE Boxing Club in the North End. The grand opening spanned both Tuesday and Wednesday.
"[We'd] extended the grand opening to a second day because [we'd] had such a great response from those planning to attend Tuesday's Power Hours," Musto said.
It's success she couldn't have imagined as Musto said she never thought she would end up opening a business.
"Fitness has always been a passion, but I never really thought about it as a career," she said. "In college, I tried to find my escape at the gym. FitRec [Boston University's Fitness and Recreation Center] is great, but I had trouble motivating myself, and I was sick of sitting on a machine as my form of exercise."
One day in college, Musto decided to step out of her comfort zone and visit The Ring Boxing Club, near BU's West Campus. After trying out a boxing class, she said, "I never went to a normal gym again."
She's not alone in finding peace in fighting. Jason Mleczko, a senior in the College of Communication and an avid wrestler, said the great thing about combat sports such as boxing or wrestling is that they help stimulate strategic parts of the brain.
"Boxing and wrestling are just high intensity problem-solving," Mleczko said. "Every opponent has their own style of fighting and their own way of moving or being offensive or defensive, and it's a problem that you need to solve to win. To me, that's fun."
He added, though, that while a self-defense factor is involved, competition is not the main point.
"I have never done combat sports with the intention of learning how to beat someone up," he said. "But it's nice to know that if you ever find yourself in a dangerous situation, you can take care of yourself."
Nina Gonzalez-Park, a senior in the College of Arts and Sciences and president of the Boston University Jiu-Jitsu Club, also practices self-defense in the form of martial arts, specifically Jiu-Jitsu and Muay Thai. Like Mleczko, she said her primary sport does not encourage the harshness of most other types of martial arts in today's day and age.
"It's [nothing] as simple as hitting an opponent. You need to think five steps ahead of your opponent and instinctively know how to submit," she said. "It is a deceivingly calm [martial art sport] requiring patience and strategy."
At Musto's TITLE Boxing Club, a similar philosophy prevails in their slogan: "Get fit, not hit!"
"There's no fighting or sparring," Musto said. "And it's kind of intimidating, especially for women."
Musto insists TITLE Boxing Club focuses on the individual person, regardless of their fitness level, and said the club has a lot to offer its visitors.
"Classes take place in a group setting, but our workout is an individual workout that welcomes both men and women of all fitness types and experience levels," she said. "The 'Power Hour' workout guarantees results and takes place in a non-threatening environment."
Additionally, TITLE Boxing Club offers members a workout that combines aspects of intense cardio as well as regular boxing and kickboxing exercises. Overall, Musto is satisfied with what it took to make it happen.
"There were definitely ups and downs. Because TITLE Boxing Club is a franchise, a good amount of the process opening a club was already outlined for us. But there was still a lot of work for my dad [Michael Musto] and I to do," she said. "I would say the hardest part was finding the perfect location and the right staff. Once we got the location at 226 Causeway Street, everything started coming together.
"It's always a risk to open a new business, but it's definitely a risk I'm glad my Dad and I took."
Of course, she's excited for new visitors to experience all that TITLE has to offer, an incentive being that the first class is free. To BU fighters like Mleczko, it's worth stepping into the ring.
"To me, working my butt off for wrestling was the first time that I really saw the results of hard work," he said. "I've noticed that combat sports in general just make people stronger, physically and mentally."