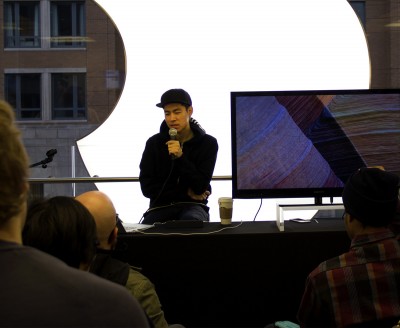 The stigma surrounding electronic musicians such as Skrillex is nothing new. They get on stage, the stereotype goes, then press play, dance around and their job is done — there's nothing else to it. As electronic music continues to rise in popularity, however, many artists are actively putting this stigma to shame — artists such as Nosaj Thing, for instance.
An electronic producer who has worked with artists such as Kendrick Lamar and Chance the Rapper, Nosaj Thing (whose real name is Jason Chung) did a brief walkthrough on how he crafts live sets in a presentation at the Boylston Street Apple Store on Tuesday before his show that evening at Brighton Music Hall. He demonstrated how he makes each performance unique and partly improvised, as he mirrored his laptop screen onto a large display.
"I'm just stemming out all the songs into eight parts, and then I can arrange the tracks live," Chung told the crowd. "So I can have the bass from one song, drums from another song. It was kind of rough the first two shows, but now I'm more comfortable with it."
His demo comes at a period in music when electronic artists are rising in prominence and gaining more respect as serious musicians. Still, DJs face criticism toward their worth as performers, considering that they often play and sample other people's music, not their own.
"There aren't that many physical skills to develop. There's the stereotype — 'oh, you just press buttons.' Essentially, that's what it is," said David Szczepankiewicz, a sophomore in the Questrom School of Business and one-half of DJ duo Godoii & Davvid. "I feel like the entire thing is having a wide musical range that you know, and know pretty well."
Szczepankiewicz admitted that with the latest technology in the field, DJ techniques like beatmatching are not very difficult. However, he said that DJ skills come more from being able to interact with the feel of the audience and create a set that flows from song to song on the spot.
"Being a DJ is knowing which songs to play next — this stack of songs, this musical journey, one-hour big mix where you can take the people from one place to another," said Jose Godoy, a Questrom sophomore and the other half of the DJ group. "It's knowing how to phrase the songs, how to move from one genre or one groove to the other."
While Szczepankiewicz never played any instruments before DJing, Godoy has an extensive musical background.
"I played piano since I was four. I was in a lot of bands. I was the lead guitar for a Pantera tribute band at some point," he said. "I also played jazz and the blues. I played in weddings. I played in musicals. I played the accordion and the alto sax. I won tickets to Cancun for singing once, for a contest."
Godoy said the transition from playing instruments to DJing was a reaction to the progression of what music was becoming popular.
"I was all over the place, and electronic music was just the thing," he said. "And now I'm here."
Andrew Hallock, a freshman in the College of Arts and Sciences and a producer and DJ under the moniker Wandrew, also got his start in more traditional forms of music.
"I play a bunch of instruments: flute, piccolo, bass, guitar, drums, trombone, ukulele. I sing. But I mostly stick to electronic music now," he said.
Hallock said his musical background has translated over to the skills he uses in composing electronic music.
"As you learn to play an instrument, you understand it. You can physically play it, but you also know its uses," he said. "So, say, in a big orchestra, what use does the oboe have? You know where it fits into the big scheme of things."
That classical tie has more strength than one might expect. Spencer Chapman, a freshman trombone player in the College of Fine Arts, said he respects electronic music as an art form despite the differences between it and more traditional styles of music.
"Different genres have different ways that they achieve the end goal," he said. "They might have to focus on different individual aspects of their art, but in the end, successful people have similar traits in terms of what they do."
Chapman listens to mostly classical and jazz styles of music, but he tries to be open-minded about other styles, he said.
"I'm of the personal opinion that there are really only two kinds of music: there are love songs and there's dance music," he said. "One of the original purposes of music was to dance to. So if people dance to it … it's just as much of a genre, and it's honestly making a heck of a lot more money than my profession is."