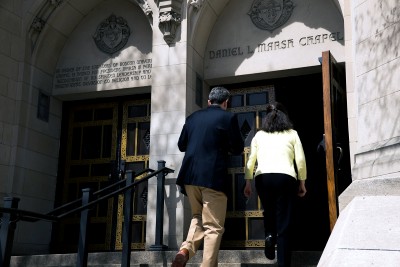 Boston University students and faculty gathered Sunday afternoon at Marsh Chapel to memorialize Daryl Carr, a student pursuing a sociology doctoral degree in the Graduate School of Arts and Sciences who died in February.
Approximately 40 of Carr's family and friends joined with members of the sociology department to recall their favorite memories and characteristics of Carr. A reception was held following the service.
"His presence always provided a sense of comfort and ease. Daryl appeared unfazed of his surroundings and has left an irreparable hole in our hearts," said Emily Philipp, a friend of Carr and a member of his degree cohort, during the reception.
Carr was found dead on the Charles River underneath the BU Bridge, The Daily Free Press reported on Feb. 25. He was 30 years old.
Catie Connell, a sociology professor, read a speech during the memorial by Julian Go, another professor in the department and Carr's academic advisor, who was not able to attend the service.
"I first encountered Daryl before I met him because I read his application for the graduate program," Go wrote. "Once I read his essay, I'd realized I wanted him."
Carr would have earned his Ph.D in 2017, the FreeP reported. He wanted to research the Middle East and had planned to apply for a fellowship in Turkey.
Rebecca Farber, also a member of Carr's cohort, said she remembers Carr specifically as an optimistic person.
"Words don't do justice to the pain I feel in me here and now," she said after the memorial. "[He was a] compassionate, accepting and quirky human being who always put a positive spin on things."
Farber recalled that after meeting Carr in August 2013, the cohort group went out to dinner. He ordered a mozzarella sticks instead of a salad, she said.
"He would never take credit for how transformative his thoughts were. He was a humbly brilliant man," she said. "He helped build solidarity in our cohort. He was a connector. If there is anything I could do to carry on his legacy, it would be to become a social justice advocate and opt for mozzarella sticks over salad."
Nicole Aschoff, a sociology professor for the Principles of Sociology undergraduate course in which Carr served as a teaching fellow, said Carr constantly had a positive attitude.
"In sociology, we call it pathic understanding: you can only understand the thing [you are studying] as a subject, not as an object," she said. "[Carr] lived this principle."
Sasha White, a fellow cohort member and mentee of Carr's, said he feels Carr's absence in the BU hallways.
"The love that it takes to heal is infinitely larger than the love when we are whole," he said. "I am so very grateful that I knew him."
After the service, White added that he will strive to keep Carr's "academic insight" alive every day.
Pamela Devan, also a cohort member and a neighbor of Carr, said her two fondest memories from Carr are his character and personality.
"He was incredibly supportive of everything I did and was funny, and witty but also incredibly kind," she said. "We shared our love of Pop-Tarts, hate of vegetables and inexplicable love of plaid."
Irene Hsueh, a junior in the College of Arts and Sciences and a student of Carr's, said she only met him once, but still remembers him fondly.
"He was my Principles of Sociology teaching fellow," she said after the service. "SO101 was different than my other classes, and I had trouble getting used to it, but Daryl was very helpful and kind even when I bought the wrong book."
Go said in his speech that the sociology department and university lost a talented student.
"Daryl was not poised to be a great sociologist," he said. "He already was one."