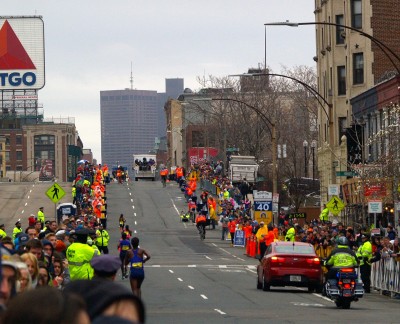 Two years ago, Paolo Mauricio, a senior in Boston University's College of Arts and Sciences, ran past Coolidge Corner, less than three miles from the finish line of the Boston Marathon where his family was waiting. However, when he reached Kenmore Square, he said he knew something was wrong. The mood shifted from celebratory and lighthearted to panicked and tense.
"People started to head back and were crying. I remember seeing runners in tears," Mauricio said. "I was trying to find my mom and my grandparents. At that time, I lived in [South Campus] and went back to my apartment, 46 Mountfort St., and cried. It was really traumatizing."
With the second anniversary of the Boston Marathon bombings that killed three and injured more than 260 on April 15, 2013, memories from the past may arise for those who experienced the marathon two years ago, triggering feelings of anxiety, said Priscilla Brailsford, a psychiatry professor at Georgetown University.
"I'm sure some people will be very afraid of where they stand, what they do and all of that. Anniversaries usually do that. It brings back all the feelings they had in the past," she said. "It's really expected and it's normal they would feel that, but it's important for them to be able to acknowledge that this might happen, so when those feelings come up, they won't be surprised by it."
Brailsford said that in addition to cognitive effects, there are behavioral and physical effects such as increased irritability or paranoia and inability to eat or sleep. Some people recover from trauma quicker than others, Brailsford said, though while everyone handles them differently, the way someone responds to traumatic events may be related to socioeconomic status.
"For a community where nothing has happened before and nothing majorly traumatic has happened in their life, obviously, they may not have coping mechanisms and they may be more affected than people who experience trauma in their lives, neighborhoods and community," she said. "Higher income communities because of the resources they have, may not have experience … For other communities, unfortunately because of the prevalence of violence, they have developed coping mechanisms."
Brailsford said the fact that the bombings were not a natural disaster makes the healing process more difficult.
"There's more anger when it's a man-made event. Sometimes, when it is a natural disaster, people could say that they couldn't prevent it, or it was uncontrollable," she said. "Usually when it's a disaster like 9/11, like the Marathon, people's level of anger and outrage is much greater. That's the one thing that stands out because they have someone to blame. And then the effects are drawn out, then you have the court case, the sentencing and all of that. Every time you see it on the news, even after the event, you are still reminded of it. The ability to forget is harder."
Mauricio, who is running in the 2015 Boston Marathon, said his experience at the Boston Marathon two years ago remains difficult to talk about, especially in light of the media attention on the trial of admitted Marathon bomber Dzhokhar Tsarnaev and the possibility of a movie based on the tragedy.
"I don't like the fact that the guy who was in 'Ted,' Mark Wahlberg, wants to make a movie about Patriot's Day. I think it's too soon," Mauricio said. "The trial has opened up a lot of bad memories, and I recognize that talking about it is important. I just take a longer time to get over things than other people."
Consuming disaster-related media in that way is another factor that plays a role in inducing stress. Repeated consumption of bombing-related media has been associated with increased acute stress in individuals, said E. Alison Holman, professor of nursing science at the University of California, Irvine. Holman conducted a study titled, "Media's role in broadcasting acute stress following the Boston Marathon bombings," published in January in the Proceedings of the National Academy of Sciences of the United States of America.
"Basically what we found was, in the aftermath, in the weeks following the Boston Marathon bombing, the amount of daily media exposure that people reported having about the bombings was associated with significantly higher levels of acute stress," Holman said, "which are like early post-traumatic stress symptoms in the aftermath of the bombings."
When consuming media, Holman said she advises people to adopt a calm approach.
"I am sure for some people, there's going to be feelings rekindled about what happened in the bombings," she said. "What's important is for people to know that when you are watching stuff, do it with tempered approach."
Chot Duay, a senior in the Questrom School of Business and CAS, said he has adopted a calm mentality toward the Boston Marathon bombings. Duay was one mile from the finish line when the bombs went off.
"I did not experience any trauma, at all … First, I hoped nobody was hurt," Duay said. "For me, the way my mind works is when something bad like that happens, if I run into something negative, it happened so I accept the fact that whatever happened has happened and I look ahead."
Duay said media sensationalization of the Boston Marathon has yielded positive effects. In addition to bringing more attention to the Boston Marathon, Duay said positive media that highlighted the resilience of Boston residents may send a signal that could deter future attacks.
"Sometimes, things like this tend to be over-sensationalized. That's not necessarily a bad thing," he said. "It's not about revenge, but moving forward. I like how Boston dealt with it because it did remain strong, because at the end of the day, that's what people who want to terrorize people want. If they see it doesn't have an effect in the long term, maybe that deters other people from trying something like that."
Though media surrounding this year's Boston Marathon has largely been positive, Holman warned that continuing to show images of traumatic events like the marathon bombings has negative consequences.
"Replaying videos and bombings and people bloodied up is not going to help us," Holman said. "I noticed a long time ago that every time they came to a major event that happened in the community, a shooting, whatever that might be, they repeatedly show the same pictures over and over again … The same five pictures get shown to you 15 times in the context of one story."
Similarly, Duay emphasized the importance of moving forward.
"Years from now, when I look back at the Boston Marathon, yeah, I will think about the bombing, but it's bigger than that. It has always been bigger than that," he said. "I would remember that day not to remember the bombing itself, the incident, but instead the people who were lost. People should be focused on moving forward."
The wounds remain, but as a community, Boston is stronger than ever, Brailsford said. Social solidarity, seen after the September 11, 2001 Twin Tower attacks in New York and Hurricane Katrina, swelled again during the Boston Marathon bombings.
"I think it is one of those classic experiences where in the event of a terrorist attack, a lot of people are resilient and bounce back. It's something we saw in 9/11. It's something we saw in the Charlie Hebdo attacks in Paris," Mauricio said.
BU students who are running the Boston Marathon this year said they are determined to overcome the negative psychological effects induced by the bombings with positivity. Many of them emphasized the importance of being strong-minded.
For Margel DiMaggio, a senior in CAS who grew up just north of Boston, the Boston Marathon is a race she is familiar with.
"I think last year, Marathon Monday, I thought, 'I could definitely do this.' It's such a historic race, and it's right here, basically at my doorstep," DiMaggio said.
DiMaggio, who raised $10,000 for the Red Sox Foundation, said the Marathon serves as a testament to the strength of Boston as a city.
"For the rest of the history of the marathon, it will be in memory of everyone affected [by the bombings]. It reminds us that we are such a strong city and we can overcome anything."
Rachel Harrison, a freshman in Questrom, said she was inspired by the spirit displayed by Boston residents.
"There is also such great heart in the city and such great spirit and mentality. The city is so resilient," Harrison said. "It's such a positive event. There's really no need to be scared of anything bad happening again."
Mauricio said that similar to last year, he has a positive outlook for this year's Boston Marathon.
"Last year, for the Boston Marathon, it was a really fun year. People just celebrated the spirit of running, the spirit of the city, the spirit of the law enforcement and emergency responders who were able to help," Mauricio said. "We will continue to run. This is our city."