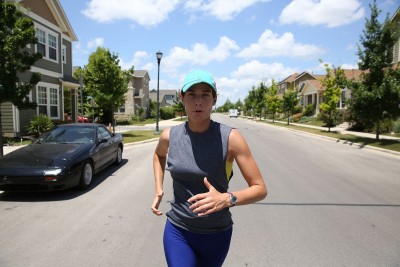 The 13th annual Independent Film Festival Boston, which kicked off Wednesday night with James Ponsoldt's "The End of the Tour," continued into the weekend with a full slate of narrative and documentary film screenings, as well as appearances from writers, directors and others in the film industry.
Thursday night's screenings included the New England premiere of Boston-native Andrew Bujalski's "Results." Describing "Results" to someone is a lot like describing a really weird dream you had after eating too many Funyuns and passing out during the first half of a Coen brothers film. Cobie Smulders stars as Kat, an acerbic trainer working for Power 4 Life, a fitness company owned and operated by the endlessly upbeat, Australian-accented Trevor (Guy Pearce). When Kat starts to train, then hooks up with, the downcast recently divorced Danny (Kevin Corrigan), their three lives are pulled together professionally and personally. Oh, and Anthony Michael Hall shows up as a beefed up kettlebell guru.
If the story seems vague, that's because it is. The majority of the action happens within the first 30 minutes of the film, leaving the characters to meander around sun-drenched Austin, Texas, for the other 75. There's a whole lot of talking, which is fitting for a film by the "Godfather of Mumblecore." But in this world of pecs, abs and kale smoothies, it's less mumblecore and more shout-core.
The novelty of the strange cast of characters quickly wears off. Pearce's Trevor is so gratingly cheery that his emotional turning point at the end of the film isn't just unearned, it's boring. Smulders is maddeningly inconsistent and opaque. Giovanni Ribisi shows up as Paul, a balding, troublemaking lawyer who is there to, well, round out a talented cast? He certainly doesn't add much in terms of plot or humor.
Corrigan's Danny, who provides the majority of the laughs, seems to be the most grounded in a cast of veritable lunatics, which isn't saying much. In one scene, he invites an entire sorority to his house for a party in an attempt to move on from his divorce.
"Results" is anti-genre, which deserves a commendation. Bujalski mixes elements of romance, drama and comedy to craft an interesting message about the nature of happiness and of human relationships. That, perhaps, could have been more potent with a more likeable cast of characters.
Saturday's slate was more documentary-heavy, including the Boston-centric "GTFO" about women in the video game industry. "You need to be able to play with people harassing you," a male gamer says to a female gamer in the film's opening minutes, summing up in one sentence the problems women in gaming face.
Director Shannon Sun-Higginson takes an admirably wide stance on these issues, including the sensational threats tossed at women but also the ways in which the odds are stacked against them in creating, marketing and playing video games. Each section of the film is bookended with a charming video game intro, in which a young woman navigates a pixelated landscape trying to avoid expletive-hurling trolls, chesty female video game characters and suited-up marketing executives.
But make no mistake, the threats are all there, some so frighteningly specific and horrifying that they should never have been said in the first place, let alone reprinted here. The power of these statements lies not in the words chosen but the way in which the women on screen read them back — nausea-inducing threats repeated with all the nonchalance of a weather-related comment. This is the norm for them.
Sun-Higginson's film had the unfortunate timing of wrapping up right before the outbreak of the Gamergate controversy last summer, leading to an awkward coda consisting mostly of clips from news reports and seemingly hurried interviews with some of the film's subjects shoehorned into the end.
Despite the onslaught of verbal abuse and obstacles presented in the film, the tone somehow remains fairly hopeful. Video game developer Brianna Wu of developer Giant Spacekat talks about training young women to create games. We're introduced to the male co-players of gamer Jenny Haniver, who say they defend her when other men attack her for being a female gamer. Things for women in video games certainly aren't anywhere where they should be, but "GTFO" acknowledges the hard work of those trying.
The standout of Saturday's lineup was undoubtedly the New England premiere of "Call Me Lucky," a documentary about local humorist and political activist Barry Crimmins directed by Bobcat Goldthwait. Goldthwait, a longtime fixture at IFFBoston, was met with a warm welcome in the packed Somerville Theatre.
"There are some people here [in the theater] that are in the movie, and there are some people here that were cut from the movie," he said. "So that's going to be really [expletive] awkward."
Initially straightforward in its approach, Goldthwait chronicles Crimmins' life from his childhood in New York — he grew up on a "beautiful lake surrounded by fascists," Crimmins says — to his comedic leanings in high school, to his establishment of two Boston comedy clubs in the 1980s, to his political activism in Nicaragua and beyond.
Crimmins, ferociously hilarious and heartbreakingly vulnerable, makes it easy for Goldthwait by simply being a fascinating subject around which to structure a documentary. He'll know if he has led a successful life, he says early on in the film, if he is able to overthrow the United States government and close the Catholic Church. Even his physical appearance is enrapturing, described at one point in the film as a mix between Noam Chomsky and Bruno from "Popeye."
Still, Goldthwait is a phenomenal director with an extraordinary cinematic eye. The shots of Crimmins' isolated country home are breathtaking — all snow-capped hills and glistening icicles. There are charming "here's how the sausage is made" types of moments, like when Crimmins shoots the first couple lines of an intro about his hometown before Goldthwait cuts and asks him to point over his other shoulder. "No, THAT'S my house," he says, pointing. Smash cut to Crimmins giving the intro, this time in front of the right house.
But beneath the footage of a caustic young Crimmins tearing the likes of Reagan and Bush apart in his stand-up and the reverent celebrity interviews — David Cross, Patton Oswalt and Marc Maron, among many others — runs an undercurrent of something sinister. Spliced between these more innocent interviews are ones with one of Crimmins' sisters, questioning Goldthwait's motives.
This comes to a head about halfway through the film, when Crimmins' revelation that he was sexually assaulted as a young boy sucked all of the air out of the enormous theater on Saturday night.
From this point, the film takes an understandably sober tone but by no means suppresses its humor entirely. Goldthwait strikes a wonderful balance between the two, letting Crimmins provide much of the laugh-out-loud moments in the second half with his own interview footage and stand-up routine, while still anchoring the film to the humanity in Crimmins' story.
Goldthwait returned to the stage for a question-and-answer session following the film, receiving two standing ovations as Crimmins joined him onstage.
"You're really [expletive] with my self-loathing," Goldthwait mumbled to a burst of laughter from the applauding crowd.
The two fielded questions largely centered around Crimmins' abuse and a particular shot in the film in which he revisits the basement of his old home where it occurred. He talked about the difficulty in shooting such a scene, that he wasn't even sure if he had said anything usable to the camera.
"I told him, 'Don't worry,'" Goldthwait said. "'I'm just going to play 'Yakety Sax' over that part.'"