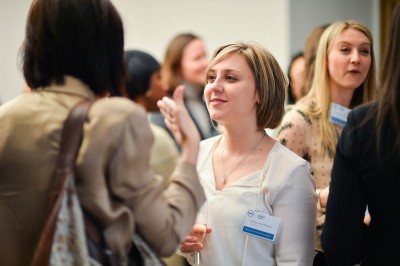 When it comes to the future of women in the Boston business world, the rankings are anything but conclusive.
While the 2015 Global Startup Ecosystem Ranking gave Boston a No. 2 listing for top cities in the world for female entrepreneurs, GoodCall Data Center ranked Boston at No. 349. And that was only countrywide.
Meanwhile, the U.S. Census Bureau found that women-owned businesses increased from 7.8 million in 2007 to 9.9 million in 2012. However, despite the increase in female job representation, women accounted for less than 5 percent of all business revenue in 2012.
Ian Mashiter, a professor at Boston University's Questrom School of Business, said while the gender and revenue gaps are important problems to consider in the business field, the low statistics for female economic business success in Boston may largely have to do with the economic field of the city, rather than the gender disparity.
Boston, for one, is tech-driven in many of its businesses, Mashiter said. These tech companies often require a lot of funding to launch and thrive. Cities like Boston, with huge centers for innovation and established universities and hospitals, have the resources needed to help these expensive companies, he said.
On the other hand, less expensive cities, many of which found their way toward the top of GoodCall's rankings, can serve as a hub for launching small businesses. When it comes to ranking the best businesses for entrepreneurs, whether male or female, Mashiter said, the type of business examined is a key part of the data.
"Some of these smaller cities are probably a bigger proportion of those smaller businesses than larger, institutionally-backed venture-funded companies," he said. "It's very interesting to look at this list [the GoodCall list]. You get some other cities in Massachusetts higher in the list than Boston … clearly, I'm sure the list is still very interesting and useful, but it's just not normally the way we take a look at entrepreneurship."
When it comes to BU, the statistics show less evidence of a gender gap than the outside business world. In Questrom, the current undergraduate junior class is split — 50 percent male and 50 percent female. While the full-time graduate students have a larger split — 64 percent male and 36 percent female — Mashiter said professors strive to acknowledge the gender gap exists, while challenging their students to defy it.
"It's very important that when I teach entrepreneurship [and] it's very important that when I'm using real life examples, I'm careful to select female entrepreneurs as the protagonist in a particular discussion, not just men," he said. "It's very important when I bring in guest speakers, you think about gender. And one of my classes, we end with a final presentation and I think very hard to make sure one of the panelists, if not more, are women, because it's important to send that message."
Mashiter also works as the director of the Buzz Lab, an entrepreneurship center at BU that hosts students, faculty and alumni startup businesses. He said male students are the majority of participants in the lab, coming in at about two-thirds.
"The gap is closing," he said. "But there's still a gap there."
Nikita Virani, a 2014 graduate of the School of Management, is working with Buzz Lab to launch her startup Wellapets, which produces electronic games for children to teach them how to care for different types of sickness. One game her company is currently working uses an animated dragon to teach children to about treating their asthma.
For Virani, gender has not played a large role in her success in business, she said. Though she had a sexist encounter with an investor before coming to Boston, she said the people she has worked with in the Northeast have always approached her company with an open mind.
"The people here are very supportive," she said. "That's something I love about Boston."
Virani pointed out, however, that when she experienced sexism, she didn't have a female business mentor to go to for guidance. While she never felt pushed aside by her male professors, the women she met had a better understanding of the role gender can play in male-dominated fields, such as business.
"At Questrom, they're [professors] slightly more on the male side, [but] I thought it was a good balance," she said. "We just need more women, and I need to find more female advisors and mentors."
As for the data, Virani said, it's all about understanding how the numbers are compiled and to what extent they represent the diversity in Boston. For the most part, she said, the numbers don't concern her.
"Anyone in any city, given your age and given your savings or lack thereof, both are challenging," she said. "It just makes sense to be here … There's a huge business community here, and that's a great way for an entrepreneur to succeed and grow."