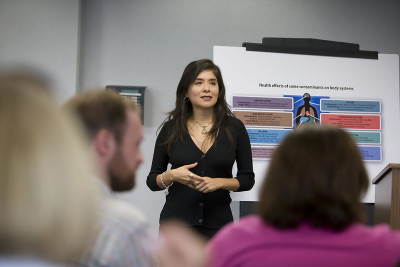 Over the past several years, colleges and universities have increased their focus on supporting female entrepreneurship and providing resources for women in business. But with an initiative launched Monday by Boston Mayor Martin Walsh's office, the female entrepreneurship network is growing stronger beyond just the academic circuit.
Women Entrepreneurs Boston, referred to shortly as WE BOS, is the city's new program for female entrepreneurs looking for assistance in launching or growing their businesses, according to a Monday statement from Walsh's office.
The initiative will be partnering with the mayor's Office of Women's Advancement and the Office of Business Development to increase the prominence of Boston's women in business.
"We know that women-led businesses continue to face challenges including limited funding, challenges in scaling and finding mentors and networks to support them as they grow," Walsh said in the statement. "I am proud to kick off WE BOS to better address these challenges and promote economic equity in Boston."
And the economic equity Walsh wants to promote is certainly lagging in Boston compared proportionally to the city's female population. While more than half of the city's residents are women, less than 3 percent of venture capital funding is given to women-owned businesses, the release reported.
"Mayor Walsh understands that this is not only the right thing to do, but it's also important to the vitality and economy of our city as a whole," Megan Costello, executive director of the mayor's Office of Women's Advancement, said in the statement.
Susan Fournier, a professor at Boston University's Questrom School of Business, said making the efforts of women in business a top priority will allow the city to create a healthy economy and address the problems female entrepreneurs face.
"Branding the effort facilitates dedicated funding at budget time, allows awareness and recognition to develop among stakeholders, provides a platform for the solicitation of sponsor support and grants an identity platform with which connections can form between the women and the organization," Fournier said.
Kara Miller, a South Boston resident, has spent the past two years working with the city's Women on Main program and will now be managing WE BOS. The initiative's first large-scale project will be Boston's first-ever Women Entrepreneurs Week, scheduled for Oct. 12 to 16.
The largest event for Women Entrepreneurs Week will be Oct. 14 from 6 to 8:30 p.m., where attendees can meet leaders from Boston's organizations that are most supportive of female entrepreneurs.
For students, WE BOS can serve as an opportunity to learn about business opportunities in the city and form relationships with professionals who could become their mentors.
"You don't realize how important it is to have a mentor," said Emily Murphy, a senior in Questrom. "I don't know if guys look so much for a mentor. I know for women, I was always looking for a mentor. If you want a family at some point but also have a full time job, it's kind of cool for women to see that."
Brian Hanafin, a senior in Questrom, said he has worked with many women through classes and internships, and most agree that breaking into the industry is more challenging as a woman.
"I'm in finance, so in my internships and classes, most of the people working are guys, so I could see that it would be more intimidating as a girl to go up to a guy," he said. "I definitely think there's a stigma behind that [the business industry] that makes it more male-dominated, so maybe breaking that stigma would help."
Imme Kobayashi, a freshman in Questrom, said when female students get the chance to talk to female mentors, a lot of the pressure that comes with the male-dominated field is taken off because "even if you don't know her that well, it's less panicky and more peaceful."
Carly Weinstein, a senior in Questrom, said she's never felt disadvantaged by her gender while in school, but she is glad to see city officials addressing the problems that face female entrepreneurs in a professional setting.
"In the real world, that's just something that's huge that needs to be addressed," she said. "I haven't had a full time job yet. I don't know how it feels … but women are still way underpaid compared to men in the same jobs. In the real world, this would definitely cater to that."
Correction: An earlier version of this story mistakenly identified Kara Miller as the host of "Innovation Hub" on WGBH. A different Kara Miller hosts the program.