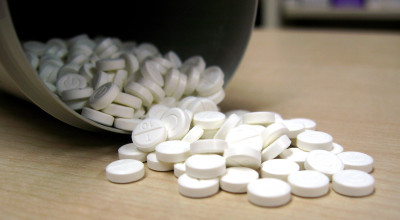 In their continued effort to combat drug addiction in the Commonwealth, Massachusetts residents participated in the tenth annual Drug Take-Back Day on Saturday.
The initiative, which took place nationwide, encourages people to turn in unused prescription medicines, according to a Friday press release from the governor's office.
"I urge the Commonwealth to open their medicine cabinets and take advantage of this convenient and effective program in your communities," Massachusetts Gov. Charlie Baker said in the release. "Medications can be misused, and as we've seen with the opioid crisis, the results can be deadly."
The Governor's Opioid Addiction Working Group released recommendations in June for addressing the addiction epidemic, prompting deans from medical schools in the Greater Boston area began collaboration with the Massachusetts Medical Society, The Daily Free Press reported Sept. 3.
Timothy Desmond, spokesperson for the New England division of the U.S. Drug Enforcement Administration, said that this year's initiative met all of its goals. The DEA partnered with the Massachusetts Department of Public Health for the drug take-back.
"The initiative addresses a vital public safety and public health issue. Many Americans are not aware that medicines that languish in home cabinets are highly susceptible to diversion, misuse, and abuse," Desmond wrote in an email. "Rates of prescription drug abuse in the U.S. are increasing at alarming rates, as are the number of accidental poisonings and overdoses due to these drugs."
Massachusetts collected a total of 8,550 pounds of prescription drugs in 2010 and a total of 20,211 pounds in 2014, Desmond said. The New England region of the DEA collected a total of 55,769 pounds of drugs.
"Working together with our state and local partners, the medical community, anti-drug coalitions, and a concerned public, we will eliminate a major source of abused prescription drugs, and reduce the hazard they pose to our families and communities in a safe, legal, and environmentally sound way," he said.
Scott Zoback, spokesman at the DPH, said it is necessary to approach this issue from all angles.
"As the state looks at the opioid crisis, we must address it from all avenues, from prevention, intervention, treatment and recovery," he said. "And Drug Take-Back Day is an important tool for people who have prescription drugs laying around the house as a way for them to safely dispose of them and prevent potential abuse."
Zoback said it is also crucial to focus on ways to stop drug use at all times of the year, not just on Drug Take-Back Day.
"[It's] enhanced awareness on that day, and enhanced support," he said. "But it's something that, year-round, the [Massachusetts] Department of Public Health and the state thinks is critically important."
For the first time this year, Boston Medical Center was one of the locations at which citizens could drop off their prescription drugs.
Jenny Eriksen Leary, a spokeswoman from BMC, said the initiative was a success at that particular location.
"BMC is a national leader in addiction medicine, and therefore a natural partner for such an important event designed to help families make their homes safer from prescription medication theft and abuse, and to help them properly dispose of medications," Eriksen Leary wrote in an email.
Eriksen Leary also said that BMC had clinical and pharmacy staff ready at the location to talk to citizens about addiction recovery services and support.
Several residents said they appreciate the efforts to address prescription misuse, but also that more can be done fight drug addiction. For instance offering suboxone treatment for addition patients.
Sam Famuyide, 31, of Dorchester, said Drug Take-Back Day is a good start, but that there needs to be more incentive for citizens to stop drug use.
"It's a start, but I'm sure there's a lot more that could be done," he said. "I know they did one for the guns, where [citizens] brought the guns and they'd give you cash for it. If there is no incentive, they can always buy more."
Sean Minnihan, 28, of East Boston, said the initiative only touches on part of the issue.
"It cures the symptoms, but I don't think that it cures the disease," he said. "If all you're asking them to do is dispose of their old drugs that they're going to get rid of, it doesn't get rid of the fact of where they got the drugs in the first place."
Minnihan added that the city should place emphasis on preventative action.
"[The city] obviously didn't take away the cause, I mean, why did [citizens] need the drugs in the first place?", he said. "So it's great that they're getting them off the streets, but it doesn't solve the issue of where they got them in the first place."