Senior forward Ahti Oksanen, a year ago, was one of the top goal scorers for the Boston University men's hockey team. But through five games of the 2015-16 season, despite countless opportunities, Oksanen remained goalless for the No. 8 Terriers — most frustratingly, perhaps, by countless tries that rang off the post.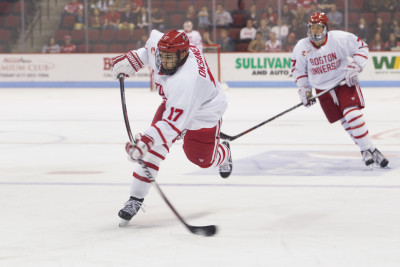 Just how many posts, exactly, had he hit?
"I'd say close to 10," Oksanen said with a smile following BU's 5-4 overtime win over the No. 5 University of Denver on Saturday at Agganis Arena.
And that's not including, entering Saturday's game against the Pioneers (3-3), 23 shots on goal that went scoreless. But on his 28th shot of the season, he finally made it happen. After 27 of Oksanen's shots on net were stopped, he scored on two consecutive shots in crucial moments for the Terriers — including his final shot of the game, the overtime winner that snapped a two-game losing streak for BU (3-3, 1-2 Hockey East).
"I really wanted to shoot the puck," he said. "It just happened to go in, glad it finally went in."
And that certainly paid off for the Terriers.
After four shots were stopped by Denver's goaltending, Oksanen's first goal – a power-play tally — came at the 13:42 mark of the second period, snapping his drought and pushing BU's lead to 4-2 at the time. His second goal of the game, even more crucially, was sent from the left circle over the shoulder of Denver goaltender Evan Cowley just 21 seconds into overtime.
Immediately after BU's win, Oksanen's 29 shots on goal was the highest total in the conference this year. Last season, he ranked second in that category, with 173 shots, also a team-best.
Oksanen, who ranked second in Hockey East in goals scored last season (25) behind teammate Jack Eichel (26), didn't go more than four games without a goal in 2014-15. He admitted that the goalless streak to begin the 2015-16 season was frustrating, but said that he didn't let that get to his head.
"To be honest I haven't thought about hitting posts in the last couple games," Oksanen said. "I've been just worrying about playing well. I felt like I haven't played as well as I could have been playing and now today, a couple goals and otherwise good overall game."
Oksanen has also had to adjust to playing with a consistently evolving line. In the past two games, he played left wing for the first time this year with new freshman center Jakob Forsbacka Karlsson and senior assistant captain Danny O'Regan on the right wing. Forsbacka Karlsson and O'Regan both assisted on Oksanen's two goals on Saturday.
"I feel like that helped us a lot, me and both Danny too, just getting more opportunities and just getting better," Oksanen said of Forsbacka Karlsson's promotion to the first line. "Like I said, we haven't played as well as we could have and finally today we got something going on for us."
Saturday, that line helped set up two of the most important moments of the game. BU head coach David Quinn possibly best described Oksanen's role the overtime win.
"Ahti Oksanen finally gets rewarded for the two million pucks he shoots a week," he said with a smile.