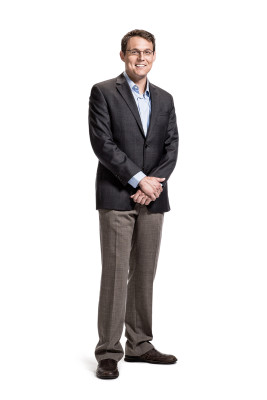 The first election Steve Kornacki followed was the 1990 Massachusetts gubernatorial race between John Silber and William Weld. Twenty-five years later, he's gearing up to cover the 58th presidential election as a political correspondent and host for MSNBC.
Kornacki, a 2001 graduate of Boston University's College of Communication, recalled portraying Silber, a former president of BU, in his sixth-grade mock trial. Although he was too young to understand what was at stake, Kornacki admitted the election has stood as his favorite of all time. And that's saying a lot for a history buff.
"I love elections and trying to understand them," Kornacki said. "When you look closely at every single election, when you really dive in and look at voting patterns, demographics and regional response, you can put together a really fascinating story about America and where it's going."
Kornacki noted how every election is like sticking a thermometer in water, taking the temperature of the country and looking at how demographics and culture are evolving. He said the 2016 presidential campaign is already full of genuine drama and suspense, making the race more interesting.
"It's the most unpredictable, volatile and wide-open race I've ever seen," Kornacki said. "We are watching something that is not a parable for the modern era."
Kornacki, a Groton native, dove into political journalism during his time as a student at BU. Although he did not write for campus publications, he worked on congressional campaigns during his time at school.
Looking back on his time at BU, Kornacki urged aspiring journalists to use college as a time to expand their interests. He also encouraged students to take more liberal arts courses — something that Kornacki regrets not doing.
"You can always learn the mechanics of journalism," he said, "but in college, you can master another subject."
Kornacki said that expertise in specific areas "equips you in an indirect and vital way for a career in journalism."
In Kornacki's case, that specialization was politics and elections, specifically.
Kornacki credits his current career to his first job out of college, which he said he found with the help of COM's Career Development website. The job was for an online-only political news site, and it opened the door to Kornacki working at cable news channel News 12 New Jersey.
"Looking back, those three years covering politics in New Jersey are still one of my favorite experiences in life," he said. "I learned so much about politics, journalism and media, and there is no way I would be where I am right now without going through that."
For those who are wary of politics and disheartened by partisan media, Kornacki said tuning it out and disengaging only makes the political system more problematic.
"There is a challenge because there are a lot of good reporters who aren't interested in advancing a side, but rather, understanding the process and communicating that to people," he said.
Although Kornacki argued there is room for a partisan press and that it is possible to be a fair reporter while putting political views on the table, he fondly recalled the days when news was just the opposite — untainted by opinion and home to constructive debate.
"I'm a sucker for the idea of everyone watching the same channel," Kornacki said. "I look back and think ultimately, that's a healthy thing, instead of like-minded groups talking at each other."